Senate Confirms ICPC Board Nominees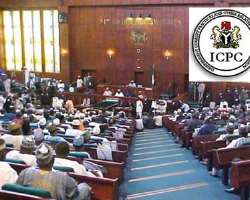 ABUJA, October 26, (THEWILL) - The Senate Wednesday confirmed President Goodluck Jonathan's nominees for Chairman and Board members of the Independent Corrupt Practices and Other Related Offences Commission, ICPC.
The confirmation was sequel to the adoption of the report of the Committee on Drugs, Narcotics, Financial Crimes and Anti-Corruption, which screened the nominees.
The report was however subjected to open debate by Senators in the Committee of the Whole, presided over by President of the Senate, Senator David Mark.
Mark appealed to the confirmed board members to be seen to be fighting corruption, adding that they should "hit the ground running in the fight against corruption".
The six-man committee, which will be headed by Francis Elechi, has Alhaji Abdullahi Ado Bayero, Alhaji Isa Ozi Salami, Ekpo Una Owo Nta, Professor Olu Aina and Dame Julie Onum-Nwariaku as members.
Meanwhile, the nominations of chairman and other members of the Niger Delta Development Commission, NDDC, has been referred to the committee on Niger Delta for further legislative work.
They are to revert to the Senate in two weeks, while the submission of the report of the committee on Judiciary, Human Rights and Legal Matters on the transfer of convicted offenders bill was also extended by two weeks.