REV. CYNTHIA OKOBI'S SEX IN GOD'S HOUSE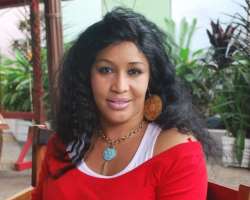 Something, of course, might have gingered the woman off God; Reverend Cynthia Okobi to have come up with the controversial book entitled <'SEX IN GOD'S HOUSE.> The book which has been generating lot of controversies ever since the report about it hit town, is said to have been a compendium of personal experiences of the beautiful mother of two, Cynthia.
While some are of the opinion that the book might have been borne out of the amorous affair the drop-dead beauty allegedly had with Rev. Kris Okotie of Household of God years back, some just say it's an inspiration from the realm of saints above. Penultimate week, a certain celebrity journal published that the woman of God, who sits atop and Pastor Kris Okotie were caught in the act and that the liaison produced a child.
The woman of essence has since come out to deny and debunk the image-damaging story as calculated attempt to discredit her good name. "God forbid! That is a lie from the pit of hell. Rev. Kris Okotie is someone I respect. The speculation is not true. The process of having children involves sexual intercourse. Are you now insinuating that I, Rev Cynthia Okobi had sexual intercourse with Rev Kris Okotie? Please that report is not true." She said.
On the kind of relationship that ensured between them, she has this to say "Rev. Kris Okotie midwife me into true Christianity. It was in the household of God in 1995 that I gave my life to Christ. So you can say he is my pastor." Recently, the mother of two, Rev. Cynthia Okobi has since been in the news ever since she came up with her controversial book entitled Sex in God's House.
The conflict-ridden but voluminous book which is slated to be launched at the Banquet Hall of the Sheraton Hotel and Suites come Thursday 20th August, 2009 from 5:30 to 7pm prompt under the distinguished chairmanship of Pat Utomi, Vice Chairman BankPHB. The very beautiful has made everything ready to host the likes of Chief Ephraim Faloughi, Grace Madumere, Titi Kayode-Samuel and others.