LIZ BENSON GOES ON HONEYMOON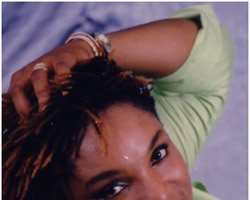 It's no longer news that Nigeria most celebrated actress, Liz Benson has remarried. The newly converted queen of the screen, Evangelist Benson remarried to Bishop Great Emeya on Saturday on Saturday 18th of July, 2009 in Warri, Delta State. As you're reading this, the new couple is said to be in London for their honeymoon.
Information at our disposal revealed that Liz and her beau who were spotted at a London hotel, we learnt, would be spending a few weeks before returning to their motherland. Having been a widow for several years following the death of her former husband and another lover from Badagry area of Lagos who allegedly slumped while been accompanied by Liz, the beautiful actress, were told, felt it's high time she remarried and she did with a man of God who is equally a widower who sits atop one of the biggest new generation churches in Warri, area of Delta State.
While the honeymoon is still on-going, the pretty woman of essence. Elizabeth Benson-Emeya is said to be pressing some necessary buttons to stage a comeback to the movie industry shortly after her honeymoon