REVENUE SHARING FORMULA FAULTY -FASHOLA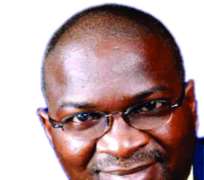 Lagos State Governor, Babatunde Fashola
Lagos State Governor, Babatunde Fashola yesterday said the revenue allocation formula that allows the Federal Government spend 52 per cent of the country's revenue while other tiers of government scramble for the balance was flawed and inappropriate.
Speaking to journalists at the Presidential wing of Murtala Muhammed Airport on his arrival from the Governor's Forum in Abuja , Fashola stated that the sharing formula did not allow other tiers of government to provide the much need infrastructural facilities in their region, adding that the system was not sustainable.
He faulted the Federal Government's unilateral expended additional N1.2 trillion on fuel subsidy above the amount approved by the National Assembly for the year without due consultation with the stakeholders involved.
He stated that the monies should have gone into the federation account and accessible to the 36 states and local governments, which should have been used to address, daunting infrastructural challenges facing the remaining tiers of government.
He said: 'Let me say that we have a flawed constitution. But having said that, I believe that the Governors Forum expressed its position yesterday and I align myself in that position, again this is part of the problem that we have, we have an appropriation law that prescribe a certain amount of monies roughly over N240 billion for the year for subsidies and by September, we have exceeded the approved amount by an additional N1.2trillion. Now that is monies that should have gone into the federation account and that should have constituted part of the asset of each of the 36 states and the local government, it has gone without lawful authorization to spend it without consultation with the stakeholders, that is the federation that we are dealing with.'
Fashola stated that states and the local governments in particular would be in a better position to perform some of the basic civic responsibilities for which they were setup if the revenue formula was restructured to favour the local government at the grassroots.
'Some of the ways that we can invigorate the local government to improve service delivery is first to focus critically on the responsibilities that we have given them. And I will chose two, primary health care and primary education. They are the fulcrum of those two critical services, health and education, now when you look at a local government that is saddled with salary obligations beyond what its capacity, how can it deal with it? Now if you have a local government structure and a federation revenue allocation formula, where the national government keeps 52percent of the revenues, the 36 states share 26percent and the local governments, which are 774 and more of them are left to share just 20percent, just think of it. Which government is closest and most impact full to the people? But sadly it is the government that has the least revenue.'