FOR ENUGU HOUSEWIFE, SET ABLAZE WITH 2 KIDS BY HUSBAND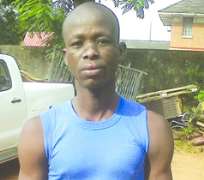 From PETRUS OBI, Enugu
Tuesday, October 25, 2011
For Enugu housewife, Mrs. Ifeoma Egeonu, this is not the best of times as fate is dealing a cruel blow on her after being set ablaze by her husband on October 1. She was carrying a seven-month pregnancy at the time her hubby, Alexander Ndubuisi, popularly called Sagay, sprinkled petrol on her and her two children, aged three and six, set them ablaze and fled the scene.
Last Friday, Mrs. Egeonu delivered a premature baby, who died shortly after. Her son that suffered severe burns also died at the weekend. It was a harvest of tragedies for the Enugu housewife, as she battles to stay alive. Apart from her burns, she had to cope with the loss of her pregnancy and her son.
Ifeoma had told Daily Sun on her hospital bed that she could not tell what might have pushed her husband, who is now on the run, (then) into the devilish act.
Ifeoma, who hails from Amuri in Nkanu West Local Government area of Enugu State, said that she and her two kids were staying with her mother, but decided to visit her husband and celebrate the independence anniversary with him.
'When he brought the fuel, I felt he wanted to use it for his generator, but he was telling me that, 'people are wicked; that the woman who sells provisions opposite owed him had refused to pay up; somehow he managed to attract the same woman to the shop telling her to talk to me.
'It was all confusing, but the next thing he started pouring petrol inside the shop and afterwards lit a match, but the woman forced her way out as he tried to close the door on all of us. It was people around that came to our rescue, but I and my children were already burnt. I thank God that we are still alive.'
But her situation worsened at the weekend. The baby, who was delivered at seven months and kept in an incubator, died on Sunday, October 23 at the National Orthopedic Hospital, Enugu.
Little Udochukwu who had been in pains at the hospital had earlier given up the ghost on October 21 at the same hospital. Only six-year-old Emmanuel has so far survived the incident, having been discharged from the hospital.
Mrs Egeonu's brother, Mr. Sunday Ede, told our reporter at the Enugu Police headquarters yesterday that her sister's condition is critical at the moment to the extent that she cannot even talk.
Meanwhile, the police in Enugu have arrested Mr. Egeonu, who had been on the run since the independence day tragedy. Speaking to our reporter at the police headquarters in Enugu, Egeonu denied responsibility for setting his family on fire, claiming that the story was masterminded by his enemies whom he alleged wanted to get at him.
Egeonu, in his incoherent story, could not, however, explain why he ran away after the incident, claiming that he ran to Lagos, but had to return because he did nothing.
There were questions about his state of mind or if he was putting up a show when he said that his children were safe and staying with his mother somewhere in the Asata area of Ogui New-Layout, Enugu.
Before the incident, Egeonu was a barber in a container shop located at no. 61, Mount Street, Idaw River area of Awkunanaw, Enugu State.