Sanusi Says FG's Fertiliser Subsidy Is Fraudulent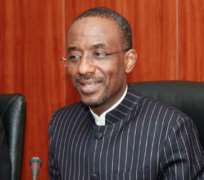 ABUJA, October 24, (THEWILL) - Even as controversy over the removal of subsidies on petroleum products rages on, the Governor of the Central Bank of Nigeria (CBN), Mallam Sanusi Lamido Sanusi Monday described the N22 billion federal government's subsidy on fertiliser as a 'fraud.'
Sanusi, disclosed this at an interactive session with the House of Representatives Committee on Agriculture.
He said the agricultural subsidy was a drain on the nation's treasury explaining that only 11 per cent of subsidised fertiliser gets to the farmers.
The CBN governor advocated that government abdicate the responsibility of procuring and distributing fertiliser to the private sector.
"Government should only concern itself with the provision of quality regulatory framework that will promote local manufacturing," he stated.
He identified poor quality of fertiliser, adulteration and absence of regulatory and poor quality control system as the bane of the fertiliser regime in the country.
He called for the overhaul of the Nigeria Agricultural Insurance Corporation (NAIC) to allow for the private sector participation assuring that the Nigeria Incentive Based Risk Sharing for Agriculture Lending (NIRSAL) was prepared to work closely with the MDAs to tackle issues related to agricultural inputs.
"NIRSAL will provide technical assistance to help organise farmers into cooperative groups that can act as recipients of working capital for crop production,'' he said.
He noted that the agricultural sector was central to the country's economy accounting for 40 per cent of GDP and 60 per cent of employment.
"Agriculture is a major source of employment growth providing 51 per cent of jobs in Nigeria between 2001 to 2007."
Sanusi maintained that Nigeria as a country spends only three per cent of its annual budget on agriculture while it spends $1 billion dollars annually on the importation of rice.
He called for the deregulation of the agricultural insurance sector industry by amending part three, section 13 of the NAIC Decree 37 of 1993 to allow for private insurance companies to participate.
Sanusi lamented that Nigeria expends $4.2 billion on agricultural imports annually insisting that contrary to the position Nigeria held in the 1960s, it is now a net importer of agricultural produce with imports totalling over N630 billion.
"Large imports of food products include wheat (NGN165 billion), Fish (NGN 105 billion), Rice (NGN 75), and Sugar (NGN 60 billion)." He said this cranks up a "total food import bill of USD 4.2 billion (638.4 billion) annually,"
On the proposed removal of subsidies on petroleum products, the CBN governor said the idea was in order arguing that if the subsidy is not withdrawn, the country may become insolvent a few years down the line.
Earlier, chairman of the committee on agriculture, Hon. Mohammed Mongonu (ANPP, Borno) said that there was a need for the National Assembly and the Executive to collaborate to improve the sector.