Ebube Nwagbo has been on the lips of many since she found her way into Nollywood.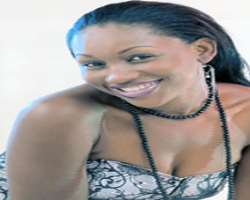 She had her dream of appearing on the big screen come true after an audition for the movie, Arrested By Love and interestingly, her beauty and ability got her the lead role, and since then, there has been no looking back.
That she has had to contend with several controversies, including alleged affairs with celebrity men, is no longer an issue but how has she been able to manage the buzz?
"It's not been easy. It's one thing to be famous and another to be able to handle it. I have managed it through all the means at my disposal. I wouldn't want to delve into the past but I know I'm happy with my new man and I wouldn't want to expose him to the public.
"It's my private affair and relationship and I won't want to talk about it on the pages of newspapers," she said curtly.
Asked how growing up was like for her and she went off on a nostalgic tirade. "I'm from a family of six; I'm the eldest child. While growing up, I loved watching television but I never wanted to be an actress. I have always wanted to appear on TV as a lawyer or a broadcaster.
"Actually, I did a diploma programme in law at the University of Benin (UNIBEN) because I had always wanted to be a lawyer. But when it didn't work out as a result of JAMB (Joint Admission and Matriculation Board), I opted for the Federal Polytechnic in Anambra State.
"I wanted to do something that would earn me money and make me independent and that led me into acting. I attended the Federal Polytechnic, Oko in Anambra State; I did my National Diploma and Higher National Diploma there, and then moved over to the Nnamdi Azikiwe University (UNIZIK), Akwa, where I studied mass communication. It was fun growing up and I enjoyed living with my family and the people around me then," she said.
For a lady, who started out acting alongside Jim Iyke and Pete Edochie, and has been romantically linked with the producer of the flick that gave her her first major role, how she handles male admirers is something many would want to know about.
"It's been crazy but what they do most times is call me on phone and want more than friendship and most times I end up telling them that I'm married, though I'm not. Some others just want to be my friend. But in all, I'm coping with them," she said.
When asked what her greatest body asset is, Ebube, would readily tell anyone that it's nothing but her sensational hips.
"I would say my hips. In Nigeria, most of the girls want to maintain a great figure like mine. And I appreciate my hips a lot, though other parts of my body are also appreciated but I love my hips," she gushed.
For Ebube, coming from the eastern part of the country as an actress to get roles in Lagos wasn't an easy task. Though she had set out to distinguish herself from an Onitsha actress, it became more than a challenge for her to become a top star in Lagos.
"It wasn't easy at all. I started off from the eastern part of the country and then there was this perception about Lagos-based stars being better than their eastern counterparts.
"I set out to break that jinx and I was able to overcome the challenge. I'm grateful to God that I was never at any time referred to as an Onitsha actress. Hard work and determination did it for me in the industry," Ebube stated.
Aside acting, the well-sculptured lady has also got her pretty fingers, which she occasionally bites, in modelling.
"I do modelling on the side. I have modelled for a clothing outfit called Waled."
What strikes Ebube in any man, even though she was once heartbroken?
"Simple. Make me happy. I like being happy that is the most important thing to me," she said.