Europe Overshadows The Outlook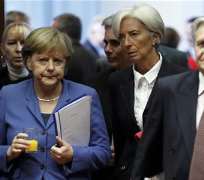 Time is fast running out for European Union leaders to close the gaping wound that is the euro-zone debt crisis and any failure to strike a comprehensive deal this week would sap more strength from the global economy.
Heightened uncertainty from Europe would further undermine investor confidence and damage growth, an unfortunate counterpoint to recent economic data that has proven modestly encouraging.
China's growth numbers at 9.1 percent year on year rate for the third quarter have calmed fears that Asia was heading for a hard landing in Asia. U.S. jobs data have stabilized, retail demand firmed, and a regional manufacturing survey rebounded.
This picture of slow and steady growth is expected to be confirmed when the United States reports economic output for the July-September period on Friday. Analysts forecast a 2.5 percent annual rate of GDP growth for the third quarter, almost double the pace seen in the April-June period.
But much of the improvement is likely to reflect a rebound from the sales and inventory draught caused by the Japanese earthquake in March, leaving questions about underlying resilience of the world's largest economy. Indeed, some Federal Reserve policymakers the past week have talked of the economy requiring further support.
EUROPE BIGGEST WORRY FOR US
The biggest vulnerability for the United States and the world economy remains exposure to the European crisis.
World leaders clearly are worried. World Bank President Robert Zoellick last Tuesday warned there was "not a lot of room for error".
President Barack Obama last Thursday telephoned German Chancellor Angela Merkel to discuss the situation in Europe, the latest of a series of such consultations.
Most financial institutions have insulated themselves from any direct damage from a possible Greek default, but there remains the worry that the euro-zone debt crisis would spread to Italy and Spain causing financial contagion of the kind that followed the collapse of investment bank Lehman Brothers in 2008.
EU leaders made some progress towards a strategy to fight the euro zone's sovereign debt crisis on Sunday, nearing agreement on bank recapitalisation and on how to leverage their rescue fund to try to stop bond market contagion.
But final decisions were deferred until a second summit on Wednesday and sharp differences remain over the size of losses private holders of Greek government bonds will have to accept.
So frequently have European leaders delivered half measures, prevaricated and called for yet another summit, that investors have grown weary. Even if this week's summits surprise and the EU does deliver decisive action, winning back confidence will take longer, analysts said.
"However this plays out, well or poorly, the road will be increasingly bumpy," RBS warned its clients on Friday.
Political uncertainty from Europe already has seriously damaged confidence and caused enough stock market volatility to damage the growth outlook. New economic research shows this vicious cycle can rob at a minimum 0.3-0.5 percentage points from economic output over one year.
For some economies, this could be enough to tip them into recession. Confidence surveys already have diverged from the somewhat better economic data, pointing to risks.
France is particularly vulnerable. Its business morale fell again in October to the lowest level since July 2010, suggesting economic stagnation will continue well into the fourth quarter.
Germany's Ifo survey of business morale fell for the fourth month in October. While it remains quite high by historic standards, the speed of Ifo's decline flashes warning signals. Germany's DIHK Chamber of Industry and Commerce warned last week that GDP could contract in 2012, though DIHK does not expect an outright recession.
In the United States, consumer sentiment hit 30-year lows in early October. A fresh reading of the Thomson Reuters/University of Michigan index is due out on Friday. Analysts expect little change at 58 versus the early estimate of 57.5 for October.
Goldman Sachs, for example, is pessimistic that EU leaders will deliver sufficient this week to shift the economic dial.
"We suspect that their solutions are unlikely to provide closure for the markets and thus we expect the markets to be disappointed in the outcome," it told clients on Friday.
REUTERS