PRESIDENT JONATHAN AND THE FIGHT AGAINST CORRUPTION…WHAT A CHARADE!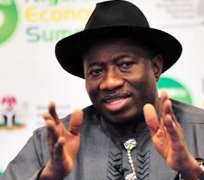 To one degree or another, there is corruption and corrupt practices in every country of the world. That's to say that there is not a single corruption-free society anywhere on the face of the earth. However, most countries – especially those with strong and viable institutions, a heightened sense of law and order, and a national culture that frowns on and penalizes offenders – the degree and pervasiveness of corruption is very low. But not so in Nigeria. What we have are the unusual strains of corruption: the type of corruption that is worse than the most lethal form of cancer.
Like incurable cancers and cankerous sore, corruption and corrupt practices are eating deep into our collective moral fibres. The cost of corruption can also be seen in other aspects of our national life. We know, for instance, that these negative practices increases transaction cost; discourages foreign direct investment; reduces the overall growth of the formal economy; helps to weaken our public and institutions; encourages the informality of the political and economic system, and helps to personalize the rule of law.
We know, too, that corruption and corrupt practices negatively impact the cultural and social space, and encourage indolence, nepotism and an uneven playing field. One of the saddest aspects of the Nigerian reality is that less than one percent of the truly corrupt are ever brought to justice. And in cases where they have been prosecuted, the penalties are usually mere slap on the wrist: less than one percent of those prosecuted will ever be jailed. The fact is that high-end criminals rarely ever go to jail in Nigeria. Only the petty thieves get hanged or get burnt alive.
In 2007 for instance, the Economic and Financial Crimes Commission (EFCC) stated that it was investigating, and may even prosecute the likes of Chimaroke Nnamani, Orji Kalu, Saminu Turaki, Boni Haruna, Abdullahi Adamu, Peter Odili, and Ahmed Tinubu. Nothing happened. Today, these and several other accused are safely ensconced in Abuja and elsewhere. And just after the 2011 elections, the former speaker of the National Assembly, Dimeji Bankole, joined this ignoble list. In spite of all the brouhaha about his alleged shady deals, he continues to roam the country - wining and dining with the elite.
But of course, that the elites usually never suffer the consequences of grand theft and impious criminality is not new in the history of Nigeria. For instance, does anyone remember what happened to the money and the properties that were seized by the government of General Murtala Mohammed? Does anyone remember what happed to the men and women who were arrested, probed and sentenced to prison? Where are they now? As far as one can tell, many of them returned to the good grace of the populace and successive governments: they went on to bag chieftaincy titles, Nigerian national honors, honorary doctoral degree, etc. Nothing bad ever happens to criminal bigwigs in Nigeria.
To show that criminal bigwigs rarely suffer hash punishment, all we need to do is take a critical look at what has been going on since President Goodluck Jonathan came to power. Fist, we know that members of the elite don't think much of him and his presidency. He is neither feared, loved, nor respected. Second, we know that many criminals and criminally-minded politician believe they can commit whatever offence that catches their fancy and without repercussion. Just recently, the EFCC accused three former governors – Gbenga Daniel of Ogun State, Adebayo Alao-Akala of Oyo, and Aliyu Akwe Doma of Nasarawa – of misappropriating and/or of stealing millions of dollars from the public treasury. Their posture, as shown in the media, was of men who seem certain of their freedom. They looked and acted as if they knew for a fact that the case would be dismissed by the court, or forgotten by the public. At the very least, they seem sure that the Jonathan administration would not come after them.
The Goodluck Jonathan's administration -- an administration that promised to be different, to be progressive and progress oriented, to be accountable, to fight corruption, and to give Nigerians a new lease on life – now appears impotent. But of course, Nigerians should have known that this government was not going to be any different from any government in the last thirty or so years. This was a President who came into office with a modicum of public support and goodwill. Frankly, this writer also believed we have a Harry Truman. Across the world, Jonathan also received a healthy dose of support and political capitals. Yet, in less than one year, he showed that good governance is not his forte. The level of waste, of corruption, of theft, of maladministration, and of malfeasance is beginning to rival, if not surpass, that of his benefactor, Olusegun Obasanjo. This is the world we now find ourselves in: a government and a presidency gone awry.
In fact, the more you steal and mismanage, the better off you are. What's the difference between the aforementioned and the notorious Oyenusi and Anini? While the political and economic class (high-end robbers) robbed with pens and legislative fiat, Oyenusi and Anini robbed with guns and or the threat of deadly force. In fact, the elites are more dangerous than the armed robbers. The use and or threat of force may cause an individual harm; the use of political office to steal and mismanage causes egregious damage to a country and abridges her prospects and possibilities. In the end therefore, political thieves are more harmful to a nation's psyche. They do more damage to Nigeria. Since armed robbers are executed by firing squad, there is no reason why political thieves should not be hanged high and dry. They ought to be hanged in the public square.
To right the wrongs associated with Nigeria -- and to discourage immediate and future crimes, and if Nigeria is to survive and thrive as a nation -- she must embark on unusual remedies. If Rawlingnization of the system is needed, fine; if the Idiagbon-Buhari method is what will set the country on the right path, I am all for it. Not even the China approach should be taken off the table. These three methods call for the impartial probing of assets and investment portfolios, the forfeiture of assets that were dubiously acquired, and the prosecution of the accused. Those found guilty should be sent to jail for a very long time. Their punishment should not be less than those meted to armed robbers. In addition to the aforesuggested, the judiciary and all aspects of our public institutions should be strengthened.
Why do we execute armed robbers? Why do we execute those who commit murder? Why do we execute those who commit treason against the state? Simple: we do so because their actions are heinous, are against our collective health, and are against our national security interest. An armed robber steals $50.00 and we execute him or send him to twenty years in prison; but when a politician steals $5,000,000.00 or $10,000,000.00 we turn blind eyes to his crime. Where is the justice? As drastic as some of the proposed measures may sound, they are entirely necessary if Nigeria is to free itself from the abyss. They are necessary if Nigeria wants a shot at glory. They are crucial if we care about our welfare and about the type of society we want to bestow future generations.
Sabella Ogbobode Abidde, formerly of Government Secondary School Ilorin, can be reached at: [email protected]
Disclaimer:

"The views/contents expressed in this article are the sole responsibility of

thewillnigeria.com

and do not necessarily reflect those of The Nigerian Voice. The Nigerian Voice will not be responsible or liable for any inaccurate or incorrect statements contained in this article."
Articles by thewillnigeria.com