MY PARENTS' DIVORCE WHEN I WAS 8 HURT DEEPLY-AKPOREHA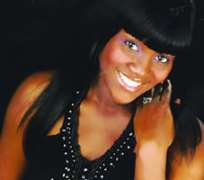 The dream of Jennifer Mairo Akporeha had always been to become a published author and successful attorney. So when she held a double launch at the MUSON Centre, Lagos, there was a justifiable feeling of accomplishment that washed over her. And even the audience felt it too. Akporeha who hails from the Niger Delta is currently the chairperson of the Pamela Erere Foundation (PEF), which is named after her late elder sister.
The main mission of the foundation is to help children from broken homes as well as those raised by single, struggling mothers, divorced women and widows to have personal vision and strive to achieve success in life despite the circumstances of the birth. Akporeha who is based in Dallas, United States once auditioned for the reality TV show hosted by the Oprah Winfrey Network (OWN) search for the next TV star in 2010. Her first book, Screw it, Go Ahead and Quit Cold Turkey, was jointly reviewed by the New York Times best-selling author Enitan Beriola and Professor Terence Candell
A regular public speaker, poet and songwriter, Akporeha is a young woman who pursues her goals with uncommon passion. She is the fourth child of her parents, Deacon Patrick Emerhana and her beautician mother, Fatima Odudu. Her parents had six children before they divorced. Elegant in every way, Akporeha could be easily mistaken for a professional model as she both the looks and carriage. In this interview she talks about why she established an NGO focusing on children of single mothers and divorced women and how she accomplished how she accomplished her quest to become a lawyer. Excerpts…
Have you ever been a model?
Yes I modeled a little while I was in school, but I didn't take it serious. I was more interested in getting my degree than modeling, singing or acting. Despite my resolve to finish my studies a lot of people kept trying to get me into beauty pageants, telling me that I would win. Well, I didn't listen to them so that I would not lose focus.
But you have the features and the carriage of potential beauty queens. Was it that you didn't believe that you could win?
I didn't have the passion. I love what I am doing now, which is writing, my law studies and the foundation. These three combined are my passion.
So are you in law school?
Yes I am studying law in the United States.
How did you get to that point, I mean in terms of education?
I have a Bachelor of Arts degree in French Language from Ambrose Alli University, Ekpoma. Then a Bachelor degree in Science and Legal studies from Kaplan University, Florida, and I am now in law school, Baylor University, Texas, United States. Law is my passion. While I was growing up, I had this passion for lawyers. It started as a joke because then I used to sing it that I want to be a lawyer, doctor or banker. Those were the only things we knew. As I got older, in senior secondary school I joined the Press Club and the Literary and Debating Society. We participated in competitions in different states in Nigeria. Incidentally, I won several times while representing my school. So from that early start, I knew that this was the path I should tread on.
What informed your passion to form an NGO for children raised by single mothers?
I came from a broken home. My parents divorced when I was eight years old.
Did your parents' divorce have any negative effects on you?
Yes, definitely there were some negative effects. For instance, my father is alive today and in Nigeria. Since I came back to Nigeria, I have not seen him. Apart from the psychological aspect, when you are growing up, you wake up in the morning everyday, you see your parents and then at some point they are no longer there, for a little innocent child that is just weird. I was eight years old, really young when it happened. Nobody explained anything to me, they just weren't together anymore; my mum was living on her own. We had to go there some times. It's was really, really crazy; so certainly it has negative effects. Of course, my parents paid my school fees and we traveled abroad, but it is not everyone that has the same opportunities.
Could you recall childhood memories of not being with both parents?
Maybe it could be when myself or any of my siblings celebrated a birthday and my dad wouldn't be there and my mum would; maybe one of my aunties was getting married and my dad didn't come because he was no longer part of the family; you know, just random stuff like that; I recall my mum crying over the situation because it was a little hard for her to be alone. They were married for married for 17 years. So no matter how you look at it, it was quite painful.
You are married now. How long has it been?
This December, my marriage will be five years. I married five days after my 20th birthday.
Why did you marry so early?
I had just graduated from the university and was about to go for the national youth service. So I said to myself, now I'm a graduate, what next? I met someone that I know loves me, respects me, supports me, and I said so what's the point? Why break up with this boyfriend, and go to another one, but if you have someone that respects you, and has come to your family and made them know his intentions, then there was no point waiting. I was psychologically prepared. I have not seen the best marriage in the world but I think I'm better than a lot of people when it comes to communication with my partner. We have respect for each other and trust, we are like 60 percent; we are almost there.
Was he in your school?
No, my husband is a big boy. When he was in the university, I was in primary school.
Then how did you meet him?
He knew my elder sister. Somehow, I met him through her.
Being a person from a broken home, have you ever had any thoughts that it could have a negative effect on your marriage?
I don't know if its right to say this, but the truth is I think a broken home has a positive effect. The fact that I am from broken home has made me recognize that some lines should not be crossed. I know there are things I shouldn't do anymore, maybe things that my mother did, which shouldn't have been done. I think my parents' kind of helped me because I am now able to tolerate instead of get mad and say, oh, am leaving this marriage. I'm able to tolerate. I earnestly pray that it never gets to where I can't tolerate anymore. Honestly, I am happy and having great fun.
When it gets to that stage what would you do?
I think the only time it will get to that stage is when am being physically abused, like if my husband is beating me up. Then I know I have to run for my life. I earnestly pray God not to let it happen.
What is the difference between your foundation and others?
My foundation is coming from a good place. My foundation is real. It is no joke, I founded it after my sister, my foundation is ready to work, and that would be the difference. My foundation is not thinking of getting money and subsidy; I don't think I need any other person's money. I think I'm comfortable enough to take care of myself. If anybody wants to support they should remove any skepticism from their minds and be ready to support the cause.
How does it operate?
The registration process just got completed because it's a foundation that is registered in the US. I just brought it here and I have been here for a couple of weeks. We are not going to have any offices here, because we will need funds for all of that. We are still working out the modality of how it will operate in Nigeria. For now all the members of the board of trustees and the secretary are here in Nigeria. I'm the only one in the US. I don't think it really changes anything. We can talk on the phone, exchange e-mails and I will be coming from time to time. I'm sure we will be fine.
Given your beautiful figure, how do you cope with male admirers?
I don't know, I'm very chauvinistic; if I'm not your friend, if I don't know you, I don't think am that approachable. People say my face is too strong. I'm friendly but it's not easy to just walk up to me. I cope real good; I just say leave me alone.
As a mother, wife and a career woman how are you able to juggle the three roles successfully?
I don't know. You could say I do multitasking. I believe it is the grace of God. Anytime I'm not doing something, I feel I'm just wasting my life. If I watch TV for three hours, I feel that I have wasted three hours I should have used to read or advise my younger sister. I'm just someone that just doesn't want you be bored. When I'm done with something, I want to do another one.
Do you also cater for widows and orphans?
My foundation doesn't cater for orphans. My foundation caters for children from broken homes; those are the people I help. I think there are many organizations here already that cater for orphans. But I don't know anyone that caters for this people. My foundation caters for children from broken homes and single mothers.