MY PLAN FOR EDO AS GOVERNOR-JACOB IDINYE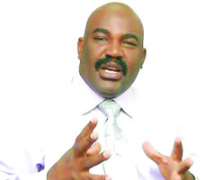 There is a popular saying that winners don't quit and quitters don't win. This, perhaps, explains the determination and aspiration of Mr. Jacob Idinye, Deputy General Manager and Head of Commercial News with the African Independent Television (AIT), to become governor of Edo State in 2012.
Mr. Idinye tested the political waters when he aspired in the same capacity in 2003 and 2007, but beat a tactical retreat. He is very hopeful this time around. According to him, 'I know I have what it takes to govern a state.'
In this interview, Mr. Idinye speaks about his plan and selling points to upstage Osadebey Avenue, Benin City, and become the next Governor of Edo State. Excerpts…
We hear you want to run for the governorship of Edo State again.
Yes.
On which party's platform?
Peoples Democratic Party (PDP).
People say that Governor Adams Oshiomhole is performing. Given the fact of what is on ground today in Edo, do you have what it takes to upstage Oshiomhole?
Yes, I have what it takes because, if we go back to the days of politicking in Edo State from 2006 to date, I was the first governorship aspirant of ACD from Edo North before moving to AC.
What is ACD?
Advanced Confrets of Democrats; I was the only aspirant from Edo North. So, I was declared the sole candidate at Urhopkota Hall in Benin and nobody contested that position with me. At that time he said he could not belong to acid; that means ACD. He said ACD means acid. That was the way he put it. Then from there acid now transformed to Action Congress (AC). We now started campaigning in virtually all the senatorial districts. I was still the only aspirant from Edo North. We had three from Edo Central and one form Edo South. When it was time for the primaries, it was then they brought him into our meeting at Airport Road, Benin. Tom Ikimi brought him in. We were all seated. He escorted him in and people started saying 'oh, why is here? Why is he here?' But I was watching very keenly what was happening. That was when I knew that manipulation had started.
So, I now told them, look, as it is now, I am going to support Charles Idahosa as the next governor of the state. Suddenly, we went for primaries. Even in my own village, Ivianokpodi, we had the option A4. I was never counted, but at the secretariat in Benin they wrote that he defeated me in my ward.
So, I now started wondering what kind of politicking is this? No structure, nothing. I now told myself that I don't need to go too far, let me step aside. So, I formally moved to PDP in 2007; and joined former Governor Osunbor's campaign train to most areas he went, and you know the result, but suddenly the court took over and everything became history. That is how Oshiomhole came in as governor of the state.
So, anywhere I go, I go with light. I never bothered to say because I didn't make it in 2007, I want to go for the post of senator, House of Reps. or chairman that was still vacant at that time. I would have negotiated, but I refused to negotiate. I still want to govern this state because I know what I have, what it takes to govern a state and I believe that if I am given the opportunity, what is happening right now would not be, and him from the same region with me does not bother me at all, because if I did not start the campaign from ACD to AC, he would not be governor today. It would have been a different thing entirely. But when the party became known, we spent our money, our sweat, did a lot of things and suddenly somebody came from nowhere and was picked as a consensus candidate. Some of us were not briefed and we became aggrieved because politicking means let's agree. There cannot be two governors in a state, it must be one.
If they said five of us should sit down to pick one person, we would have picked one person. But at that time, I said okay, let me support Charles Idahosa since he is the only one from Edo South. The other three were from Edo Central. You know they were already scheming. So, I didn't want to scheme with them because I don't know how they were scheming. That was what happened.
You just said you supported Osunbor in the past, and you know Osunbor is in the governorship race. When the going gets tough, would you not step down for Osunbor knowing you supported him before?
You see, the issue of stepping down has to do with the issue of the people's will. That's why I said earlier that I have the light and my light will continue to shine. So, stepping down for him now is not part of the discussion, because I have formally declared my intention to Dan Orbih, Edo PDP chairman in Benin, before the last congress at Palm Royal. I told him I want to become governor of Edo State. So, I know I have done according to what the structure says. I have done that in the local government and I am doing so now to the people of Edo State.
So, for me, as it is now, I don't see myself stepping down for anybody. We just have to see how it goes. Politicking, as I said earlier, is that we can only have one governor, we can't have two governors. So, if it is by consensus agreement then, we have to follow the consensus agreement. Then, everybody must be ready to operate in his own district or constituency to make sure he or she delivers.
Apart from talking to me now and your revelation that you declared your intention to be governor to the chairman of PDP, not many people in this state know you are in the race. How do you explain this?
Well, the declaration was done before the congress two weeks ago, and for me as a media man, I have to follow the rule of the game. It is when you go to the media that people know what you are talking about. That is why I take this as an opportunity to formally start my campaign in the media. I have been to virtually every part of the state. I am a practicing journalist like you. If you go to the Senate or House of Representatives, there are some journalists there. Maybe one of these days a journalist will become the president of this country.
We know virtually what is happening in the country and we know how to resolve it if given the chance.
But in politics, before you take a step for a project as big as becoming a governor, you must have a very big wallet, are well prepared?
Yes. I have done that before in 2006, I know how much I spent in 2007 to bring up a party that is now on the ground. PDP is known. The money we spent in 2006 and 2007 to bring up ACD to AC runs into millions of Naira and at the same time, as a politician, you don't count how much you spend. When you count how much you spend, you will collapse, because you will discover that most of the things you spend money on don't have receipts.
What is your selling point in this race?
My selling point is that I was here in 2006, 2007 and I have been able to know a lot of corners in the state, I have been able to discover there are some areas in the state that had not been touched.
My selling point is going to be the issue of tax, roads and employment, respect for people who deserve respect. The issue of tax in this state is becoming alarming and the issue of destruction of properties, whether it is done legally or not, and the issue of security, which is paramount because Edo State's security level is not too good.
Kidnapping and killings, this is the sort of things happening. These areas are my selling points and I am not here to say I am going to provide 10,000 jobs in one month, and at the end of the day no job is provided. All you do is employ people who sweep the roads in Benin. People don't sweep the roads any longer, as you can see.
These are my selling points, because all these things need to be talked about. If I award a contract for road construction and it is not properly done, I will revoke it. If I will award the contract to somebody I know would do the job, he must complete the job. I don't do anything half-way. These are my selling points.
How old are you?
I was born October 14, 1965, and I believe God is there for all of us.