FG ADOPTS NIGERIA'S GOLDEN BOOK AS OFFICIAL DOCUMENT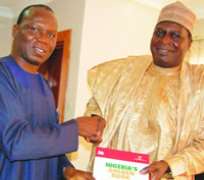 • Managing Director, The Sun Publishing Limited, Mr Tony Onyima
(left), with Director General, Nigeria Tourism Development
Corporation (NTDC), Otunba Olusegun Runsewe, during the
latter's courtsey visit to The Sun's corporate headquarters in
Lagos on Friday.
The Federal Government on Friday adopted Nigeria's Golden Book, published by The Sun Publishing Limited, as the country's official document to be given out as complimentary copies to other nations. Director-General of the Nigeria Tourism Development Corporation (NTDC), Otunba Olusegun Runsewe, disclosed this during a courtesy visit to The Sun's corporate office in Lagos.
The DG, accompanied by the Director of Press, Mr. Akin Onipede, and Mr. Frank Meke, said the country adopted the book because of its quality analysis and documentation. His words: 'This is a home- coming, really. To be successful in Nigeria is an expensive thing because it is not easy. But I must say that The Sun has been totally and fully very supportive and I am here to say a very big thank you.
'I wouldn't know whether this is going to be a revelation or otherwise, but I had kept it to my chest. About three weeks ago, I had three copies of Nigeria's Golden Book with me. I always love reading more when I am out of the country. A researcher of the President of the country we went to picked the book and I noticed he wanted to go with it. I told him that I was still reading it. And he said to me, is this book speaking about Nigeria or another country? And I answered, of course, it is Nigeria.
'Within the two hours that we were at the retreat area, he had done some justice to that book and I felt guilty that I didn't read it before then, because he was asking some questions from it. If I were not a journalist in the first place, I would have got into problem. I made up my mind that night that I would read through the book. After going through it, I am here to tell the entire management of The Sun that it is a statement of a new beginning for Nigeria.
'I think it is the most researched book in recent times. This book took me back to the classroom. I had to take time to read it from our amalgamation in 1914 to our colonial days and so many other things. Our party politics in 1944; every tier of government, up to the heroes in sports. The education that we are talking about today, this book addresses it. I recommend this book to everyone who is in position to have a copy as a resource material.'Some people don't even know how we fought the civil war. They know what Nigeria became after that. So, I saw this book talking about the war. If people appreciate how we fought the Biafran war, then they will know that Nigeria can never go back again.
'This book has done, with due respect, about 49% of my job. To crown it all, it even went into tourism treasures before going into NTDC. It is priceless. I cannot quantify it. To be honest, I went into that book thoroughly.'So I am here, if no one has probably said it as it should be said, because the problem we have is that we don't celebrate our best…Believe me, The Sun family needs to be celebrated and I want to do that fully.' In his response, Managing Director of The Sun, Mr. Tony Onyima, commended the NTDC DG.
'We watch from afar with keen interest what you are doing at NTDC and I want to say that I am not surprised because if a young man is put in charge of such important parastatal, and you don't make an impact as a representative of a generation, those of us you are representing would be terribly disappointed,' he said.
Speaking further, Mr Onyima said: 'We need to market this country. It is not for individuals alone but for everybody. For us in The Sun, we have a standard in promoting tourism. We have centre spread on our paper just to encourage Nigerians to look into the country's potential. Our plan is to look at hospitality and hotels and we also want to do country profiles.'
On hand to receive Runsewe and his entourage were Mr Steve Nwosu, Editor, Daily Sun; Mr Onuoka Ukeh, Editor, Saturday Sun; and Mrs Funke Egbemode, Editor, Sunday Sun. Others were Mr Shola Oshunkeye, Editor, Magazine; Mr Bruce Malogo, Deputy Editor, Magazine and Mr Kunle Solaja, Soccer Star Editor.