FUNKE AKINDELE 'JENIFA' ACQUIRES N8M AUTO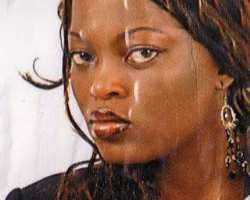 The career of one of the highest paid Yoruba actresses, Funke Akindele took a new dimension when she shot a movie titled jenifa. The award-winning flick was rated as one of the highest selling Nollywood movies.
Though, some enemies of progress are of the opinion that the movie, Jenifa, is just one of the movies reeled out in the industry and does not worth all the buzzes and ovations it receives. However, Funke, we were informed, gave no hoot about the side talks as shot their mouths up with a multi-million naira Globacom Telecommunication endorsement follow by Lagos State tax adverts to mention but a few.
As you're reading this, Funke has just added another auto to her fleets of cars, an X-Trail Nissan Jeep 2009 model with registration number RL 436 AAA that was said to have cost her over N8m to acquire. The light green wonder on wheel has now replaced her Honda CRV.
The 'bigz girl' Funke was recently sighted by eagle eye at a movie location last week where she was said to have gone to get the blessing of her ogas in the industry. Congratulations gal. Keep on shooting to the moon!