NIGERIAN PUBLISHERS WEEP IN TAIWAN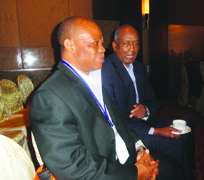 Dimgba Igwe with Alhaji Ismaila Isa
Nigerian journalists, publishers, newspaper and electronic media icons, who attended this year's International Press Institute (IPI) Congress in Taipei, the capital of Taiwan, are no longer at ease. By the Rivers of Taiwan, they wept. When they remembered Nigeria!
Wowed and mesmerised by the experience of seeing a city that ranks among the best in the world and where things work, they have returned home head bowed and full of lamentations for Nigeria-a country that was once at par with Taiwan but had long been overtaken in developmental terms. The Taiwan that used to be a metaphor for inferior goods is now a Taiwan that stands for total quality in all aspects of their national lives. One after another, I asked some of the Nigerian delegates their impressions and what lessons they would take back home from Taiwan. Excerpts:
Alhaji Ismaila Isa, Executive Chairman, New Africa Holdings: 'I took over from MKO Abiola in Taipei:'
'It's been a long way from Abuja to Lagos to Taipei. No matter wherever you go, you cannot do it in less than 18 hours. I was elected as a full board member in 1999 here in Taipei, when I took over from Chief MKO Abiola. Coming back here, I have seen a lot of changes, physical developments based on what the President of the Federal Republic of Taiwan laid down in his opening remark to the IPI Congress. They are progressing fast as a country, and the amount of trade they are doing with the rest of the world, with their population, is amazing. I am glad for them and for the rest of the world that are patronising their products. They have changed, in terms of quality of their products.
'Before, when they said something is made in Taiwan, it was considered inferior, but now they are doing things of very high quality. And they are very serious with quality control as a self-mechanism to control the quality of their exports. I was making a suggestion for the improvement of IPI. The point I was making is that it is very important for anybody who has been the executive director or the chief operating officer of the IPI should be entitled for invitation at the expense of the IPI to attend annual general meetings. Not that when you leave the IPI as the chief operating officer, the relationship is cut as we have seen with other directors. I believe this is the right thing to do. Right now, we have two surviving former directors and I was suggesting that they should be given free tickets and hotel accommodation to attend the yearly Congress of the IPI throughout their lifetime. I don't think this is too much.
'The job of the director of IPI is so demanding, and by the time you retire and you are made to feel that is the end of the relationship, I believe this is wrong. There are many lessons Nigeria can learn from Taiwan. There are many lessons Nigeria can learn from Taiwan. You have seen how things are being done here; you have seen even how dedicated the staff members of the hotel are; you have seen how courteous everybody is to everybody. I think we should try to come to that route of respecting each other and developing our nation. You cannot eliminate stealing, but eliminate stealing as much as possible to the barest minimum, whereby because you are elected or appointed into a position of trust, you should not regard public funds like your inheritance. Nigeria would continue to support IPI but IPI has to also support the Nigerian journalist by way of training, which has been agreed upon.
'From my experience, as a builder, there are fantastic buildings in Taipei, but as Nigerians we tend to underrate what we have. If you look at Abuja, Lagos and Port Harcourt, the new structures that are being put up there are comparable to anywhere in the world-and that includes Taipei.'
Kabir Yusuf, publisher, Daily Trust: 'This small country has 175 universities:'
'This is the longest journey I have ever done, like all of us here. But it is good to see other parts of the world so radically different from Nigeria. I'm impressed by the city of Taipei. It's a small island that's so beautiful and very well developed. It's like Japan in many ways. No natural resources but they have made very good use of their human resources. Here, the people are as chatty as we are. The culture is quite exuberant. A little bit like the African culture. The weather is also a bit similar to what we have at home. The IPI this year in Taipei was very good, very well organised.
'The big lesson I learnt here is the social media - how it is impacting on our traditional media, how we all have to learn from that. I am taking back home the lesson that we are very far away from developing our human resources. This small island of 23 million people has 175 universities, and I sit with young people, young women who are all doing PhDs, because education here is No.1. That's the big lessons for me.'
Anthony Dara, the CEO of NN24 Network News: 'Taiwan is in the league of the First World:'
'I came through London, from Abuja to London, London to Hong Kong and then to Taipei. It was quite an interesting journey. It was an 11-hour flight from London to Hong Kong. And it was a night flight; so it was quite natural for me to sleep on the plane. Taipei, for me, is a technological surprise. People still think Taiwan is inferior, but Taiwan is No.2 in technology in the world, a great exporter of technology and I think I am really impressed with the level of development here. Like it or dislike it, Taiwan is in the league of the first world. You only think about Nigeria when you talk about the contrasts. Two different countries. One is struggling to get to where it should be, and one has achieved where it needs to be.
There is no comparison really.
'The conference is quite is remarkable what we are talking about. We are looking at social media as the big thing. And I have just asked the question: What if you wake up tomorrow and you have a third hand? Do you use it or you throw it away. Obviously, you would use the third hand. And that is what is happening with journalism. The social media has come to stay, has now proved to be a tool for modern news gathering, content gathering and we need to now find a way of giving it tools to make it credible, to make it very useful to journalists, because the more, the merrier, its less expensive, less risky and has transformed lives in the past years-take it or leave it.'
Alhaji Mada Wada, publisher of People's Daily: 'It took us nearly 22 hours from Lagos:'
'It has been a long and very tiring journey. We started in Lagos at 2.30 in the afternoon, arrived Dubai after midnight to catch our flight to Bangkok. From Bangkok, we came to Hong Kong, where we changed flight to Kathy Pacific and arrived Taipei around 8.30 in the evening. So, it took us nearly 22 hours from Lagos to Taipei. I was in Taipei 10 years ago and like every other city that I have been, I think you will find that there is expansion. Here, I see the city expanding fast in the suburbs. And then the airport that has been moved away from the city. When I came here 10 years ago, it took us about 30 minutes to get to our hotel, but now it took more than one hour. And then this Shangri La Hotel was not there. It's a magnificent hotel. On the issues discussed at the conference, what I find much relevant is the use of the social media. For us journalists, there are a number of tools which we can use to improve our trade, especially the social media. It has a great role to play, especially in the circumstances that we find ourselves in Nigeria-the problem of power, security and other social problems which I think we can use such tools that we have to cover a large country like our own.'
Kingsley Osadolor, Special Assistant to the Information Minister: 'Taiwan has come a long way:'
'It was quite stressful getting to Taipei, but generally it was turbulent free. From what I have seen and what I have heard, there is a greater move towards rapprochement between mainland China and Taipei; so part of the tension that used to exist in the past obviously would wear off in the years to come. But there are huge lessons to learn from Taiwan. For us in Nigeria, 25 years ago, substandard products were often passed off as Taiwan, but coming here and seeing the first class infrastructure and the very well maintained public buildings, courteous human beings and persons, and top rate service, you would say that Taiwan has come a long way. We have a lot of lessons to learn from Taiwan. But this obviously has been by way of incremental improvement. It wasn't sudden. We have to learn to walk before we run. The conference has been very illuminating. The topics have been timely, the discussants and participants have been very interactive and, therefore, providing illuminative perspective on a wide variety of subject areas.
'But I think that at the beginning, there was an attempt at providing an Anglo-American perspective on the view of things. That cannot be a global standard from what we are seeing. The issue of China wasn't properly handled. Or rather, that the perspective taken was unsatisfactory to me. The Anglo-American perspective appears to be that okay, China is still seeking to communicate in the old way, but the Chinese are talking to their own people, and the Chinese are talking to the rest of the world. But if the Anglo-American audience is not listening, I imagine that the rest of the globe is listening. In Africa, we are listening to China.'
Pastor Dimgba Igwe, Associate Publisher, Express Multimedia Ltd.: 'Nigeria has not even started:'
'When you do get to Taipei, you have a sense of satisfaction and the feeling that it doesn't matter what time it took me coming. This is quite an experience. Taiwan, as a nation, is a marvel. It is a lesson in nation building. This was a nation that was also under extreme and very harsh colonialism but even after they liberated themselves in 1949 to become a nation, they were still under Chinese domination until only about 1987 when martial law was lifted and they went democratic ways. This is a nation of 23 million, inhabiting a land space that is about 3.6 per cent of Nigeria's land space. Yet this country without mineral resources has been able to generate trade volume in neighbourhood of US$530billion. And this same nation has an external reserve of US$401billion, making it the fifth largest nation in the world in terms of external reserve.
'Taiwan has a GDP of US$32,000 compared to Nigeria's per capita income of less than a thousand dollar. And when you look at our external reserve, the highest we got was about $58billion. And now President Jonathan crashed it to thirty-something billion, which is what it is now. We are a nation of 150 million people, so when you look at it from that point of view, you are in a state of shock. Then you look at infrastructure, the buildings, the development in the place, all the skyscrapers you see, you ask yourself: What level of technology does it take to sustain such a hi-tech building structure requiring lift, lighting everywhere. People are living 40th floor and so on.
These are apartment blocks. If it were in Nigeria, would you leave in 20th floor? Will water run there and nothing fails? Have we even started? What would we tell our children in 10 years' time, in 20 years' time? As it is, Nigeria has not started. And these people are supposed to be our contemporaries. What makes the difference? Vision. Leadership. Knowledge. We also have knowledge, but we are a corrupt nation. One other thing is: what is the difference between China and Taipei? Liberty. Freedom. They are basically Chinese, but look at the level of differences in the cost of living, standard of living and infrastructure and sophistication in education, compared with China.'
Shehu Garba, director, People's Media Ltd.: 'Our airport in Nigeria is just a motor park:'
'It took me 48 hours of transit to get to Taipei. It was hectic. But then, I also had the opportunity to rest in lounges in-between flights. That made it less stressful than one initially thought. This is the longest flight I have ever been in and it's my first time in this part of the world. Because of their nearness to China I thought I was coming to meet an overcrowded city but I what I found is a modern city with people spread out. I haven't seen congestion. Nothing. This is as good as you have it anywhere. They have a small country that works. Do they have petroleum? No. Do they have gold? No. It's all about human resources and the ability to develop these resources. We've got to face issues of development more seriously than we have been doing Nigeria. Looking at their airport and airports around the world, our own is just a motor park. I find the discussion on social media very enchanting. It has broadened my understanding of what is playing out in the world and there are important lessons one should take back home.'