Nyako: We Mishandled US Intelligence Report On Nigeria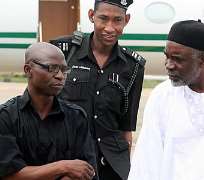 YOLA, October 21, (THEWILL) - The Adamawa State Governor, Admiral Murtala Nyako has stated that Nigerian leadership lost an opportunity when it failed to respond positively to the United States intelligence report on Nigeria.
Nyako made the observation a few days ago during a media chat with journalists representing various brands in Yola, the Adamawa State capital.
While responding to a question on the US report which predicted that Nigeria would disintegrate by 2015, the former top Naval officer and ex-Deputy Chief of Defence Staff said he wasn't happy with the manner the report was received.
Hear him, "You know, I was not happy the way we handled the situation. If your friend says you are in trouble, you are entitled to ask him why he says so. Now if the U.S thinks we may disintegrate by the year 20 15, for me, being positive about is more helpful. I may ask them why they think we may disintegrate by 2015 and the assistance they could give us to make sure that we remain one country especially when they think it is in their own interest and the interest of all of us that we remain one country.
"Now, definitely we are in difficulties in terms of economic activi¬ties which to some degree has adversely affected our well being and security. In Adamawa here, I believe that the stage we are as at now is that we are in very good shape, I believe by the year 2015 we are go¬ing to be even a better State than we are now. We are going to begin to create wealth from the various activities, we have embarked upon in agriculture in particular and indirectly through the skills acquisi¬tion facilities, we have cre¬ated. So I am very optimis¬tic and whenever I attend the meeting of Governors, I think the Governors have realized that we have a big task before us to secure the nation, and our individual States and I am very happy that our President is also aware that the Federal Government has a lot of responsibilities in this re¬gard and also needs the support of the state gov¬ernors.
"The President has been giving a listening ear to the Governors in their need for support to make sure they do a better job. So I believe that we will, like somebody said, be in very good shape and bet¬ter position to deal with our circumstances in the fu¬ture leading up to the year 2015 and be better than we are today.
"I think the warn¬ing is good; it has given the sensible ones, the time to examine what they are doing and make amends to make sure that we and our people un¬derstand the challenges our modernizing society is facing.
"We are not the only ones facing these difficulties. Europe is facing huge dif¬ficulties, and you can see the financial situations they have to deal with now. Their economies are also very bad, in very bad shape in both Europe and America. Every day they are struggling to put it right, every stakeholder, industrialist, the intellectu¬als, the politicians, they are putting their heads together to make sure that Europe and America get their maximum advantage out of their economic messes. The economy is also slow¬ing down in other parts of the world. Together as na¬tions, all of us, we have to do what we can to make sure our societies, our nations, all individual units must do sufficiently well to move our world for¬ward.
"There is no establishment these days that is not af¬fected by the down-turn in the economy, so as soon as you are stagnating people begin to wonder because they expect progress every day. People are expecting progress ev¬ery day, every month, ev¬ery year. They want to see how you have fared in the last one year. So if you have not fared well in the last one year, people are entitled to be alert because with improved knowledge and so improved technol¬ogy, there is no excuse why we cannot be doing better every year," the Governor stated.
On the question on the best way forward to keep Nigeria united and the roles expected from the leadership and Nigerians, Nyako said, "Nobody is thinking about removing himself from Nigeria. Every politician, every business man, every community, every state is talking about how we should strengthen the fed¬eration. We may talk in our various languages, and dis¬play our rich diversity; that is true federalism. It doesn't mean anybody wants to cut away from Ni-geria.
"But some of the things we are pointing out are "for example, the Accountant General of the Federal Government of Nigeria who acts as Accountant General of the Federation. We feel that there should be a separate Accountant General of the Federation to make sure that all the National resources are eq¬uitably distributed within the three tiers of Govern¬ment; like if you have one man doing the job, there is a tendency for him to be more loyal to the body that has appointed him, that is the Federal Government. So for us, having separate Accountant Generals of the Federation, an Accountant General for the State Gov¬ernments and another in charge of the Local Gov¬ernment account will make for a better federa¬tion. You have better re¬sults if each tier has its own responsibility so that tier will meet its responsibili¬ties very well. So one can say as far as the unity of the country is concerned things are okay.
"Security wise, I think there has been some neglect in terms of job cre¬ation and skills creation. You cannot have a large number of people unem¬ployed and you expect to have peace. In the past twenty-five years, twenty years ago, I used to get frightened when I visited some towns and cities in Nigeria to see the number of unemployed people. When I went to my village, I shivered at the number of people unemployed even with proper paper qualifications, with de¬grees and diplomas; they had no jobs. It was frightening. So I take job cre¬ation very seriously and for you to find jobs for people, you have to give them skills, you have to create an enabling environment for industries to spring up for people to be either self¬-employed or to be em¬ployed by organizations that will pay good money. In that case, government has the responsibility to create the infrastructure necessary for that enabling environment. That means energy, you know what I mean. We have one of the lowest per-capita con¬sumption of electricity. It is very sad. It is an indica¬tion of our standard of liv¬ing and the indication of the state of government -owned industries. It is an indication of the level of poverty of most Nigerians.
"So we have issues to tackle, we have so many people un-employed, even if you have the electricity, you have to re-train them, some of them may have university degrees. One may have read agriculture in the university but does not know how to drive a tractor; he does not know how to use the agricultural inputs to get more yields from his farm. So these are areas where a lot of im¬provement is required and when we do this and every Nigerian is reasonably contented with his loads, then that question of inse¬curity should not be there," Nyako stated.
The governor also went further to talk about ethnicity, and religion where he suggested that Christian and Muslim leaders must meet regularly like it is done in Adamawa State to enable deal with issues concerning security in their various states.
"We should look at security holistically and I think the issue of ethnicity, religious bigotry is another matter, but in a state like ours, we have taken the bull by the horn. We have this inter-religious council where the Muslim-leadership and the Christian leadership meet regularly to discuss issues concerning security in the state. I think this should be done nationwide."
On the feud between himself and former Vice President Atiku Abubakar, Nyako said he really has no personnel quarrel with Abubakar though they at one point were in two different political parties.
"You know, quite frankly, from the bottom of my heart, I have no personal quarrel with the former Vice President, Atiku Abubakar and I believe he has no personal quar¬rel with me too.
"Politically, at one time he was in a different party and I was at another party. We are now in the same party, so there is no bone of con¬tention between us. So reconciliation over what? And from the feelers I have, he has asked his supporters to support me in the forthcoming elec¬tion. What else will I ex¬pect from him other than this? If he is prepared to give me this kind of sup-port and his followers too. I mean he has urged them to support me in the elec¬tions.
"I understand too, you know, it is an open secret that he is involved with the Radio Golel. I un-derstand too, he has even asked his radio station to give me coverage free, to give me support towards the re-election. So what will I expect from him more than that? Now as for the other scenario, like whether in the future he is going to seek political support, I prefer dealing with an issue as it comes, I wish him well. I wish him well and I have no per¬sonal quarrel with him whatsoever.
"Now that he has re-joined the party, I have expressed apprecia¬tion to him on the type of support he has been giv¬ing me. I don't have any quarrels with him at all, and I do not believe he has any bone of ' contention with me. Quite frankly, I don't think so," the governor added.