PPG TRAINS TECHNICIANS ON CAR PAINT APPLICATION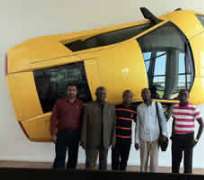 In a bid to educate more auto technicians on the best ways to apply car paints and get maximum results, PPG Industries Europe, recently took some technicians on a training tour of Italy.
The technicians included Boniface Azih (ANAMMCO Enugu); Omotosho Ademola (Elizade Lagos); Mr. Akeem Lamina (Dana Motors Lagos); Vinold Pillai (Dana Motors Abuja); Ibrahim Sulaiman (Kaura Motors Kaduna) and Michael Macfoy of Alpha Auto Refinishes Limited, authorised marketers of PPG automotive paint accessories and chemicals in Nigeria,
Recounting their experiences, the technicians said the trip was very beneficial. According to Michael Macfoy of Alpha Auto Refinishes, the technicians visited the PPG Body Shop and Training Centre, where they were taught with demonstrations, on the right product usage.
The team also visited many exotic places, including PPG Refinishes Europe, Milano plant, where they witnessed how the products are made, as well as a private body shop at Carrozzeria  Monterosa Carate, which afforded them the opportunity of seeing how a standard body shop operates with conventional equipments.
This, he said, was an 'eye opener' for the visiting team because  the body shop handles the body works and paintings for Inter Milan and AC Milan club players. The team, he noted, also visited two big names that use PPG paint – Lamborghini (Santi Agata Bolognese via Modena 12), the foremost luxury car company,  and Ferrari at Maranello, a sports car maker that sponsors Formula 2.
Macfoy said the team also paid a visit to the ancient city of Venice, a famous city in Italy visited by thousands of tourists and known for having narrow streets (so no car drives in the city). With this experience, PPG believes that the technicians would impart the knowledge gained during the trip on others in their various companies, in order to advance body work and car painting technologies.
In November, 2009, Alpha Auto Refinishes Limited offered one year free dent maintenance for cars that were repainted in the company. According to the Chief Executive Officer of the company, Mr. Daniel Nwakpuda, the offer was to make car users see the benefits of using professionals whenever the need to repaint their vehicles arose.
He said, 'It is important to allow only professionals to handle the spraying of your vehicles whenever there is any dent or after every body work,' noting that the promo was to encourage car owners to use original paints. He lamented that many vehicle owners had fallen into the hands of incompetent spray painters that charge exorbitantly and yet deliver poor jobs.
PPG Industries Europe is a sister company to PPG Industries Incorporation, Pittsburgh, Pennsylvania,  a global supplier of paints.