Reps Caution Employers On Age Barrier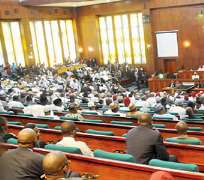 ABUJA, October 20, (THEWILL) - The House of Representatives Thursday urged the federal government to compel ministries, departments and agencies (MDAs), as well as multinationals, corporate and private organisations to urgently remove the age barrier set for graduate employment in Nigeria.
It said the practice whereby age was used as a barrier to prevent certain classes of people from getting employment was adversely affecting the condition of unemployed in the country.
Adoption a motion by Hon. Arua Arunsi, (PDP, Abia), in which he noted that age limit has become a barrier to graduates and young school leavers in getting employment in Nigeria, lawmakers unanimously decried the 'strange requirement'.
The sponsor of the motion lamented that when graduates are denied gainful employment, they would have no option but to resort to whatever means available to them to earn a living including criminal activities.
According to him, age barrier to graduate employment in Nigeria has continued to worsen the unemployment status in the country, a situation he attributed to the decay in the education sector.
He observed that the limit is not only practiced by government institutions and indigenous companies, but even foreign companies are guilty of the strange practice arguing that they do not have similar conditions in their home countries.
Speaking further, Arunsi pointed out that the United Nation's Convention defined youth as from 18 years to 35 years, stressing that the age limit usually imposed by these establishments in Nigeria contravened this Convention.
He further cited section 42 (2) of the 1999 Constitution as amended, which stipulates that no citizen of Nigeria should be subjected to any deprivation by reason of the circumstance of his birth.
Arua Arunsi also referred to section 2205 of the Federal Government Public Service Rules, which says that every applicant must not be less than 15 years but not more than 50 years.
The bill was supported by Hon. Chinenye Ike (PDP, Abia) and Olumide Babatunde Osoba (ACN, Ogun).