2011 NOBEL PEACE PRIZE WINNERS - TIME FOR AFRICAN WOMEN TO END THE BLIND, COWARDLY, AND CORRUPT LEADERSHIP IN THE CONTINENT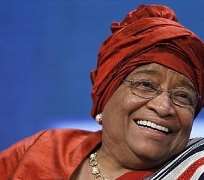 Among the many international headlines of the past few weeks – the passing of Steve Jobs - the American icon and IT genius, the ongoing Arab Spring and where-about of Colonel Gaddafi, Miss Leila Lopes of Angola being crowned the 2011 Miss Universe, the Nobel Peace Prize winners, and off course other hot national news, not one inspired me more than the three women who won the 2011 Alfred Nobel Peace Prize, among them two African women from Liberia. President Ellen Johnson-Sirleaf and Leymah Gbowee, join other notable Nobel Peace Prize winners, which include – President Obama, former President Mandela, Bishop Tutu, late Rev. Dr. King Jr., and late Prof. Wangari Maathai of Kenya, the first African woman ever to win Nobel Peace Prize in 2004 for her struggle for democracy, human rights and environmental conservation using her Green Belt Movement and Environmental Foundation as a platform. She died of cancer last month.
According to Mr. Thorbjorn Jagland, a former Norwegian prime minister who heads the Oslo-based Nobel committee, about 250 people candidates entered for the Nobel Peace Prize this year, but these three women were chosen as winners because of their non-violent struggle to bolster the role of women in struggles to bring democracy to nations suffering from autocratic rule and civil strife. He said, "The world cannot achieve true democracy and lasting peace in the world unless women obtain the same opportunities as men to influence developments at all levels of society."
I completely agree with Mr. Thorbjorn Jagland and very glad that the Noble Academy chose these courageous women to honor them for their activism, vision, and leadership. I have always believed in women leadership and their ability to bring about genuine transformational changes in our world. There are hundreds of strong and courageous women like President Ellen Johnson Sirleaf and Leymah Gbowee in Africa and around the world doing great things – sometimes raising their sons and daughters to become change agents in our wounded world. The Women for Change Initiative (WCI), a pet project of Nigeria's First Lady, Mrs. Dame Patience Jonathan has been a great tool for women enlightenment and emancipation. I really applaud Nigeria's First Lady for her leadership and for galvanizing the women of Nigeria and in fact Africa to demand for that 34% participation in Government.
In this piece, I like to review briefly the works of these African women 2011 Nobel Peace Prize winners as well as examine what the Nobel Peace portends for Africa – a continent still ravaged by violence, crime, poverty, disease, famine, terrorism, and war and finally how these courageous women and others like them can use their global influence, initiative and innovative strategies to bring about the much needed transformation and change in Africa – in a nutshell, end this blind, myopic, visionless, and corrupt leadership in most of the nations in the continent of Africa.
President Ellen Johnson Sirleaf, now 72 years, is the first woman to win a free and fair democratic election in Africa after winning the 2005 presidential election in Liberia. Mrs. Johnson Sirleaf, a Harvard-trained economist, for years was involved in the struggle and liberation of women in her native war ravaged country Liberia. In 1997, she ran against Charles Taylor in the presidential election and lost coming second. The election according to international observers was massively rigged and manipulated in favor of Charles Taylor, also U.S. educated and former warlord. Despite her loss in the 1997 presidential election, Mrs. Sirleaf prominence rose around the world. She held Taylor's government accountable in reform promises and accepted to serve as minister in his government.
In 2005, after Charles Taylor was deposed, she ran for presidential election again and won by a landslide against her opponents. Since then, she has quietly brought peace and stability to a war torn Liberia and engaged in many reforms – chief among them the economy, education, and women's rights. As a former World Bank economist, she employed her influence to secure debt forgiveness in billions of dollars for Liberia's debt and her reforms helped to repair the damaged international image of Liberia.
She is a peacemaker and a reformist, an indomitable human being, eloquent, courageous and knew how to articulate her vision and passion across even on international platforms. Dr. Siahyonkron Nyanseor, a long time friend of mine from Liberia, Chairman of Liberian Democratic Future and Publisher of The Perspective, who refused to serve as Agriculture Minister under Charles Taylor, nicknamed Ellen Johnson Sirleaf, the "Iron Lady" of Africa.
Leymah Gbowee also from Liberia is only 39 and a single mother of six, yet she found time to engage in struggle against war crimes in Liberia – fighting the repressive government against women's rape and children's abuse. In 2002, while still in her twenties, she organized a few market women to sing, pray, and protest in the capital city of Monrovia against the long and protracted civil war in Liberia. For centuries, Liberia lived in deep racial discrimination between the indigenous citizens and the 1847 returnee slaves from America who claimed to have founded Liberia. For years, racial tensions existed between the indigenous and the returnee slaves. The story of Africa is the same no matter how it is told. In Nigeria, it is the amalgamation of variants groups of peoples with distinct cultures, values, religion, and language into one nation.
The Norwegian Nobel committee recognized Mrs. Gbowee for uniting Christian and Muslim women against her country's warlords. As head of the Women for Peace movement, she was praised for mobilizing women across ethic and religious dividing lines to bring an end to the long war that had raged for years in Liberia until its end in 2003 and for ensuring women's participation in elections. Working from her office in Accra, Ghana, as the director of Women Peace and Security Network Africa, Gbowee, a peace activist, mobilized and organized market women across ethnic and religious dividing lines to bring an end to Liberia's brutal 14-year civil war, and to ensure of women's participation in national elections. The group adopted a "sex strike" strategy to protest against Charles Taylor war crimes and atrocities. Within months, the innovative idea worked and Charles Taylor and his cronies signed an agreement of ceasefire and negotiations. Whoever tells you that women don't have power and influence is a liar!
Anyway, in 2003, President Taylor was ousted. The Nigeria government during Chief Obasanjo's presidency even offered the warlord and his family a temporary stay in Calabar, Cross River State. Mr. Taylor and his cronies are currently on trial at The Hague International Court for war crimes charge. The vision, passion, strength and courageous work of Leymah Gbowee created the opportunity for Ellen Johnson-Sirleaf to become Africa's first democratically elected female president in 2005. Since then, Mrs. Gbowee has received many accolades and numerous international honors for her peace-building work. She is a lioness, a trailblazer and a transformational activist. In her interview with BBC Focus on African programme, she said, "In 2003, it was very difficult. We had lived with 14 years of conflict. A group of us, women, decided to take action for peace - including picketing, fasting and praying, amid the shells and bullets, we prayed and protested for days on end, demanding that the conflict between former President Charles Taylor and rebel forces stop." Whoever tells you that prayer does not work is a big liar.
What does this Nobel Peace Prize award to these African mothers means for Africa? How would these courageous women use their global award and honor to bring about the much needed transformation in Africa - to end the blind, myopic, visionless, coward and corrupt political leadership in the continent dominated by men's club as President Ellen Johnson-Sirleaf coined it. President Sirleaf, in a recent interview with the Paris-based monthly magazine, said she did not "want Africa to return to the men's club and forecast that women would take over in more African countries."
In other countries, we have seen many women in power, leading their nations as presidents or prime ministers with enormous accomplishments worldwide. We all can remember Margaret Thatcher, the iron lady of Britain, late Golden Mier of Israel, late Benazir Bhutto, former prime minister of Pakistan, late Mother Teresa of India, Martti Ahtisaari of Finland, Mary Robinson of Ireland, German Chancellor, Angela Merkel, Nancy Pelosi, first female Speaker of the United States Congress, Dr. Condoleezza Rice, the 66th and first black woman appointed to the United States Secretary of State, former Senator (Mrs.) Hilary Clinton, currently serving as U.S. Secretary of State.
But for the last 50 years and more, only men have ruled in Africa. With exception of Liberia, no woman has been allowed to occupy the position of president, vice president, senate president deputy senate president or governor in Africa. Even in ministerial position, women often assigned to minor ministries. Instead, the men have mismanaged the enormous human potential and abundant natural resources in Africa because of greed, personal power, profit and pleasure. The cultic men's club has failed the African people because of their ego, colonial mentality, religious and ethnic bias, lack of compassion, inefficiency, incompetency, corruption, and greedy politicking. Because of poor politics and visionless leadership, millions of Africans are wallowing in abject poverty, dilapidated infrastructure, death-trap roads, lack of clean water, ill-equipped healthcare facilities, and poor education at levels, high roof unemployment, religious idolatry, ignorance and intolerance. Bribery and corruption are endemic, poverty, hunger, pandemic disease, improvised infrastructure, and tribal conflicts – are sadly the picture of Africa.
Africa's workforce remains one of the least educated and unprepared in an interconnected world economy and technology desperate for skilled and talent workers. The political culture is inept, corrupt, and visionless. Religious ignorance, intolerance and conflict are virtually evident every where in African countries. In the continent, religious violence and ethnic cleansing are enormous. Religious violence has decimated more lives in Africa in the last 50 years than hunger, disease, accidents and wars put together. Africa and Middle East have been called a "bloody continent"- a continent of death, of destruction, dump, doom and death. Africa is also a battleground between Islam, Christianity and traditional religions. Muslims and Christians kill each other in Nigeria, Sudan, Somalia, Senegal, Rwanda, Burundi and Egypt. Fetish priests use hypnotism and witchcraft to kill and slaughter infants and young children for rituals and lucre. Regional, tribal and ethnic killings have decimated millions in countries like Nigeria, Senegal, Sierra Leone, Sudan, Somali, Ethiopia, Rwanda and Liberia.
I think it is time to give women a chance to lead in Africa – starting with Nigeria. Perhaps, that could be the remedy to the corrupt government and impunity we see today in Nigeria's political space. Africa does not lack visionary and courageous women who can lead. Despite the failures of some, many women in government have served well and continue to serve in excellence. Most have been transparent in their discharge of domestic, public and even foreign responsibilities. Dame Virgy Etiaba, ex-Governor of Anambra State, as the first female governor in Nigeria, served the governor and her State very well. Mrs. (Dr.) Dora Akunyili, Nigeria's Drug Czar, not only demolished the fake drug business in Nigeria, but rebelled against lawlessness, weak leadership and a failing Nation by rebuking the Nigeria State, when she was Information and Communication Minister to respect and obey the Constitution and install Goodluck Jonathan, president of the Federal Republic of Nigeria during the illness saga of the former President Musa Yar'Adua.. Mrs. Oby Ezekwesili, former education minister, madam due process and now Vice President of World bank for Africa and off course the indomitable Dr. (Mrs.) Ngozi Okonjo-Iweala, former Managing Director, World Bank and now serves as Finance Minister and head of President Jonathan's Transformational Economic Council. These women and many others will make great and successful heads of State.
We also need women to lead in non violent protest against the blind, poor and corrupt government in Nigeria. The police and other government security personnel do not care to shoot men in protest, but they would rarely do same to women – because the world would notice and punish them. However, it is not the kind of nude breasts protest we saw in 2002 during president Obasanjo's first term in office, when hundreds of women in naked breast mostly from South-east and South-south protested against oil giant, Chevron for not hiring their children and developing their remote and run-down villages with some of the region's oil riches. The nude breast protest did not get much attention especially internationally, because the breasts were not sultry, but sullen, flat and un-attractive. If the breasts had been standing and sultry, perhaps, the world would have noticed.
Nevertheless, Nigeria women have been involved in many protests – who can forget another half-nude protest in April 2009 against the delay in announcing the result of the governorship rerun in Ado-Ekiti, and then the Abuja protest against the post election violence in April 2011. In March 2010, Women stormed Abuja, to protest against senseless killings in Jos, Plateau State. Also in February 2011, thousands of Nigerian women marched through the streets in Jos city protesting against the persistent killings in the State. Perhaps, the most notable is the Aba women's riots of 1929, against the taxation policy of the British colonial government. The courageous riot of the Aba market women began and contributed immensely to the struggle for the liberation, freedom, and ultimately the independence of Nigeria in 1960.
Perhaps, what is needed nowadays is an innovative strategy like no-sex or sex-strike adopted by Mrs. Gbowee and her women group. That kind of strike must say NO to bad leaders, greed corruption, abuse and looting of public treasury, embezzlement, tax evasion, political godfathers and kidnappings, poverty, injustice, religious intolerance and ignorance that is so pervasive in Nigeria today.
The three winners of the 2011 Nobel Peace Prize – Ellen Johnson-Sirleaf, Leymah Gbowee and Tawakkul Karman, epitomize virtue, courage and divine strength. Their heroism and vision transformed their nations and people. They are women of great strength and compassion. In response to the news of her win, Mrs. Gbowee said, "This is a great tribute to Wangari Maathai." Mrs. Gbowee also said, "This is a victory for women's rights everywhere in the world."
Mrs. Tawakkul Karman, 32, a mother of three, who took to the streets of the capital of Yemen along with about fifty other university students in January, demanding the resignation of President Ali Abdullah Saleh, on wining the Peace prize, also said, "This is a victory for Arabs around the world and a victory for Arab women." In Saudi Arabia and most of the Arab nations, women are not still allowed to drive a car. I join Mrs. Tawakkul Karman in prayer and hope, that one day; Arab women will be truly free to pursue their dreams and to experience the joy to do such fun things as driving a car.
The three women are genuine, true, pure, courageous, and super ladies. They have left a remarkable, legendary leadership and lasting legacy for Africans and the whole world. They were willing to sacrifice their life in order to save their nation and people from the tyranny of poor leadership and peevish plans of corrupt government. They should be properly called mothers of civil right movement in Africa. They are intelligent, elegant, gracious, confident, dedicated, tenacious, kind, loving, courageous, and compassionate. They risked their lives for the betterment of those they led. Remarkable, genuine, true, pure, moral, courageous, supernatural are not enough words to encapsulate their life, leadership and legacy. What a remarkable example of life, legendary leadership and lasting legacy these women have left behind for their families, for women around the women, for their nations and the whole world at large. They are women of virtue, wisdom, courage, and destiny and epitomize my long call and cry for supernatural leadership – God empowered leadership. They portray the virtues and essential qualities of leadership like the biblical super women such as Esther, Ruth, Deborah and host of other women who led their people and conquered nations in biblical times.
Long Live the African Woman!
Dr. C. K. Ekeke is a theologian, author, consultant and leadership scholar. He is the president of Leadership Wisdom Institute.
Disclaimer:

"The views/contents expressed in this article are the sole responsibility of

thewillnigeria.com

and do not necessarily reflect those of The Nigerian Voice. The Nigerian Voice will not be responsible or liable for any inaccurate or incorrect statements contained in this article."
Articles by thewillnigeria.com