THE PROSTITUTION DEBATE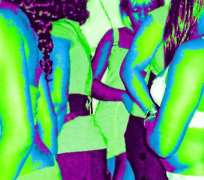 Prostitution is one of the world's oldest and perhaps despicable professions in the world. It is a trade the professed pious and self-righteous individuals in our society would not like to discuss.
In fact, if they have their way every prostitute would be rounded up and jailed. But, it is something one cannot wish away, the trade is as old as man's existence on Earth and would even grow stronger in future generations as indicated by recent trends. It is called salopes in French , ashewo in Yoruba or akuna in Igbo. There are a lot of derogatory names for it depending on where you come from.
In Nigeria, prostitution has different facets; there is the corporate prostitution, whereby beautiful girls are hired by banks to get fat accounts for them. Their employment is not based on merit but on how willing they are to open their legs to secure these accounts. In a bid to meet up with their target which is usually in millions of naira monthly, the unfortunate ladies are forced to trade their "prized possessions" to the "big men" in return for the accounts they want to secure for their respective banks. In order to remain in the labor market and avoid being thrown back in the unemployed sector, they are ready to sleep with anybody "even a dog" in as much as the person is ready to open an account with the much needed millions of naira.
There are the ladies in the media industry who due to their profession "information dissemination" have to meet people from all works of life in order to get the much needed information across to the public. In the course of doing that, they meet rich businessmen and of course "politicians" who are every reporter delight because they pay heavily for stories, more especially if you are a beautiful young lady who is ready to "tango" with them. But, can one really blame the lady who opens her leg when you discover that most media houses owe reporters salaries up to five months at a stretch in most instances.
There are the so called " runs girls" or "happening girls" in our campuses all over the country who will even open up their legs for their own father in as much as the pay is right. Their services are always engaged by some governors and politicians who have a strong libido for the "mundane" whenever there is a political gathering in states where such girls reside in. Some governors even have personal advisers on that "aspect" who act as go between. There is also the average girl in our society who has more than twenty boyfriends at a stretch. Such girls do not work, they may use three months in visiting the "mugus" one by one. Why do they need to work when there is easy money to be made? They do not care about their action and they justify their action by saying that you have to use what you have to get what you want. Their task has been made easier by the advent of the social net working sites like facebook, twitter, 2go etc where more " mugus" can be met and milked. All of them can therefore be classified as prostitutes with certain degrees of difference and operation but the subject of discussion here are those who live in brothels, those who are plying their trade without pretense. Those who have placed a tag on themselves, here I am, come and patronize me.
In the past, it was a taboo in Nigeria to be known and addressed publicly as a prostitute, call girl, whore etc. Most young ladies who went into the illicit profession preferred to ply their trade in towns far from their state of origin in order to avoid the embarrassment of being recognized by a relative or kinsman who probably came to patronize the joint to "purge '' his loins. They operated discreetly and in the dark. They would stand at dark alleys in the middle of the night winking, whispering and calling any man in trousers. They were not proud to be identified then as prostitutes but all that is in the past now.
Today, they have come of age; they have suddenly become bolder, daring and more business-like. They even cite certain portions of the Nigerian constitution to emphasize why they should be allowed to operate freely. They strut up streets, offices and other public institutions in broad day light, half dressed, in search of customers. They even have an association and to crown it all a spokesperson or president (I won't mention names) who is seeking for better working conditions for them. It is no secret, at least one of them granted an interview recently to a reputable news magazine in Nigeria. They even have legal advisers. They have also tried to whitewash or re-brand the profession by giving it a more subtle name "commercial sex workers". Funny indeed! I learn they even have a day that is now set aside as a commercial sex workers day. That is how powerful the trade has become. It is a booming and money spinning business because men by their nature usually have an insatiable appetite for sex and must have it by all means not minding the cost. So, it can also be argued that they fulfill an essential function in the society. On the other hand, most of these prostitutes were pushed into the act because of the high rate of poverty and unemployment in Nigeria, while some see it as an easy and fast means of making cash. It pays instantly and more handsomely than many jobs so it is more attractive to ladies with no scruples. It is of course a mobile trade, so they carry their movable and unmovable assets around in search of preys.

Surprisingly, they seem to have gotten tacit support from an unusual quarter, the National Assembly. This is of course from the highest level, last week ,when the deputy senate president ,Senator Ike Ekweremadu, speaking during a motion on the scourge of human trafficking in the country asked the Senate to consider the possibility of legalizing prostitution in Nigeria since it cannot be stopped. The summary of what he said on the Senate floor is that he wants every prostitute in Nigeria to given license (certificate of operation) to operate freely without harassment from all law enforcement operatives in Nigeria. He wants them to operate without fear of stigma from members of the public .Infact, the profession should now be seen as any normal vocation in Nigeria and not as a debasement of womanhood. They should now be given a certificate of operation and their patrons also would also be given a certificate (ticket) to conjugate with them any time they want.
Maybe buildings where they operate will soon have colorful neon signs advertising the joints publicly (pay as you go ashewo joint, correct boys ashewo spot etc).May be they would start placing adverts in the print and broadcasting outfits in the country to encourage us to patronize them. Maybe, from now on, patrons of brothels would be happy to reel off in public gatherings how many joints they have conquered. Maybe, call girls will start giving out complimentary cards with the services they render stated boldly on it. Who knows, when it is given a legal backing in Nigeria as Ekweremadu wants, they might bring out a candidate to run for house of assembly, house of representatives, senate or even perhaps president of Nigeria so that they will have a say in governance of Nigeria and probably protect their interest (after all, dividends of democracy must reach them).It is possible, after all ,in my state, Abia, the chairman of the association of keke riders in Aba won an election into the house of assembly in the general elections on the crest of the keke riders. Whether he is representing that constituency well is a subject of discussion for another day. But I know your guess is as good as mine. Who said they won't start giving testimonies in churches to thank God for giving them customers when they get a legal backing?
I am not a pious person and would not even claim or pretend to be pious one bit. It is even hard to be pious in the Nigerian setting . There is an argument that prostitutes serve a very big purpose to patrons just as people indulge in alcohol and other types of drugs to satiate their urge wherever it arises. Prostitution has come to stay and can never be stopped no matter how hard anybody tries. But, the question now is Nigeria ripe for what Senator Ekweremadu is seeking for? There is an argument that prostitutes are recognized and given their due rights in some parts of the western world like Netherlands and Belguim. But, must we copy every trash that emanates from the western world? Do we have the same value system with them?
Another line of argument is that huge revenue can be generated through taxes from prostitutes. One is therefore tempted to ask what basic infrastructures the government both at the state and federal levels has provided for Nigerians with the millions of money generated from workers through taxes every month. I suspect it is all about money. More means of generating revenue are being sought. Maybe, we will soon have a Minister of commercial sex workers and of course have members of the National Assembly as committee members to do their " usual" oversight function. After all, every prostitute, both new and intending ones will register. Their patrons will also register and it will involve money. If the argument is to ensure that they seek proper health care. It is a known fact that prostitutes (especially the new breed) are more health conscious than the average Nigerian who has multiple sex partners without adequate preventive measures .Their body is their workshop and they also invest in it to be fit and prim. Do we even have proper healthcare facilities in Nigeria? It goes into private purses at the end of the day. Are members of the present Senate bereft of cogent and serious issues concerning the nation to discuss? If they are, they should ask members of the public to furnish them with important issues to discuss. Is the Senate trying to create more avenues for the police to extort money from the public? At least, the police can create check points around brothels and arrest any unsuspecting young man that strays towards that vicinity for not holding a ticket (certificate) to patronize prostitutes. And we know that bail in Nigeria is not free.
I do not believe our society has gotten to the level where prostitution should be legalized in whatever form. Nigerians have the capacity to abuse any policy no matter how good it may be. It may boomerang at the end of the day. Will the passage of the law put food on the table of poverty stricken Nigerians? Will it not encourage young ladies who are still sitting on the fence to go into prostitution? So in whose interest is this bill really for? Is it for the politicians or for the masses? I am yet to be convinced on the need for this bill now. Someone who is grounded in the subject matter should please explain to me succinctly so that I will understand and even drum up support for Ekweremadu as a "patriotic" citizen. I need answers. I am also sure that someone else out there needs clarification.
Written by Emenike Ikedichi Ubani.

Disclaimer:

"The views/contents expressed in this article are the sole responsibility of

thewillnigeria.com

and do not necessarily reflect those of The Nigerian Voice. The Nigerian Voice will not be responsible or liable for any inaccurate or incorrect statements contained in this article."
Articles by thewillnigeria.com