EFCC Trial: Afenifere Team Visits Daniel, Pledges Support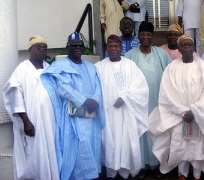 …Says Satisfied With Former Governor's Argument
ABEOKUTA, October 19, (THEWILL) - The Pan Yoruba Socio-political group, Afenifere, Wednesday paid a solidarity visit to former Ogun State Governor, Otunba Gbenga Daniel who is facing a 16-count charge preferred against him by the Economic Financial Crime Commission (EFCC).
Leading the Afenifere team to Daniel's country home in Sagamu were Chief Reuben Fasonroti, Chief Olu Falae, Chief Ayo Adebanjo, Chief Laniwon Ajayi and Chief Kole Omololu, among others.
The pan-Yoruba group said it was on a fact finding mission to ascertain the true position of things concerning Daniel's arraignment by the EFCC.
Shortly after its closed door meeting with the former governor, Fasonranti who spoke with journalists said, "We are here to see the former governor on solidarity, we have listened to his own side of the matter and we are satisfied with his argument."
Speaking further, he said, "the whole matter is over dramatized by the newsmen, he's being tried on the pages of newspapers while he should have been given a better chance but we hope after sometime the fact will be known to the whole country. We shall have nothing to fear."
Fasoronti disclosed that the former governor's commitment to development made the group pay him the courtesy call, saying "he has been doing very well even though he's not a member of Afenifere."
On the next step for Afenifere, he said "we'll wait for the judiciary to give its verdict on the matter, you don't condemn a man until he is proved guilty, our opinion is still the same. We are satisfied with his explanation. In this context, we (Yoruba) should come together."
Meanwhile, leader and founder of Oodua Peoples Congress (OPC), Dr. Fredrick Faseun has demanded that the on-going trials of former Governor Bola Tinubu (Lagos), former Speaker Bankole Dimeji, Christopher Alao-Akala (Oyo) and Gbenga Daniel (Ogun) should follow due process, saying their trial must not be politicised.
According to Fasehun, "the current prosecution of some past governors and politicians from the South-West is of concern to us. Bola Tinubu is being brought before the ICPC, while Dimeji Bankole, Christopher Alao-Akala and Gbenga Daniel are being docked by the Economic Financial Crime Commission (EFCC)."
He added: "Were these men as evil as being painted? To have condoned their misdemeanours for all this time smacks of shared guilt by the people, the suspects and anti-graft agencies. It raises the question whether anti-graft security operatives should not be more proactive and preventive and whistle-blowing at the first sign of corruption? Before much damage was done, what stopped EFCC from warning public servants to adjust?"
Faseun in a statement made available to the THEWILL Wednesday stated that OPC was particularly concerned that federal authorities have concentrated attention on just one geographical area and tribe, saying "we feel that the disunity among the Yoruba is being exploited by our detractors."
He further said that "a public officer who spent four unchallenged years in office and won another term of four years must deserve some respect, dignity and honour. It means that his people found in him some considerable leadership quality."
He therefore stated that "in Nigeria, any one in government is a thief, until proved otherwise. There is that natural tendency to see former or current public office holders facing prosecution for corruption as guilty in the public eye. But I have learnt to give our VIPs benefit of the doubt and not join the mob calling for their crucifixion."