KINGSLEY OKONKWO OF KC PRESH'S CLINCH MULTI MILLION NAIRA GRANT WATCH DEAL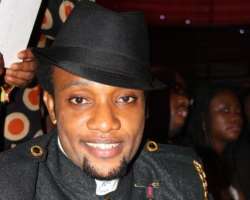 Handsome Kingsley Okonkwo,one of the duo that made up the moribund KC Presh,is no doubt a popular figure in the entertainment industry.
In a recent interview,he opens up on his endorsement with Grant Wrist Watch.
He said: I am the brand ambassador for Grant Wrist Watch of London,and it's what I am wearing and have been projecting it.God has been so nice.
Asked to shed more light about Grant Wrist Watch;he said Grant London is a very big brand over there in the UK.For so long,they have been in Nigeria.They called me over to the UK,they belive I have the style,class and the taste to be their ambassador.And I accepted the deal because I found the wrist watch classy and it's for big boys