MIMIKO'S AGRICULTURAL POLICY: KILLING TWO BIRDS WITH A STONE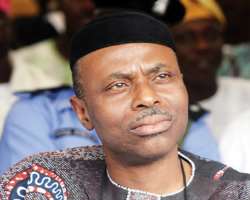 ONDO STATE GOVERNOR, DR OLUSEGUN MIMIKO
A hungry man, goes the saying, is an angry man. This explains why in man's list of priority, food comes first. Thus, it will take a sensitive leader to understand that to get the best out of the led, their stomach must be adequately taken care of.

This is one understanding of the led that the leader in the Ondo state governor, Dr Olusegun Mimiko understands so well, hence his displeasure with the state of Agriculture which has made provision of food for the citizenry inadequate in the country.

The medical doctor turned politician is perturbed that despite the potentials the nation has to enable her cater for the food demands of her citizen, she rely mainly on importation of food.

Speaking at the recent launch of The Sun's 'Nigeria Golden Book' I Abuja to mark the 51st Anniversary of the nation, Mimiko voiced his displeasure at the nation's inability to feed her citizen, lamenting that despite over 74 million hectares of arable land in Nigeria ,yet the country spends an average of N24. 5 trillion annually on food importation remarking regrettably also that Nigeria was one of the largest food importers in the world.
In his words: "The food import bill of Nigeria in 2007 to 2010 was N98 trillion or $628 billion. In 2010 alone, Nigeria spent N632 billion on importation of wheat, N356 billion on importation of rice. That means we spent N1 billion per day on rice alone, N217 billion on sugar importation and with all the marine resources, rivers, lakes and creeks, we are blessed with, Nigeria spent N97 billion importing fish."
The Ondo State governor said he got the figure from the Minister of Agriculture and Rural Development, Dr. Akinwunmi Adesina, whom he quoted as saying that Nigeria was completely unable to feed its citizens.
Mimiko said: "This is a clear departure from the reality of Nigeria in the 1960s when agriculture provided the main source of employment, income and foreign exchange earnings for Nigeria. The advent of commercial oil exploitation in the mid-1970s no doubt, heralded an era of decay for agricultural output in Nigeria. It is interesting to note that as a nation today, we produce 500,000 tonnes of rice whereas we consume 2.5 million tonnes."
The governor had noticed this reality before he assumed office as the governor of the and how it could draw back the clock of progress of his government, but he was determined to make Ondo State an exception , hence, he set an agenda to ensure food security in the state. .

The Agricultural programme of his government is not only enhancing food production in the state, it has also provided the avenue to meet the unemployment needs of the state's job seeking graduates under ithe government's unprecedented caring Heart Agric Village Scheme.


The ingenuity of the governor with the scheme provides for Agric villages earmarked for three centres. One of the villages is running successfully already in Ore, in Odigbo local government area of the state, with the other two in Epe and Auga-Akoko.
At the facility tour of the Ore village , the governor restated his administration's determination to tackle youth unemployment through modern agriculture. Before this time, 1500 graduates had been employed to work at the farm out of the 10,000 that the project will provide employment for in the first phase of the scheme.

He was emphatic in his assertion to the graduate workers at the tour that the project would serve as a model and great innovation for Nigerians to accept agriculture as a profitable venture and veritable tool for reducing unemployment situation, declaring to the employed that "I want to encourage all of you young graduate farmers that, this is about you, it is about the future of this state, it is about a task to be chosen by a nation if it wants to get out of the poverty. "Through your activities here, I believe that Nigeria will come to learn that farming is a profitable venture and it is one avenue that we can explore to ensure that we defeat youth unemployment in Nigeria".

The Ore Caring Heart Agricultural Village is being successfully run with 2000 hectares of land acquired. It has 80 hectares of planned cassava farm already being allocated and 47 hectares of Maize already harvested.

The Village has 300 fish ponds and mushroom demonstration farm. 600,000 Oil Palm from Indonesia and 200,000 from NIFOR in Benin were planted at the pre-nursery shed.

Currently, 5,500 farms have been distributed to interested participants under the Employment through Ownership In Agric Ventures while 350 ad hoc farm workers have been provided with employment.

Also, 2,750 and 4000 hectares of land have been acquired and surveyed in Epe and Auga- Akoko respectively for the other two Villages all in the bid to create vast employment and food security for the people through agriculture.

To further ensure food security for citizens in the state through employment creation, the state government flagged off Mobile Farm Service Centre at Ipele, Owo local government area with 20 graduates employed to manage the centres.

Aside the numerous measures that have been put in place to ensure employment and food security in the state, more programmes are being flagged off true to the pledge the governor made on assumption of office.
This much the governor affirmed when he revealed last week that at inauguration "we said we would use agriculture as an instrument of job creation, of food security, and as well an avenue to provide raw material for industrialisation.
"We will be deceiving ourselves if we fail to recognise that our greatest challenge today is mass unemployment, critical graduate unemployment and a mismatch between what we are able to produce and what we need; a mismatch between curriculum and employable graduates.
"It is a whole complex problem. What is beyond doubt is that we must tackle unemployment if Nigeria must remain in peace and as a nation.
"Again, if we look at how to confront unemployment, we have to look at areas of relative advantage. One such clear area is arable, fertile land. For us, the most critical area of employment generation is agriculture. The challenge, however, is how we recreate farming to encourage young graduates and convince them of the possibility of sustainable living from it."
Further explaining the agility of his government in ensuring employment are created in the process of creating food security, the governor said "as a way out, we have moved beyond routine support to farmers like provision of improved varieties of seedlings, fertilizers, chemicals, cutlasses and training and extension services. We believe we must create a new generation of farmers and our approach is to recourse to a well-planned system of farming called Agriculture Villages, which are marked improvements over the Farm Settlement initiated by the revered Papa Awolowo..
"The Ore Agricultural Village, the first of the first batch of villages, not only has 250 fish ponds, more than 24,000 birds in the poultry and more than 1,500 hectare of cultivated arable land; now, the fish ponds are serviced through three dams, constructed by the government, which operate based on gravity. This may sound somehow to the uninitiated. The dams run without depending on electricity supply of any kind; and water supply and draining is natural."
The governor confirmed that "Ore has started churning out crates upon crates of farm-fresh eggs. The farm in Epe, in the Central Senatorial District of the state, is almost completed; the same for the one in Auga-Akoko in the North Senatorial District.
"We are modest; we call them Agricultural Villages while, indeed, they qualify to be called 'Cities' because all that are needed for quality life are provided: modern residences for the farmers with modern ICT systems; all equipment for mechanised farming and ready market for products. One interesting thing about the Auga Farm is that it combines crop farming, fish farming and a ranch. As of today, we have completed the facility for 1,000 cattle; the ponds are well under construction and those who should know have said that a few years down the line, it may become the biggest cattle ranch in West Africa.
Both Auga and Epe will mop up 1,000 graduates each and this is apart from support staff members, who are mostly non-graduates. Our goal, as I said, is simple: we want to use agriculture as a tool for mass employment, food security and raw material for industry. " Mimiko said.
No doubt, this unprecedented landmarks being recorded by the state in the area of Agriculture is a sure way of making the governed easy to lead, since hunger, which could provoke rebellion would have been have been nipped in the bud.
Written by Femi Adepoju.


Disclaimer:

"The views/contents expressed in this article are the sole responsibility of the author(s) and do not necessarily reflect those of The Nigerian Voice. The Nigerian Voice will not be responsible or liable for any inaccurate or incorrect statements contained in this article."
Articles by thewillnigeria.com