I've Not Gone To The University Because Of Money--Terry G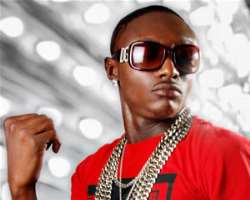 Born Gabriel Amanyi to a deacon father and a choir mistress, Terry G is a young music producer and singer who has turned out several hits in the last few months. With a production outfit to his name and record labels on his trail, Terry G took Reporter, Gbenga Bada, into his world.
What is the difference between Gabriel Amanyi and Terry G?
Gabriel Amanyi is the responsible homeboy while Terry G is the entertainer, who doubles as a producer. They are different names with different images but belong to the same person.
You have been around for sometime but it appears everybody is now running towards you to produce or feature in their songs. How did you get to where you are now?
I would say it took me two years and it started after I did a song as Terry G called 'Love is Sexy' with AZ. That was more like my introduction to the industry because after that people started giving me jobs. I had earlier begged for opportunities from the top shots then but no one allowed me or gave me that chance. But two years ago, I started doing my thing gradually.
How has the journey been so far?
It's not been easy. Nothing comes easy, if you are down for it and you are down for an aim, you should know that there would be different obstacles and tribulations but I was able to scale through and I thank God.
What was the your parents' reaction when you started?
I used to be a gospel singer and I had completed my gospel album, but due to lack of financial support, I wasn't able to release it. I then switched to commercial music, which was secular music to my parents, and I had problems with them because they didn't approve of it. I had to do secular music for the money because I couldn't just see myself roasting with my dreams going away. Sometimes you take personal decisions and as such, I left home and went to the street to do my thing and it turned out fine. Now, my parents are with me and everything is okay.
I that the only reason for your decision to go secular?
I never decided on that. It was while I was looking for a sponsor that I met Faze and he listened to one of my songs and said, 'let's do something together and I would help you build your career.' Along the line I changed and here I'm. One thing I believe in is change because it is the only constant thing in life. I had to do commercial music and before I knew it, I had started doing much of secular music.
Is there any possibility of you releasing a gospel album?
My forthcoming album is a fusion of secular and gospel tunes and the reason is because I have never for once forgotten God. He is the reason I'm here in the first place.
You have been known to have done songs with several artistes and even videos but you only have one video and single to your credit. How soon do you intend to pursue your own thing?
I have begun work on my album already and it's almost done. I have a couple of singles already and they are already on air, I intend to shoot more videos very soon. Already, I have singles like 'Free Madness,' 'Halleluyah,' 'Ko Jo', 'Everything Yapa' and 'My Ginger Skate.' The album would be out in a couple of months and I can tell you the videos would be out pretty soon.
Would it be correct to say that the delay in your album is a result of the work you are doing on productions by other people?
There is hardly time for me to focus on my personal work. It has not been easy though and I found that even if I have to do my own things, I rush through and I don't want that. I have a lot of people on my neck and it's not that the effort that I put in it gives me that creativity but the plus that God adds to it makes it what it becomes. So, the delay in my album has to do with the work I'm doing and a lot of people are expecting some good songs and I don't want to disappoint them. I have to take my time and be creative.
It's not an easy task succeeding as an artiste and a producer all at once, how have you been able to manage it?
I worked for Faze for two years and the process gave me the opportunity to learn so many things. When I started my own thing there was not much stress because I followed the game and I understood it. I try to juggle both but I enjoy production more than singing. I thank God for everything but what I care about now is my productions. I'm aiming higher and going into video shooting because I'm expecting my cameras very soon. I don't really care about the singing aspect that much now or as Terry G because there are several talents on the streets looking for someone to just give them the chance and that is what I intend to work on.
You have several slangs on the streets and you have become the man many want to hear in recent time. How do you get these slangs?
I don't write songs, my productions inspire the songs I sing. Even most of the artistes I produce for don't write their songs, rather, the productions inspire the songs they sing or later write. The beats I create determine what songs I sing. Aside that, my environment determines what I sing about and most of these slangs have been there, it's just that Terry G promoted them.
Why is that you feature in most of the songs that you produce?
It's not my fault. Most of these artistes don't bring songs. Everybody seems to be feeling me and they want a pinch of it, so they won't bring what they have but they just want that new thing that I can deliver on their songs. Most of them insist that I feature or throw a verse or two and when I refuse, they say ok, just say Terry G on the beat or just 'Free Me'.
You have done so much with several artistes, who are now rocking the Nigerian music industry. What is your relationship with them, especially Timaya, whose songs you produced?
Timaya and I are okay. But I think the fact about life is that everybody should be good. You find out that you trust people around you so much that at the end of the day when you need them they disappoint you. Anyway, he's my very good friend.
Why have you stuck with up and coming artistes despite your long relationship with Faze?
I have actually dedicated my time to the up and coming ones because I remembered that when I was working with Faze, the celebrities and big stars all knew me and I begged to work for them but they refused. It was through up and coming artistes that I was able to make it. So, I promised God that I would not relent in helping up and coming artistes. I have gotten offers from several labels, who want me now but I refused them because if I do, I won't have the opportunity to do what I want and had promised God. I believe working with up and coming artistes would make me last longer than with artistes that are already made.
Do you have any regrets since you started?
I don't have any regrets because one constant thing is change and it makes you learn lessons. I wish I had a camera and I was filming all that has happened as evidence. The fact is that if God is in support of whatever you are doing there will be no problems.
What was growing up like for you?
I have liked music right from my childhood days. I used to go to music schools to learn more about instruments and it all started from the church. My mother was a choir mistress and the only thing I did was to improve on myself and God wanted it to be this way for me. I'm still doing all I can to improve on what I have.
Give us an insight into your background.
I finished secondary school but have not been to the university due to my financial status. My mum is a choir mistress and my father is a deacon. I come from a family of four children, two boys and two girls. I'm the first child.
Would you say you have arrived in terms of wealth and status on the Nigerian music scene?
I've not arrived, I'm in a process to success because I believe that the day you claim success is the day God will claim it from you. So, all I can say right now is that I thank God for where I'm right now and He has everything in his hands and I never for once thought it would be as quick as it is for me at the moment, so I thank Him. It's not like I'm the best or something; it's just by His grace that I'm able to be where I am today.
Where do you get your inspiration?
Well, from the world around my environment, the things I see, my experience and my daily life.