N3B ETF RESEARCH FUND: ACADEMICS HAVE NOT ACCESS IT -UI VC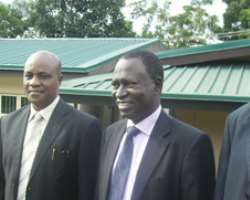 • Dr. Jackson Osu, Director of Education Training Inspectorate of the Nigerian Institute of Science Laboratory Technology, Dr Ighodalo Ijagbone, Registrar/Director General of Institute and Dr Folorunso Sunmonu, Director of Planning, Research and Development at a briefing in Ibadan.
The Vice Chancellor of the University of Ibadan (UI), Professor Isaac Adewole, has disclosed that the N3 billion set aside by the Education Trust Fund for the purpose of research has not been effectively accessed by many academicians.
To him, the Federal Government could no longer be blamed for not providing the required fund for the research purpose 'after all the money has been made available' but academicians should be blamed for not seeking the necessary information on how to access the money.
Speaking while declaring open a two-day retreat/symposium of the Medical Education Partnership Initiative in Nigeria (MEPIN) tagged 'Research for Improved Teaching and Healthcare Delivery' held at the Trenchard Hall of the institution, Adewole  expressed delight at the impact the programme had made on educational development in the country since the past one year when it started but was however quick to add that many scholars had not taken full advantage provided with the setting aside of the N3billion by the ETF for the purpose of advancing research.
He advised scientists to try as possible to access the fund so to fulfill the mandate of universities in the area of conducting research He said: 'ETF set aside N3billion for research. So, I am telling our people to access the fund because the Federal Government specifically set it aside for academic research. But of the money is there and we are not accessing it, we cannot blame the federal government'.
'I think the fund was been accessed for two reasons: lack of information and capacity. But in the UI here, we have been sending out notices about the availability of the fund. We are also training our younger ones to write proposal to us to be able to access the money', he explained.
The Vice Chancellor then used the occasion to appreciate the presence of some foreign participants at the symposium, among who are Professor Phyllis Kanki of the Harvard School of Public Health, despite what he called academic terrorism and negative media report of alleged threat by the dreaded Boko Haram sect to bomb some universities in the country.
He again re-echoed the fact that UI has not receive any bomb threat from anybody, except for a mail that was diverted from the University of Benin, which led to the beefing up of security within the institution since last week