MEDIOCRITY HAS BEEN TRADED IN FOR PROFESSIONALISM IN BROADCAST MEDIA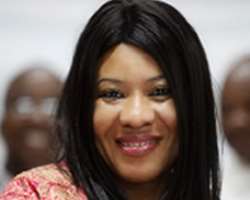 •Okoro
For Clara Chinwe Okoro, it all started when she was auditioned by a relation for a fashion show for TV. In an interview with Daily Sun, Clara who has grown to become famous for her TV show, BRAND-WORLD said that she actually took to the camera just like a duck takes to the water.
On account of her success as a content provider of programmes for TV, she decided to try her hands on publishing with a debut of an all gloss magazine, ICE. Clara Chinwe Okoro tells the story of her modest beginning, challenges of providing quality content for TV, as well as her hopes and aspirations in her chosen profession
She spoke on the dearth of our reading culture, negative influences on the Nigerian youth as well as the crave for people to hit instant stardom without walking the ropes.
Here are excerpts
Can you recall your entrance into the world of Television?
It all started when a cousin of mine auditioned me for a fashion show which he had just developed for TV. I took to the camera like duck takes to water and it all came together for me in deciding which direction I was headed for in terms of a career. I had just left the University and didn't have a job I stayed with him presenting the show for a year with no pay but it was a training ground for me. Afterwards, I worked in a documentary production company and learnt the ropes there as well l before eventually setting out to build a career in Independent production and the media sector.
If you have had a stint with TV presentation in any electronic medium before, what was it like for you?
It was a privilege. First, it gave me the opportunity to share my views and my knowledge with my audience. I saw the camera as a window opening new vista's in this era of knowledge based economies, the electronic medium has the advantage of transmitting information to millions at the same time and that, to me, was a critical factor that such a platform could lead to the transformation of lives, either positively or negatively, I then choose the former.
I decided that the gospel of branding was new in Africa and by using such a powerful platform, it could be transformational and years down the line, that has truly happened.TV has a medium of engagement is very powerful but also has challenges associated with it.
Production is not a lazy man's job. It is hectic and except, you have passion for the job, you cannot last in it. You sacrifice time, energy, money and even friendships just to put what people so easily sit back and watch on TV. It is really a demanding job.
At what point did the idea for an independent production come to you?
It was after I had left the documentary production company I worked with and decided to go into content provision for TV. I started with a program HAIR, SKIN & VOGUE, a fashion program I developed and pitched to the then Lever Brothers. I was given the brand LUX to work with and it ran for two years during which I met Dr Ken Onyeali Ikpe who is currently MD/CEO Mediacom. Insight Advertising Agency was handling the account for Lux then. During the launch of the 3 variants for the brand, we did a lot of vox pop engagements in higher institutions around Lagos and he mooted the idea that a lot was happening in the Advertising industry and he thought that if a TV Show was developed to track it, it would be a reference point for the industry and I went to the drawing board and designed the show called ADVERTISING WORLD. It was a live show but after three years, we were constrained in terms of scope and idea's .People thought it was solely for the advertising industry and the most important element in the equation which was the CONSUMERS was missing. So I went back to the drawing table and redesigned it to what is today known as BRANDWORLD TV SHOW.
Can you remember your first day in front of the camera and what did that day mean to you?
To be honest I really can't remember. But as I honestly said, I took to the camera as duck takes to water and its been work in progress since then. I always make sure I do a lot of research and reading to keep abreast of trends since I share knowledge with a diverse audience you have to make sure you give them value for their time. I also ad lib during my show so as not to appear too stiff and formal which sometimes alienates the viewers, and most important of all I never take my audience for granted knowing that any information I give could be what someone would utilize for further enhancement of his business .
In the stream of many independent productions today, what was the idea behind your programme, Brand world?
First and foremost, the concept was developed to preach the gospel of Branding and spread it here in Africa. It was an innovation that we felt would herald the building of strong Afro-centric brands. We felt Television was a great platform that serves a wider reach for that purpose. Brand Managers are looked up to as custodians and protectors of their brands so we needed to develop a convergence point for them and their consumers
The challenge for us was to convince brand drivers, brand managers and marketing directors that markets differ. What would work in Europe , USA, Asia, Middle East, might not work in Africa. You have to understand the underlying factors and take them very seriously as this would definitely affect your sales and bottom-line. When multinational companies import adverts shot for EU, USA MIDDLE EAST, ASIA and show on our local televisions, most times, the message is lost and there is really no basis of connection both emotionally or otherwise for the consumers.
But when you speak to them in a language they understand, you would be amazed at how your brands would start flying off the shelves. Some smart brands are already adopting that approach and mixing it with activations geared towards their niche markets. That's really why the programme BRAND WORLD was designed.
Certainly, difficulties abound on the staircase of success. Give me a sense of the challenges you have been through as an independent content provider for TV?
The challenges are typical. Power issues, although there has been an improvement in power supply, human capital issues, advert content, information management then you have to put in extra working hours that can be quite challenging, just to make sure the production is articulated and achieved, pitching your concept and hoping brand owners key into it. The list goes on but I guess these challenges also present opportunities for growth.
In spite of the seeming challenges, what would you say has been your staying power?
God has been faithful and the utmost belief that you have to inspire the younger generation after you that they are not wasted. I guess tenacity is a part of my DNA so even in the face of all odds I am always looking for the silver lining. Besides, I think constant private trainings and the motivation to personally better my self as a person drives all these for me and I often say to myself, its really a waste of time complaining. It has never achieved anything for anybody so instead of feeling discouraged by the challenges. You pull up your boot straps and start searching for solutions.
Even as you have come this far, can you recall that particular point when you wanted to throw in the towel?
I wouldn't be human if I don't admit that there have been low points. But really I have come to realize that basically, life is all about the mountains and the valleys. There are points where you are wondering it just cant get worse than this and it seems tomorrow would never come and then with a twist of fate, the day that dawns thereafter comes with a life-changing twist. So these are ironies of life I have learnt to accept. I had a conference one year where I almost compromised my health because I had so much complications getting my lead resource person in from South Africa, everything was set and if he had not come into the country to deliver that lecture. M y integrity would have been at stake. After that experience, I almost gave up but then I asked myself, was it a matter of life and death? The answer was NO and that changed my mind. Today, I am still in business.
Your new production, ICE magazine is quite good and all gloss. In this present hard economic condition and high production costs, how do you hope to break through, given the fact that it is new on board?
It is a question I have also asked myself. Believe me, but the fact is I just don't agree that life is static, I did my business plan, did my fore-casting, staked out my readers demography, created a platform that is innovative and just hope that our projections take off like an aircraft until it gets to that altitude where the flight becomes smooth. Africa holds so much mystery, splendor, color and promise that I am very convinced we can turn around the fortunes of this continent by investing in the young people
What is the idea behind ICE Magazine and what do you hope to achieve with it?
We actually looked at our core mission which was to impact Africa with our gospel of branding. We then came up with three deeply thought out words Intelligence, Culture and Evolution to form the word ICE. On market Intelligence, we believe if you have it at your finger tips, you can easily implement strategies that are spot on and save yourself tons of money. On culture, we as a people have our Cultures, which are things we learnt from our forebears, we looked at that kind of Culture that has value assess for us, so that we can retain them and enhance them for people to see as aspirations for the future. Finally we believe that merging contemporary idea's and intelligence we get from our colleagues in other parts of the World, with what we learnt from our forebears will lead to an evolutionary period in Africa.
So this gave rise to our mission and vision statement which is to unleash the creative spirit of the Now Generation whose culture and philosophy are aspirational for others and epitomize the brands that really connect with the young; establishing a platform for trend forecasting on how youths consume brands and a memorable and emotional journey into how brands adore the young , and To actualize the aspirations of the Now Generation and shed light on the intricate but powerful mix of youths and brands.
As a publisher, you would agree with me that all over the world today, that the Internet facility has grossly affected peoples' reading culture badly, what do you make of this factor in today's Nigeria?
It is really a huge shift and yes, it has affected the publishing industry. There is no doubt about that, but the truth still remains that your printed material can stand the test of time. 10 years down the line, you can go to your archived material and cross check for an information. I am not sure you can achieve that with content on the internet. It is quite transient so what I can say is that publishers should also innovate and stay relevant. The print can't die. It can only be affected to a minimal degree. It is also not helping that reading culture. It has also been affected as a lot of style of writing is compromised and there are really no rules governing quality and content on the net. This has made for a step down in the learning curve for so many people which isn't a healthy development.
In today's world of broadcasting, almost every day, we are inundated with bad presentation, wrong usage of tenses and even poor pronunciation of names. What do you make of these? What do you think is responsible?
It is completely unacceptable. Broadcasting is really inspirational. People believe that for you to be placed on that pedestal and platform that your training has given you an edge over them. So, when they listen to you speak, they even learn to correct their mistakes from you. But now, it is so horrible when you hear all manner of pronunciations, tenses, dictions, phonetics and just even realize that some of them are not bothered to even make effort to learn how to pronounce these words. I think it is just a reflection of how mediocrity is traded for professionalism. If someone has a problem with her ability to speak clearly and audibly, then, he or she has no business being a broadcast journalist, no matter how pretty or handsome he/she may be. As listeners you shouldn't be straining to understand what a broadcaster says. We really need to set up more training schools to absorb those who want to groom themselves for careers as broadcast journalists.
Where would you place the issue of regular in house training for presenters today? Do you think it has become an after-thought or outright negligence in electronic media?
It is more of an after thought on the part of those that run these organizations. Meanwhile, it is supposed to be the first rule of engagement. For most owners of electronics media houses, and then again the issue of the way some of these presenters carry their jokes too far. It becomes embarrassing.
You are no doubt in the business of glamour and glitz where you come in contact with the so called stars. Now, there is so much crave for youths to hit instant stardom without walking the ropes.
Give me a sense of what you make of this?
People are absolutely misguided. We are seeing a lot of that these days and it is very worrisome. People want to become stars overnight without the behind the scenes grueling work conditions associated with it. They see the finished product on the screen and they fall in love with the glitz and gloss, not knowing that what goes on behind the scenes involves punishing work schedules, sleepless nights, attention to details, self development trainings, etc and when it all comes together, that's what you see as the finished product on TV or Radio. I think a lot of people should reassess their priorities concerning the industry as the impression they take away is just a tip of the iceberg of what the whole picture is really all about.
As a career woman and a hard working one at that, what do fulfillment and success mean to you?
Fulfillment and success to me, means the alignment Gods purpose for me. Life with my hopes and aspirations, if these two connect, then I guess the rest as they say is history because life then seems simple and we will live in complete harmony.
You would feel better in your own skin and wake up each day, feeling you are doing what you were born to do. It is like living your Dream.
If you take a census of whether or not we still have role models in today Nigeria, most peoples' responses are likely not to be in the affirmative.
What's your view on the issue of dwindling rate of role models in Nigeria?
It goes back to one of the Pillars of our magazine CULTURE. People seem to have lost a grip of whom they are and where they are coming from. They have allowed other peoples' culture to erode theirs, and somehow, I think these factors are producing confusing and conflicted individuals.
I have no problems borrowing the good aspects of other cultures and merging it with mine, but not allowing the worst of other peoples culture to erode my identity .What is good is good. What is bad is bad. Foul language is not acceptable in any culture, neither is rudeness, violence, excessive greed etc, but people argue that it is because of globalization. Well, I guess it is different strokes for different folks. But good role models don't fall from the sky. They are a product of the society It is the system that creates them and unfortunately young people form their characters based on media perceptions and what they see the older generation do. Our responsibility through our various platforms, therefore, is to continue to act as agents of change.