FG: Subsidy On Kerosene Remains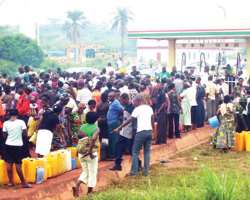 … PHCH Owes NNPC N9B – Minister
ABUJA, October 17, (THEWILL) – The Nigerian government will not remove the present subsidy on kerosene yet as it goes ahead with its proposed plan to deregulate the petroleum sector.
Making the development public Monday during an interactive session with the Senate Committee on Gas Resources, Petroleum Resources Minister, Mrs. Diezani Alison-Madueke said government hinged its decision to exclude kerosene because of its strategic importance to most Nigerian homes. She said government's thinking was that since it has not provided an alternative to kerosene, "the federal government could not in good conscience deregulate kerosene at this time."
"In looking at deregulation there were two aspects, of course, PMS - fuels, kerosene or DPK and without going into the robust discussion about it I just wanted to say for the record because at the discussions with Mr. President that we could not in good conscience deregulate kerosene or DPK at this time.
"The reason is that we do not have an alternative fuel to readily give the Nigeria masses at this time. Even though it is a totally inefficient system, I mean the subsidy, deregulating subsidies of PMS is one thing, kerosene at this time is a different issue and we will handle that in a much longer phased in manner," the Minister stated.
On Nigeria's gas reserve, Madueke said though Nigeria presently ranks amongst the top 8 in the world with a reserve of about 187 trillion cubic feet, it still requires about $4 billion dollars to provide the infrastructure that would enable the natural resource impact positively on the nation's economy.
She added that though Nigeria generates about $1.5 billion annually from the exportation of gas, the Power Holding Company of Nigeria (PHCN) owes the Nigerian National Petroleum Corporation (NNPC) over N9 billion in fees due for the supply of gas to its power plants.
Madueke also emphasized that the speedy passage of the Petroleum Industry Bill (PIB) is critical for the oil and gas sector because of the legislative framework needed to move the sector to the next level.
The removal of subsidies on petroleum products has generate a lot of controversy with opinion holders and shapers widely disagreeing on the plan to deregulate the sector.