DIMEJI BANKOLE BOUGHT OFFICIAL RESIDENCE FOR N45M RENTS IT TO NEW SPEAKER FOR N40 MILLION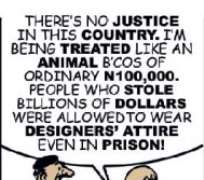 The House of Representatives faced a critical decision a few days ago,though instead of taking a decision,they decided to postpone the evil day.
The issue was the sale of the official residence of the Speaker and his deputy.The House was informed how the building,which was renovated by Dimeji Bankole to the tune of 200 million Naira was sold to the same former Speaker at 45 million naira.
Tambuwal informed the House that the buyer of the House has kindly volunteered to let out the same building at a sum of 40 million naira a year.
Not a few members showed their displeasure over the issue and they have decided that the issue would come up again in their subsequent sitting.
The FCT Ministry was alleged to have sold the Speaker's official home in Apo to the former Speaker based on the principle that the occupant must be given the right of first refusal.