Twists In Baba Suwe's Alleged Drug Bust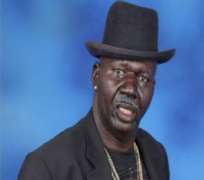 SAN FRANCISCO, October 15, (THEWILL) – Three days after the National Drug law Enforcement Agency (NDLEA) detained popular Nigerian home video actor, Mr. Babatunde Omidina, 53, also known as Baba Suwe, over alleged ingestion of substances suspected to be cocaine, the agency is yet to find any trace of the banned substance even though the actor has excreted twice.
The NDLEA has however said its physicians will continue to monitor and observe the comedian/actor as it continues its investigations, insisting that a body scanner at the Murtala Muhammed International Airport, Ikeja, Lagos Wednesday revealed that Baba Suwe had substances in his stomach.
The agency's spokesman, Mr. Mitchell Ofoyeju and NDLEA Airport Commander, Alhaji Hamza Umar told journalists on Saturday that the agency was following its standard procedure, adding that it was certain the actor had substances in his stomach which it suspects to be hard drugs.
The NDLEA said the actor was travelling to France to host the naming ceremony of an Air France employee when he was busted.
An Air France employee who was accompanying Baba Suwe on the flight was stopped from travelling but was not detained because the body scanner did not reveal anything suspicious inside his body, according to Ofoyeju.
Nigeria has been described as a major transit route for hard drugs including cocaine going to Europe and the United States of America, a US Department of State report said recently.
The NDLEA has in the last two years seized drugs worth several millions of dollars.
In January 2011, the drug enforcement agency said it seized 165 kilograms of cocaine with a street value of about $10 million (N1.6B) at the Apapa Ports. The drugs were shipped to Nigeria from Bolivia and concealed in cartons loaded inside a container.