UCHE JOMBO DENIES DATING AFRICAN CHINA, ANIYOCHA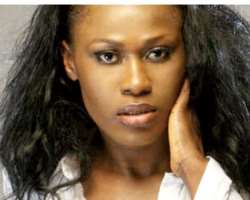 Producer of wave-making movie 'Damage', Uche Jombo seems really vexed about the rumour flying around linking her romantically to reggae star,Chinagorom Onuoha popularly known as African China and Nollywood actor, Emeka Aniyocha respectively.
Reacting to the rumour, while speaking on Celebrity Eye, a gist programme on AfricaMagic and anchored by Mercy Johnson-Okojie, Uche claimed that the two entertainers are her friends.
'African China is a very good friend of mine and so also is Emeka Aniyocha.  In our industry, when you hangout or dance with someone, you are automatically linked romantically to the person. I have learnt not to allow these things to bother me. They guys are my friends, true. I'm more comfortable in the company my male friends than the ladies and that's me.'she said.
Uche is one of the busiest  Nollywood actresses. She is currently promoting her movie 'Damage'  with premieres held around major cities in the world.