UNSPENT FUND MUST RETURN TO THE TREASURY- SENATOR MACCIDO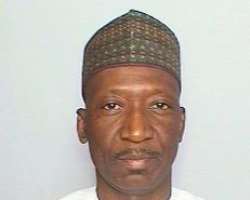 Chairman of the Senate Appropriation Committee, Senator Ahmed Maccido, has given reason for the low level of implementation of annual Appropriation Acts, the failure of the MDGs to complete constituency projects since 2010 and the level of insecurity in the country.
He also spoke on the need for Nigeria to diversify its economy and stop the reliance on oil money.
We understand that there are unspent funds from last year's budget. What happened?
As a result of time factor, there were lots of projects that the executive was not able to implement; they could not finish those projects that funds had been appropriated for at a particular given time. Therefore, they were unable to spend the funds for the particular projects they were slated for and they couldn't spend such funds on something else. With that scenario, it is assumed that the money is still there and has to be returned to the treasury and carried over into the next budget.
Were there unspent funds before 2007?
Before 2007, there were unspent funds. It is implied. There must be because not all projects were finished in every budget year. You hardly finish all (capital) projects you want to do in a particular fiscal year. Until our time, there was nothing called unspent funds. If there was any, I never heard of it. In the last session, we asked the executive about unspent funds appropriated for so and so projects. That was what informed unspent funds going back to the treasury.
What's the status of capital projects?
That is the problem. Nigeria, I believe, has one of the most efficient and effective policies in the world. The problem is implementing those policies. We have very clear and precise policies in Nigeria, but we have problems with implementation. Somewhere along the way, you find out that there is a cog in the wheel; there would arise things that would not allow the project to continue. I cannot say it is lack of funds. There should never be a situation where we would say there is no fund for this project, so long as that project has been slated for implementation in that year; there has to be money for that project. Therefore, we appropriate those funds; we give those funds but in most cases you find out a very substantial percentage of the capital projects coming back unimplemented. Some would even end up as white elephant projects.
What is the implementation ratio of annual budgets since year 2007?
On the average, you would say 40 percent.
What does that portend for growth and infrastructure?
Truly, it's marginal, very dismal. The issue here is that by December 31, 2011, this budget for 2011 would have….I learnt that the Finance Minister said that the budget has been implemented up to 50 percent. We are yet to…We are going on oversight to the Finance Ministry and we will find out, we will demand documents informing us as to how they came about that 50 percent. Really, I don't want to say but MDAs have not always been forthcoming with us. For the fact that when we go on oversight duties, we hardly have time to sit down and study documents relating to implementation. We do ask for the documents but there are always hurdles that would enable the executive, as usual, from tendering those documents. When we go to project sites, we see so many disheartening things but they would give you one explanation or the other. We come back here as a Senate, we sit down and deliberate on those issues, we open us to Nigerians that these are things happening, these are our finding but, unfortunately, there would always be a committee set up to investigate that particular issue and at the end of the day, they would throw the file under the carpet. You know now, committees would be set up, they would turn in a report but nothing would happen.
What is the ratio of compliance with NASS directive to the executive on budget implementation?
They don't often comply. That is why we have always been at loggerheads with the executive. When it comes to appropriation that is when we start becoming enemies. We have always tried our best to get them to comply. If you remember, this issue the Millennium Development Goals (MDGs) projects that we have (constituency projects), even in America, they have the same thing even though theirs is called PORQ Projects. You as a lawmaker do not just make laws and go home and tell your people that you have made laws. Agreed that that is your primary responsibility; that is the job that has brought you to the National Assembly or the legislature in the first place. But then, people are always expecting something much more than that from you. Therefore, it is always, an agreement sort of, a silent agreement that the legislature always needed something in form of projects that you would take to your constituency and show them that this is what I have done, as a form of dividend of democracy to my people. We do that but that is where the problem comes between us and the executive. They always try to show us that we have no business doing that. Meanwhile, we know better than them because we know what our people need; we sit down with our people, deliberate and understand their needs and we come back to the National Assembly and tell the world that 'these are the needs of my people.' At the end of it all, the executive would end up telling you that 'no, those are not the needs of your people. We know better than you.' That is what we have been going through all these years.
What of budget envelope from MDAs?
That's an agreement between them and the executive. It's just an agreement, I believe, in the interest of stabilizing the system. If the executive has a particular sum of money, they would sit down and prioritize projects and say 'this is our priority for this fiscal year, this is what we need most.' Let's say there is rampant flooding in the country, they may need to prioritize maintenance of dams, waterways and the like and, therefore, an envelop would be given to let's say, Ministry of Water Resources, or Ministry of Agriculture or Ministry of Works would be given a particular percentage of money much higher than another ministry. I think that is what it is all about. But it has nothing to do with the National Assembly. It comes from the executive.
What input into annual budgets?
Based on the revenues we have, we sit down to see what we can do with the amount that is available for a particular year. We have data and information from various departments and MDAs and finally from the Ministry of Finance that this is our revenue for the year. Based on that, we examine the amount and determine how to farm it out.
Is Nigeria going broke?
I wouldn't say that. Nigeria cannot go broke because we have so many sources of revenue and when you have that, you can hardly say you are going broke. Whenever you spend from one source, you have other sources bringing in revenue. There is the need for us to de-emphasize reliance on oil money. We need to diverse our economy and concentrate most especially on agriculture where predominantly our employment should come from. Production and manufacturing are also important to this economy. We should no longer rely solely on oil. In fact, we should completely try as much as we can, if it's possible, to ignore oil source of revenue.
What is the level of consultations on 2012 budget?
There used to be consultation on the budget but for now, that channel has not opened for the 2012 budget. Hopefully this week, they would come to us. We at the legislature are hoping for change for the better. Considering the experience of the present Minister of Finance, I believe there would be great changes.
What are the complaints about MDGs on constituency projects?
I'm one of the complainants, if you must know. My complaint is that they started projects in my constituency and abandoned them. I had to write that the six boreholes they started have not been completed. They were abandoned in 2010. I don't know the contractor and neither was I consulted. I just saw people working.
So, there was no synergy between the lawmaker and the MDGs?
There ought to be. In fact, we ought to supply the contractors, but it's not so. We are supposed to know those who would work for us but we forsook that. We agreed that they should supply the contractors. For them to even introduce the contractor to me was not done. I just saw him on site. All they needed from me was an officer who would take charge as my representative and report progress back to me. I gave them the location to site the boreholes but was not informed when work commenced. They started the borehole, water started gushing and they stopped at that level. I got papers from the MDGs office telling me that they have completed 70 percent of work on site. With my own funds, I had to block the borehole and when I had enough time, I did the repairs myself and completed the work. Agreed that it is 70 percent but it is not completed and that has been the state since 2010.
How do you rate level of insecurity in the country?
Alarming. In fact, in Nigeria, we were unfortunately caught in a situation we were not used to. We have always relaxed, knowing fully that we are secure because we are not trouble-makers. Therefore, we made no provision for security. I assure you that our security apparatus is not exactly what it was supposed to be. The National Security Adviser (NSA) said that much. He said that we were caught unawares. Because we were not used to this kind of thing, therefore, we were not prepared. It shows that Nigerians are not trouble-makers but somewhere along the line, something happened and it all erupted. The situation is really alarming right now because we don't even know the level of security we have anymore in this country. It is truly alarming and something has to be done about it.
Is the solution to increase allocation to security agencies?
In 2009, I was the Vice Chairman of the Appropriation Committee and the National Security and Intelligence Committee chaired by Senator Nuhu Aliyu came to us to defend their budget and I quite remember that I insisted, quite vehemently, that we should de-emphasize providing so much money to security. I said we should rather spend the money we are supposed to spend on security on other areas. What is the essence of security in the first place? It is as a result of the agitation of unemployed youths who desperately need jobs. I said then that why not use that money being asked for security to create jobs for our teeming youths. At that time, that was how I saw it. I had my way then. But truly this time around, I believe we need to emphasize security and give them money because they need it.