INJUSTICE REIGNS IN NIGERIA - FR. OGU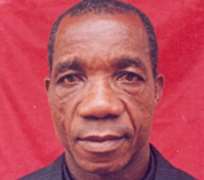 The first tone of Catholic Reverend Father Ben Ogu, Parish Priest of St. Paul's Catholic Parish, Egbelu-Umuhu, Enyiogugu-Mbaise, Imo State, rang when he stormed the Enugu Prison to see the over 250 members and sympathizers of the Movement for the Actualisation of the Sovereign State of Biafra (MASSOB), who were seized by the police for going to Enugu to show solidarity to bedridden Ikemba Chukwuemeka Odumegwu Ojukwu, last month.
The tone was clearly that of a pained clergy. 'I have come all the way from Imo State to see my people who are held here. If I don't come here, I believe I will run mental, because I cannot understand why people should be imprisoned because they went to honour their leader,' he declared.
He was indeed, agitated, when he was tracked down to Owerri on the day of the Odenigbo Lecture, at Assumpta Cathedral, where he now unburdened himself.
Father, you acted spectacularly when members of MASSOB were incarcerated by coming to the Enugu prison, where you raised strong claims about the disparity of justice in Nigeria . What motivated you to do that?
It is my interest in the Igbo destiny and the circumstances of their detention that caused me to. These were simply the reasons for it. The way Moses had anxiety to save his people; the way Nelson Mandela had the same feeling for the South Africans, when they were in the state of Apartheid. That was simply my interest for doing what I did.
But for you to leave your parish, traversing over 200 kilometres, across Imo State to Enugu , it sounds like very deep commitment to the cause of MASSOB?
Not MASSOB per se, but, sure, there is strong commitment to the Igbo cause. It does not actually matter what you leave behind or the territories you traversed for you to do what is very important to you and especially for others. Jesus Christ left Heaven, not actually dropping it but somehow relegating it, to come to humanity to save humanity. So it does not matter what somebody sacrifices to achieve a feat that is worth the while. Indeed, one of us must be ready to sacrifice something in order to do something for what has been left unachieved over time.
In Leaving your station in Mbaise, Imo State, for Enugu Prisons didn't it sound like confrontation with the authorities? In other words what arrangement did you make for your own personal safety?
What authorities do you mean? Well, it was not confrontation in any way at all. I went to see my people; to see how they were being incarcerated for doing nothing; for shooting nobody. So, it wasn't confrontation at all, at all. If at all, it was a confrontation to my own office, which I left to go there. So it was not confrontation with the government. I went to visit my people and ask them why they were being imprisoned. Just because they believed in some Igbo leaders? It was not enough to imprison them. So, that was why I went there not on confrontation with anybody at all.
When you visited the prisons you said if you did not come there to bare your mind, you could get mental problem, suggesting serious emotional involvement for yourself and others related to MASSOB. So, are you a MASSOBIAN?
Well it depends on what you mean by MASSOBIAN. I am not a MASSOBIAN, in a way. If you look at it, I feel just like every other person feels patriotic about his people, about his land, about his own nations. That was my motivation. Not really in the sense of membership of MASSOB, the way people may look at it. It is just that, I think people have a right for self-determination. To relate with that right is defined by their own experiences.
Could this your Enugu Prison trip be your first encounter with MASSOB?
That was my first time to go into their affairs. The actual reason for my making that move was that 'in the North' people are throwing bombs and they have been killing all Nigerians and we have not heard that anybody is being prosecuted in the court. It then bothered me that some people coming together to honour their people were arrested and put in prison. So, that was the main thing that made me to take that step. However, I always identified with them in principle, spiritually, in the sense that they are talking of freedom, from their experiences in Nigerian and if I have the time I will say what the experience means. Not that I am a MASSOBIAN, in the sense of carrying flag around, talking of Biafra just in that sense, no!
Do you understand MASSOB's mode of operation?
For now, I don't understand them very much in that I can't really say what their operations are; that is, I do not understand them in the sense that I am sure those involved are doing any real thing beyond carrying flags around, entering buses in group, going to different places, etc. I have not understood them beyond that. But also, I understand them in the sense that somebody must shout to be liberated. Somebody must speak out for his voice to be heard. If there is nobody to do that, anybody that is ready to do that, we listen to him and, of course, we cannot actually ignore it, if somebody rises, who does it to the extent of being intellectual about it, involving others and educating people on the circumstances. Igbo are the greatest people you can talk of, in terms of potentialities. They can always survive on their own. The South South, also can; whether they go it alone or with the Igbo. So what I am saying is that instead of talking about it as a situation of this and that, let us know that Nigeria, as it is now, doesn't seem to be conducive, as a nation, unless a situation will come when those who are in Nigeria will feel that they are Nigerians.
What we have now is a situation where a few in positions of authority are enjoying the fruit of Nigeria when all of us are answering Nigeria. Otherwise, you are creating a situation where people will simply believe that they have to stay apart and survive apart, and love each other. Whether you are in Nigeria or not in Nigeria, let us exist as true humanity, as people who have rights; who are given justice. People who are treated as human beings, not where people exist physically without the full sense of humanity; and few people are enjoying Nigeria, in the name of one Nigeria. So, it will even be just for people to be on their own if they cannot survive together. There is no beating about the bush about it. If people must remain one Nigeria, there must be something in it for them. That should be wonderful. But the way it is now, where some people are slaves and some people are masters, the greater majority of Nigerians are just people who eat from the gutter. You see the governors; you see the office holders, just about one percent of Nigerians enjoying Nigeria but 95 are just feeling Nigeria just because they are here physically.
So, it looks like if people exist in smaller communities, they could take care of themselves. You can see that there must be a revolution to change the structure of Nigeria, where people will be treated as citizens, not as slaves in the name of one-Nigeria.
When you meet some people, they tell you that nobody has any reason to quarrel about the composition of Nigeria and they justify their position on the fact that every state receives its own federation account allocation, which leaves the individual governments with the resources to move its people forward. So, where is the blame to the central government?
It is not true. Probably, it is also true that the governors in different states are not doing well, especially in Igbo land. I have to say it. We thank God that a change has come to Imo State. Otherwise, our people have always been shortchanged by their governors. But you cannot forget that it is not by the monthly federation allocation that development is funded in various areas of Nigeria. Location of industries and other institutions that move the society forward is important. Take a look at what were cited in other areas and see if the Igbo areas have been well treated. It is just a matter of people voicing revenue sharing as if it is the only incident of development. Why should the majority of a major ethnic group move out of its place to make a living? If you are an Igbo man, if you do not go to Lagos, Kano, Abuja etc, you are likely certain you will not make a success of your life. Yes, the governors have not been doing well but it doesn't stop there.
So, what is the way out?
The people must begin to see themselves, as they did in the past, as one people, one vision, one destiny, to achieve liberation. They must see themselves as people of one ancestry, one language, one people. And begin to feel and understand what they suffer together and feel their joy together.
But Father, is it possible that the Igbo or South East can achieve any meaningful emancipation in isolation of the South-South, which used to be with them?
Well, for you to achieve emancipation, you cannot be tied to a person who may not be willing or who sees it differently. If you can't achieve emancipation with another person, you can emancipate your self. But I think today that the people of the South-South are being persecuted because they tended to stand separately. The Igbo are being persecuted also because they are separated from those who are their brothers. Therefore, collectively, two people are where they are, going through difficulties because they have refused to come together, out of false propaganda and false incitement, can achieve emancipation separately or collectively. But then, I think both of them can liberate themselves collectively. And when I say liberation or emancipation, it does not necessary mean secession or Biafra. It is up to them to explore their brotherhood or get buried or drown in their needless enmity. They can only achieve oneness by having the right thinking, the right attitude; having the consciousness of what you are and what is happening to you, so that you can rise beyond or above the box you have fixed yourself into in the community.
But what is the sense in liberation into an entity that is landlocked?
To be liberated is not being land locked. Any community, no matter where it is, God knows where it is there. The land locking is not the issue. The issue is freedom, ability to develop yourself and be a better member of good humanity. So wherever you are, you can liberate yourself with the number you are and what you have; so that has nothing to do with whether you are on your own or with other people. So, against what some people claim, the problem of the Igbo man is not a matter of being land locked or not. There are many countries in the World or Africa that are quite smaller than Igbo land, quite, quite smaller than Igbo land; quite, quite smaller and they have access to sea and they are surviving, their people prosperous.
If you are asked to take a good look at MASSOB: structure, membership and leadership, can you recommend how it can be of greater effect?
I doubt if I know much about the membership and leadership. But I will urge them to commence work on how to get the Igbo to show love to one another, be less interested in what the individual gains, what money he gains. But in leadership, one can be groomed, one can come by itself naturally. But what is important is the mission and what impact it makes; what improvement in the lives of the people; what hope it gives.
But what is your take on the struggle or, has any struggle commenced?
I am not against their struggle. I am not against their method. But I can note that they are putting themselves in serous physical risks. Many of them are being killed because if the Igbo man speaks, they take it seriously; so, they should be very cautious. Let them translate what they are doing with greater consciousness of love and watch out.
You said that your concern is not secession. What should be the design and desire of MASSOB?
Well, again, I will say let us talk less about MASSOB and session. It is not the main issue because the reason I went to Enugu was not because they were MASSOB people, but because they are Igbo people; they are oppressed humanity. So, I am not really in to discuss MASSOB but liberation of humanity, the Igbo in particular.
If then, you say this, what should be the end result of the liberation struggle you talk about? Is it to produce the Igbo president of Nigeria or 50/100 percent derivation, etc?
Now, let me tell you; what is happening in Nigeria is that people are just squeezed together and they are not getting the benefit of staying together. So, I will not say that the fire in them should quench. No, it should not quench. On the issue of secession, some people do not realise that already, it is cooking up in Nigeria. It is there, but those who sit on the nation's wealth do not seem to see it. The Yoruba are a great people. They can be on their own if you leave them. In fact, they will be greater than Nigeria if you leave them on their own. The Igbo man, in spite of what their shortcomings are, remain, as you can say, the greats, in terms of the potentialities. They can also survive on their own. The South-South also can, whether they do it alone or with the Igbo.
I am not really particular about this secession, but let us all know that Nigeria, as it is now, doesn't seem to be conducive as a nation, unless a situation will come when those who are in Nigeria will begin to enjoy the benefit of their own country, enjoying the fruit of Nigeria, as should be due to citizens of a rich country. Otherwise, maybe it will be better for people to stay apart and relate as friends within humanity. Stay apart and love one another as members of the humanity. As people, who have right, who have justice, people who are treated as human beings. Not where people are dehumanised economically. Not where there are two different rules for the same people.
One politician said once that we live by the protection of one another. Does that not nullify the attraction of separation?
In a way he maybe right but that does not remove the culture of unfairness as meted to the Igbo. Yes, some governments in Igbo land are disasters. For instance, some of the Igbo states are the worst governed. Go to Abia State, you will see that it is like a place where mad people live. The successive governments have refused to do something. None has ever cared for what is happening in Aba. It is like a place where you gather mad men. Even the people there have given up hope. The governments are not interested in making Aba a habitable place. My question for the governors of Igbo states is: are they ever interested in the welfare of their people? They should act to make the place conducive for business. Let them make the region a free trade zone. It is only when they provide the incentives that people will come and invest. They should stop taxing people on lands so that businessman will use what they have to go to the rural areas to invest, so that people will feel the impact of new values. While it may be true that the Federal Government is probably doing what it is supposed to do, it is also true that the state governments, being in closer touch with the people, must act positively as nearer authorities. The Igbo governors are challenged to work for their people and liberate them, by giving them what would open the ways for them.
But considering the structure of Nigeria, with almost a one-party arrangement, do you think the governors can actually do much?
They can do at least something meaningful for the people to open the way. Agreed, in the unitary system we are running, everything is at present concentrated in Abuja . It is odd. If you want to get passport, they tell you to go to Abuja. If it's driver's licence, you have to go to Abuja; almost everything, you go to Abuja or you go to Lagos. You have people running around all the roads for simple things that should be decentralised to give people the right kind of access. I am challenging the Igbo governors to spare a thought for the common people. Let them see that we should develop our land because it is our land and it is where our children start from.
Father, are you likely to go beyond this concern to setting up an organization, such as an NGO to follow further on your interest in developing people's consciousness?
If I have the opportunity of what it takes to do that, I will certainly do that, especially to give the Igbo man a real orientation in the light of the unitary system we are running. Everything cannot be concentrated in Abuja. The Igbo need a lot to come to terms with themselves. This is a race that has lost all it takes to survive as a group. We now have a race that has lost the consciousness of its language, its values, its roots; its journey in the world. I read one magazine where Dr. Fredrick Fasehun was asking one of his Igbo friends if there were still anybody remaining in his land, the Igbo land. His friend laughed but he told him that it was not a matter for laughing, because it seemed to him that every person left in Igbo land had come down to Lagos, that everybody who could contribute to the development of Igbo land, had relocate to Lagos.