EXPLOSION ROCKS SHINKAFI, GEN ONOJA'S HOMES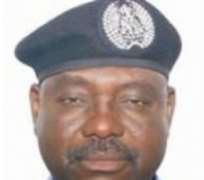 The Federal Capital Territory, Abuja Thursday evening witnessed another explosion, as three buildings, in the highbrow Maitama District were partially damaged.
In the explosion, residences of General Lawrence Onoja, a former Principal General Staff Officer (PGSO) to the late Head of State, General Sani Abacha and ex-director general of the defunct National Security Organisation (NSO), Alhaji Umaru Ali Shinkafi, on Lahn Crescent, Maitama District, Abuja, were affected. The third building affected is located at No.3 of the street, which is barely 500 metres away from the official residence of the Inspector General of Police, Alhaji Hafiz Ringim.
Expectedly, the incident created panic among residents and security agents within the vicinity where the official residences of some ambassadors and heads of foreign missions are also situated, as people scampered for safety amid fears that the dreaded, Boko Haram, might have struck again.
Confirming the incident, in a telephone chat, Ringim said it was an explosion and not a bomb blast. Residents of the area also told Saturday Sun, when our reporter visited the scene at 2.30pm yesterday, that it was an explosion.
According to Ringim, 'it's true that there was an explosion, but it wasn't a bomb. What happened was that the owner of the plot had contracted a construction company to build a structure for him, and in the course of doing the job, the workers used explosives to blast stones, which caused the destruction. Police are investigating the incident to determine how they came about the explosives.'
When Saturday Sun visited the residence of General Onoja, who was also a former military governor of Katsina and Plateau states, red mud covered the entire compound, just as the roof of his building was partially ripped open.
Also, the front and rear windscreens of a sleek Mercedes Benz car, with registration number Abuja CF 476 ABJ, were completely shattered.
A resident, who pleaded anonymity, said the was car was parked at the periphery of the fence behind the retired army officer's residence, but was pushed to the front, close to the security post, by the impact of the blast, which occurred directly behind his building.
Investigation revealed that the worst hit was House No. 3 Lahn Crescent, which had its roof almost totally damaged. No fewer than 10 persons were seen fixing the damaged roofs and other parts of some of the affected buildings yesterday.
General Onoja, who was seen at his residence trying to put things together, declined comments.