Senate Declares Post- UME Exam Illegal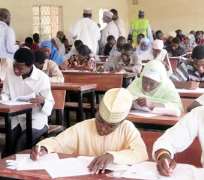 ABUJA, October 13, (THEWILL) - The Senate Thursday declared the post University Matriculation Examination (UME) illegal.
It therefore resolved to beam its searchlights on Nigerian universities that may ignore the directive to scrap the examination.
To give the resolution bite, it mandated its Committee on Education "to undertake a comprehensive investigation into the activities of universities indulging in such illegality and the causes for the failure of JAMB to conduct examinations sufficiently credible for acceptance by universities" and submit its reports within the next four weeks.
This was sequel to a motion titled Illegal subjection of candidates to examination by universities after the test by the joint Admissions and Matriculations Board, (JAMB) sponsored by Senator Heineken Lokpobiri and thirty-five others.
According to Sen. Heineken Lokpobiri (PDP) he noted that since JAMB is alive to its responsibilities as provided by the law, there should be no reason whatsoever to subject candidates to another round of illegal tests of grave cost and its other attendant consequences.
He said, "the joint Admissions and Matriculations Board is statutorily responsible for determining matriculation requirements and conducting examinations leading to undergraduate admissions and admissions to National Diploma and Nigeria Certificate in Education courses.
"The laws establishing the various universities empower them to hold examinations and grant degrees, diplomas, certificates and other distinctions to persons who have pursued a course of study approved by the university and have satisfied such other requirements may lay down," the senator submitted.
He noted that the various universities charge fees and subject candidates to series of tests and interviews which most often take several days to conclude adding that such acts are of grave cost to parents and guardians and a clear violation of the Joint Admissions and Matriculation Board Act.
The Deputy Senate President, Ike Ekweremadu who presided over plenary said the conduct of Post UME exams amount to an abuse of the process which seems to be drifting out of hand
Speaking in support of the motion, Sen. Datti Ahmed (PDP) who posited that Post UME distorts the original tenets of JAMB was of the opinion that universities should refund all monies collected from candidates, saying if the motion is well treated, it will add more value to education and save cost for parents.
Also supporting the motion, Sen. Ayogu Eze (PDP) who said the situation is rip-off of Nigerians as well as the law, described the act as a usurpation of the powers bestowed on JAMB, as the law does not support institutions conducting separate entry examinations. He said the Attorney General and the Inspector General of Police should be called to stem the drift.
Sen. Ahmed Lawan (ANPP) who also spoke in favour of the motion advocated for JAMB to be more empowered to effectively carry out its duties extensively and described Post UME examinations as illegal and tantamount to daylight robbery. He noted that this motion was the fifth time a call has been made for the abolition of the exam in the National Assembly.
Though more senators spoke in favour of the motion, Senators Ibrahim Gobir, (PDP) Robert Boroface (PDP) and Aisha Alhassan (PDP) had their own reservations.
While Senator Gobir (PDP) stressed on the need for students to be tested further before giving them admission, he however pointed out that Post UME fees be scrapped.
Senator Alhassan (PDP) said Post UME exams give quality to education considering the falling standards in JAMB.
"It is common knowledge in Nigeria that JAMB has failed woefully," he stated.
On his part, Senator Boroface (PDP) said the introduction of Post UME was to sanitize higher institutions based on JAMB's inefficiency to conduct credible examinations which has been beleaguered by mercenaries and mass bribery of JAMB official.