K1 DE ULTIMATE, WASIU AYINDE IN TROUBLE OVER MONEY LAUNDERING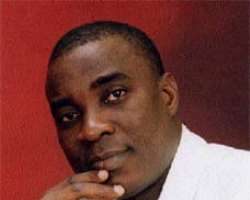 Fuji Lord, King Wasiu Ayinde Marshal a.k.a K1 De Ultimate is troubled at the moment over a certain report involving the socialite who is believed to be involved in some shady deals, Ademola Oyefeso in the United States of America whom he (Wasiu) is fingered as an accomplice in the money laundering and other illegal business.
According to the report, Ademola Oyefeso, the socialite who has been painting the entire New York City red ever since his release from the Gas Chamber is now under investigation by the Police over money laundering and the Lagos born King of Fuji music, Wasiu Ayinde Anifowoshe was said to be linked in the purported money laundering saga.
Nollywoodgists.com investigation reveals that, the czar of Fuji Music is one personality that has been doing what he knows how to do best for ages and in the course of carrying out his duty, he may get people appreciating his effort by spraying him money. The report states that K1 is involved in the scam as he gets sprayed and in the process helped ferry the money back home.
In a reaction, one of the aides of the Fuji music icon says "how shameful and unprofessional to think that at this stage of K1's life, he will be used as a courier. It's unthinkable and this nasty report, I believe is been sponsored by the Federal government so as to discredit his reputable reputation and that of his followers."
However, this battle may take a new dimension as we learnt that Kwam1, through his legal counsel, has instructed the magazine to carry a retraction or face an arsenal of legal battle with him. We shall update you as event unfolds.