SHEHU LADAN: 'FLOWER TO HIS FRIENDS, THORN IN THE FLESH OF HIS ENEMIES'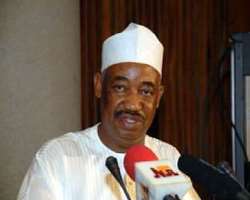 Death is one of the occurrences that are inevitable in life; everyone has a date with it. It is just that everyone cannot die at the same time, but at an appointed time. The untimely death of Alhaji Shehu Ladan which was announced on October 4, 2011 at an undisclosed hospital in far away Dubai, United Arab Emirate still grips lots of Nigerians in deep despair. Late Ladan who was born on September 21, 1952 was an accomplished lawyer, philanthropist and oil and gas management strategist from Kaduna State, who contributed to the socio-economic activities of the state and Nigeria at large in different capacities.
Following the completion of Alhaji Ladan's NYSC programme, he served as Staff Solicitor of the Federal Mortgage Bank of Nigeria. He was later Company Secretary/Legal Adviser Kaduna State Rural Electrification Board (REB) and Assistant Director Federal Legal Aid Council of Nigeria, Jos. Thereafter he was appointed to Kaduna State executive council in 1987 as Commissioner of Education. During his tenure as education commissioner, he founded and established the Nuhu Bamalli Polytechnic Zaria (formerly Kaduna State Polytechnic). He also sponsors research and publications and indigent students from all parts of the state to the institution. Subsequently, he got a portfolio in 1989 as Attorney General and Commissioner for Justice.
After meritorious and indelible track records in politics, Ladan an alumnus of Harvard Business School, Oxford University and University of Dundee pitched his tent in the oil and gas industry in 1990. To his credit, he held various positions in the Nigerian National Petroleum Corporation (NNPC), rising to the position, Group General Manager of Human Resources in 2004. In 2006, he was appointed the Deputy Managing Director/CEO of Nigerian Liquefied Natural Gas (NLNG) Ltd, a joint venture company that has NNPC, Shell, Total and Agip as shareholders. In recognition of his public spirited works propelled by an undying attitude to serve humanity, Ladan Shehu was turbaned the Cigarin-Zazzau, meaning the Conqueror of Zaria, historically referred to as Zazzau in present day Zazzau Emirate Council of Kaduna State. In October 2007, he was appointed Group Executive Director (GED) Commercial and Investment of NNPC. Also in April 2010 he was appointed as Group Managing Director after a brief recess from the industry. However, barely forty days later he was relieved from office under very controversial circumstances as NNPC GMD; precisely April 6 to May 18, 2010.
Extolling the virtues of the deceased, a lawmaker at the federal House of Representatives (Ondo East/West) Hon. Joseph Iranola Akinlaja, who was formerly NUPENG Secretary-General & Deputy National President, Nigeria Labour Congress (NLC) said in his condolence message: ''It is indeed heart rending and shocking to think that a very resourceful and illustrious icon in the energy sector, Alhaji Shehu Ladan has taken a final exit from life's stage. He was a rare gem whose vacuum may not be filled for a very long time. He was a quintessential professional, dignified and gracious, a quiet hero, man of many parts and dynamism. I sincerely and humbly commiserate with the family of Alhaji Shehu Ladan, all his dependants, as well as stakeholders in the energy sector, particularly Nigerian National Petroleum Corporation, NNPC; his immediate past constituency. He would be remembered for upholding the banner of NNPC even for that short period as GMD.''
Reflecting further on the death of Alhaji Ladan, Hon. Akinlaja emphasized: ''There goes one Nigerian who was passionate about his country. He was dainty in looks and noble in character. He was a flower to his friends and a thorn in the flesh of his enemies. In him was no fear and death knows that he could not have claimed him except that it is the way of all mortals. Adieu my brother, my fellow compatriot, my friend. I pray for the repose of his soul and asked God to give the family and loved ones the fortitude to bear this irreparable loss. May his gentle soul rest in indescribable peace. Even in emotion-laden heart, I extend my condolences and sympathies.''
* Emmanuel Ajibulu is media aide to Hon. Joseph Akinlaja, a member of the House of Reps (Ondo East/West) and Deputy National Chairman of Labour Party, Nigeria.
Disclaimer:

"The views/contents expressed in this article are the sole responsibility of the author(s) and do not necessarily reflect those of The Nigerian Voice. The Nigerian Voice will not be responsible or liable for any inaccurate or incorrect statements contained in this article."
Articles by thewillnigeria.com