Exclusive: China ;Launches Lobbying Push On Currency Bill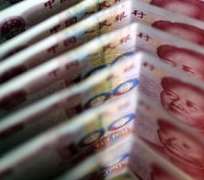 China has launched an intense lobbying effort in Washington to kill legislation that would punish it for its currency system, in the latest display of its more sophisticated approach to influence U.S. policy.
A 12-member "Congressional Liaison Team" inside the Chinese embassy has been meeting with aides to key lawmakers, making phone calls to congressional offices and speaking to the White House on the issue, according to Chinese and U.S. officials.
The Chinese embassy has also been paying a blue chip Washington law firm $35,000 a month to lobby Congress on its behalf and to provide China with a greater understanding of congressional politics.
The effort reflects how sophisticated China's lobbying in Washington has become. Just 10 years ago China routinely ignored Congress, with some of its officials believing the Senate and House of Representatives were mere mouthpieces for the executive branch.
And Beijing's rare attempts to influence U.S. politics were clumsy and ill-informed, officials say.
Chinese officials have been warning Congress and the White House that passage of the currency bill, which advocates retaliatory tariffs on Chinese exports if the yuan remains artificially low against the dollar, could trigger a damaging trade war.
The Senate on Tuesday passed the bill by a 63-35 vote. Its fate in the House of Representatives looks more uncertain.
"China's position on this issue is very clear," a Chinese embassy official told Reuters. "So congressional staff at the embassy have not only been reaching out to the Congress, but have also been talking to all branches of the U.S. government, including the administration."
The official, who spoke on condition of anonymity, said embassy staff had been holding meetings on Capitol Hill with key aides, and "I know there have been communications with the White House." The official did not know which White House officials, or lawmakers, had been approached.
"We have been explaining to them our position and hoping they can convince the majority of senators and representatives to take rational steps by not politicizing this issue," the official said.
Orrin Hatch, a Republican senator who voted against the legislation, said it was important to listen to the Chinese.
"I think we have to give consideration to people who are leaders in their country. I don't know how much influence they would have, but they certainly ought to be given consideration. I always do," Hatch said outside the Senate.
He described the Chinese representatives who came to Capitol Hill as "very concerned" about the currency legislation.
"I did see some in the hallway, and all they did was encourage me with what I was doing," he said. Hatch had proposed an amendment requiring the administration to engage in multilateral negotiations with China, but it was not brought to a vote in the Democratic-controlled Senate.
President Barack Obama declined to support the legislation last week, but he did accuse China of "gaming the system".
Keeping the yuan artificially low boosts Chinese exports because it makes its products cheaper on world markets.
Supporters of the legislation -- a coalition of Democrats and Republicans -- say a rise in the yuan would make U.S. exports more competitive, creating American jobs. Opponents say a trade war would hurt an already anemic U.S. economy.
LOBBYING FIRM
China began to realize the importance of lobbying after being repeatedly outfoxed on Capitol Hill by Taiwan, which had a sophisticated and effective operation to influence legislation.
In 2005, the Chinese embassy retained Patton Boggs, one of the top lobbying shops in Washington. The relationship continues with the embassy paying a monthly retainer of $35,000, according to disclosure forms lodged under the Foreign Agents Registration Act.
According to the FARA filings, the Chinese embassy paid Patton Boggs $104,090 on May 5, 2011, and $105,000 on May 13 -- enough to cover six months' retainer fees. A Patton Boggs official declined to comment on the firm's work for the Chinese embassy.
"They have built up a very nuanced understanding of how Congress works," a former U.S. official with extensive experience of dealing with the Chinese told Reuters. "They have much more comprehensive understanding of what role Congress plays in these debates."
The official said that on the currency legislation, Chinese embassy staff "have been engaging with the Hill, and I do know that this is an important issue to the Chinese and they have been putting resources into it."
A congressional aide said in recent years the Chinese lobbying effort has become more sophisticated. They no longer complain about every bill that affects them. "They now realize some of the bills are not going anywhere," the aide said.
These days, the aide said, Chinese diplomats visit Capitol Hill and "they come here and sit down and talk to you, but it's like any other country."
REUTERS