BlackBerry Outages Spread To North America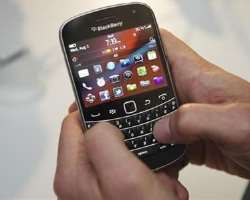 A three-day disruption to BlackBerry services spread to North America on Wednesday, frustrating millions of users of the Research In Motion devices just two days before rival Apple's new iPhone 4S goes on sale.
RIM advised clients of an outage in the Americas and said it was working to restore services as customers in Europe, the Middle East, Africa and India continued to suffer patchy email and no access to browsing and messaging.
RBC analysts Mike Abramsky and Paul Treiber estimated that about half of BlackBerry's 70 million subscribers outside North America could be affected.
RIM, which had said on Tuesday services had returned to normal, said later it was still working to resolve the problem.
"The messaging and browsing delays ... were caused by a core switch failure within RIM's infrastructure," it said. "As a result, a large backlog of data was generated and we are now working to clear that backlog and restore normal service."
RIM did not say how long it might take. In India, top mobile carrier Bharti Airtel sent text messages to customers saying BlackBerry services were likely to be restored in four to five hours.
The service disruptions are the worst since an outage swept north America two years ago, and come as Apple prepares to put on sale its already sold-out iPhone 4S on Friday.
"It's a blow upon a bruise. It comes at a bad time," said Richard Windsor, global technology specialist at Nomura.
"One possibility could be that it encourages client companies to look more at other options such as allowing users to connect their own devices to the corporate server and save themselves the cost of buying everyone a BlackBerry."
Many companies, no longer seeing the need to pay to be locked into RIM's secure proprietary email service, have already begun allowing employees to use alternative smartphones, particularly Apple's iPhone, for corporate mail.
RIM has made inroads into the youth market and into developing economies attracted by its free BlackBerry Messenger (BBM) service, partially compensating for its losses in the corporate market in North America and Western Europe.
RBC said the latest crisis could hurt RIM's reputation in these key markets, particularly after high-profile tussles with states whose governments demanded access to encrypted communications for security reasons.
"Following recent high-profile sovereign challenges to open up RIM's secure networks... these outages create another highly visible PR challenge, coming in markets where the company is still growing," its analysts wrote in a note.
LUKEWARM RECEPTION
Some investors are already calling for a break-up, sale or change of management at RIM, after a dismal set of quarterly results, lukewarm reception of its PlayBook tablet computer and subsequent plunge in its share price.
In the United Arab Emirates, telecoms provider Etisalat said on Wednesday it would compensate its BlackBerry customers with three days of free usage, but most users were left with no offers of compensation and scant information.
Customers tweeted their increasing frustration, while RIM's own official Twitter feed was last updated on Tuesday night, saying only that problems were being resolved and it was sorry for the inconvenience.
Veteran British entrepreneur Alan Sugar, who founded electronics company Amstrad in 1968, tweeted: "In all my years in IT biz, I have never seen such an outage as experienced by Blackberry. I can't understand why it's taking so long to fix."
Some customers used humor to deal with the situation. One joke making the rounds on Twitter said: "What did the one BBM user say to the other? Nothing."
REUTERS