Independence Day Blast: SSS Confirm Arrest Of Banker, Two Others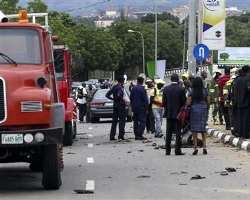 SAN FRANCISCO, October 11, (THEWILL) – Nigeria's secret police (SSS) Tuesday confirmed the arrest of three persons including a Lagos banker it said facilitated the October 01, 2010, Independence Day bombing in Abuja that killed several persons and injured many others.
SSS Assistant Director of Public Relations, Marilyn Ogar during a briefing in Abuja said the three persons were associates of detained factional leader of the Movement for the Emancipation of the Niger Delta (MEND), Mr. Henry Okah, who is presently in a South African jail over treasonable charges.
Though Ogar did not name those arrested, media reports had earlier identified the banker as Nonso Nnaemeka, while one of the suspects was identified as Jessica David, aka Segun.
Ogar said the banker moved funds for Okah to facilitate the bombings and other illegal dealings on behalf of Okah, while the other two suspects were gunrunners with training in handling high calibre ammunitions and explosives.
"You will recall that after the 1st October, 2010 bombing near the Eagle Square, the Service had informed that five cars were meant to be used for the bombing. Two cars were detonated while one was later recovered in Port Harcourt, Rivers State and subsequently made public.
"On 3rd October, 2011, the two remaining cars which also had compartments constructed to be used for bombs were recovered in Lagos. Additionally, another grey coloured ISUZU Trooper SUV with specially constructed compartment and a capacity to carry over 200 AK47 rifles was also recovered.
"We also recall that following the incident, a thorough investigation conducted culminated in one of the suspects being declared wanted. As a result of painstaking investigation, the suspect was eventually traced to a neighbouring country and subsequently arrested on 9th October, 2011 in Lagos. He is alleged to be an expert in IEDs, and was a key figure in the October 1st bombing as he procured all the explosive devices used; packaged and wired the vehicles and finally moved them from Port Harcourt to Abuja for final placement at the points of detonation.
"Also arrested is a banker who handles all financial transactions for Henry Okah, particularly for the 15th March and 1st October, 2010 car bombings in Warri, Delta State and Abuja (FCT) respectively. He was also responsible for fund transfers to other suspects to facilitate gunrunning activities in the creeks.
"A third suspect was similarly arrested on 3rd October, 2011. He is a key figure in the distribution of arms and ammunition to militants and other components that were used for the 1st October, 2010 bombing.
Some of items recovered from the suspects include three Browning pistols, face masks, a tool box, welding machine, a panel saw, 500 rounds of 9mm live ammunition and 175 live rounds of AK 47 rifle amongst others.
Ogar said the SSS had concluded its investigations and would charge the all suspects soon.