'Acting is in my blood'-----Princess Dupe Adetuwo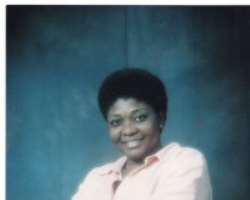 •Princess Dupe Adetuwo an old actress goes down the memory lane
How did the journey to Nollywood start ?. Right from my secondary school, I was in the Literary and Debating Society and also in the Drama... Society in Ondo High School. I used to write drama for them. I used to play male roles for them in some plays, because there was no male to fit in then. I remember the play: 'This is Our Chance'. I acted as Bambulu the school teacher. That is how I started. I also remember that my father, the late Abodi of Ikale land was an entertainer before he became the king. It must have been in our blood. I guess I took after him.
When did you join the Television drama series?
It was 1983/84 when mirror in the sun started, written by Lola Fani Kayode. It was Tade Ogidan who introduced me to her then because I was a friend of their family. From then I was in the mainstream of things at NTA then. Although I was a freelance artist, I remember Dolly Nwachukwu, Clarion Chukwura, Hallero, although she has travelled out of the country and a host of others, who were doing things together then. At a point, 'At Your Service' was on, it was a drama series on TV it was produced by Emmanuel France. He is now an actor. I was part of it. There was also SPACS, Special Protection Anti Crimes Squad by Danlami Bako. I was part of it, I was the computer girl. RMD was there, Mahmoud Alli Balogun was there, we were on it together. Even before I went into Television, Uncle Jimi Solanke had a film on celluloid then, titled 'Sunbird', I played the lead role Tanwa, that was how the journey started.
If you ask children what they want to become, they will say I want to become a Lawyer or Doctor or Engineer. Have you always been dreaming right from when you were small to become an actress?
All the while I was dreaming to become a lawyer but because of the talent in me, I found myself in this profession.
What would you consider your greatest achievement in this profession?
In this profession It has really helped a lot in the area of business and getting to meet people, getting to be accorded respect anywhere I am, in a gathering and all that. So far that is what I have gained from it.
Have you faced any challenges in the course of acting?
I tend to be very, very careful in doing things. It is like I respect myself a lot and I respect other people too, there has not been much challenges. I don't pretend to be what I am not. I've been lucky.
You started acting very early in life and you took a break for a long time, what is the course of the break and why did you come back into this profession?
The man I married does not really like me acting. You know people have this negative impression about them. I will just say it is a very wrong one, because not all of us are like that. They tend to believe they are promiscuous. Once you are there it will expose you and you tend to lose your mind, your head. But I tend to be different, maybe because of the way I was brought up and my father was very very strict; it kind of helped me in life. So I took a break for a long while, because we had to relocate to England. I was there with my husband, because he didn't really like it. When I came back to Nigeria all my colleagues then, my friends like Clarion Chukwura, Ngozi Nwosu, had all gone far in it and they are now celebrated. I felt okay, we started together and it's still part of me. At a time I was on stage with Larry Williams. Then I was part of home to Ajegunle play that was staged in Ilorin. We took it round the country then. I saw that it has now become something big. Even at that time we were just getting very little. I remember then in 'Mirror In The Sun', we were payed N150 per episode and it will take you months before you even get your money. There was really very little in it. When I came back, I saw that they've all gone far, I just said okay let me just go to where I belonged, where I am happier.
Can you share with us some of the memorable days of your life and memorable days in this profession?
The day I got married and the day I had my first child. In this profession, the first day I saw myself on TV, in Mirror in the sun, was memorable.
In all of your job which one do you find most challenging?
Each one comes with its own challenges. You may be asked to act like an old woman, or a very naughty woman, or a cool headed woman, so it comes with its own challenges.
Which one would you say you love most?
I love my own movie most, 'Tinu mi ni momo' which I produced in 2005.
Can you list some of the works you have done?
'Mirror in the Sun' Country People, Zenith, Haven, Family Ties, Super Story, Behind The Siege, Family Affairs, Diamond Ring Yoruba Movies are Tinu mi ni mo mo, Owo Asela, Abajo, Sababi, Ibironke, Moserami, Olorun ni, Omi Ewuro, Gbewiri, Ija ewe, Oro towo seti, Baiye seri, Edun and so on
What are your plans for the future?
My plans are in God's hand, but I plan to have a Soap on air and I'm working on it right now. And I'm hoping unto God to better my life.
How would you rate Nollywood compared to Hollywood and Bollywood?
Now they say we've been rated number two in the world next to Bollywood. I don't know how the rating came about, but then we are there. That calls for celebration. In Nollywood we are still learning, inspite of the facilities that are not there. You cannot compare it with Hollywood, they have everything there. They even have a film city, they call Hollywood. We don't have anything like that here. We just try to make do with what we have. With better facilities, better support, maybe with government funding Nollywood we will do better. The best is yet to come.
Tell us about your background?
I'm an Ikare princess from Ikoya, in Ekitipupa in Ondo State. My father was a paramount ruler of Ikale land, he's late now, Oba J. A. Adetuwo '2', the second. I started my primary school in Ibadan, St. Louis Primary School. I went back home for my secondary education. I started from Manner Memorial Grammar School. It was one of the best then, but because I was playing table tennis for my state, they needed me to be closer to where I could get better training. They moved me to Ondo High School. I finished my secondary school in Ondo High School, then I proceeded to Auchi Polytechnic. I had my ND. I proceeded to Bida Polytechnic, where I did my HND. I travelled to England where I did extra courses in interior decoration which is what I do aside acting. Presently I am in the Actors Guild of Nigeria, AGN. I am their Ogun State chairman presently.
How would you describe yourself?
I will say I am a happy woman, down to earth, and God fearing woman. I live a simple life, my life is very simply. I love being around beautiful people. I fear God a lot.
Who are your role models?
I will say my father, although he is late now. I also have Tade Ogidan as my role model.
How would you describe your style?
I love simple things. I don't know why. You can see I have low cut, I never plaited my hair for once. I never in my life braided my hair. That would say a lot about my person. I don't really like making up, it will seem as though I am not the one. If you make me up now, I will be feeling that's not me. I don't know how God created me, but I just feel good when I am simple.
How would you compare growing up then and how the youths are growing up now, in terms of the atmosphere, moral and the environment?
You can't compare it. Then we enjoyed life because there was so much peace, although people were not so rich then, the little they had have value. But these days there is no value anymore. We don't have much fear then moving with your friends. During holidays you can go to your friends house to spend sometime with them. But these days everybody is so fearful and careful. You can' t trust anybody anymore again, because of what is happening. Everybody is so money conscious nowadays. In those days we don't run after material things. In fact there are some steps you will want to take then that the fear of what your parents will say, you will not even think about it anymore. How can a girl of 16 be thinking of driving a car. You will see them now around driving jeep, flashy cars. A lot of them have gotten into trouble, they have mortgaged their future for it. In those days, it was so beautiful; life was peaceful, everything was going on fine. Immediately I left school I traveled by myself with my own pocket money to London. Then we don't need a Visa to travel. The ticket was just N500 then, and I could easily gather the money together. Life used to be so beautiful then. I pity the young ones now because of so much fear and things are so hard now.
Would you encourage your sons and daughter to go into acting, as a profession?
My daughter is a lawyer, she is also acting. She is modeling.
You were once married, can you tell us why you are single now?
I tried my best to make it work, but it didn't work. I don't believe I should continue suffering in a marriage which is no longer making me happy. I tried my best. I want to be alive to take care of my children, and that is what I am doing. Working hard to raise them.
Where is he now?
He is late, he died in 1996.
Did he remarry before he died?
No.
Are you planning to remarry in the nearest future?
If it comes, fine. If not, I will concentrate in raising my children.
By Ronke Kehinde