SIRLEAF-JOHNSON SHARES NOBEL PEACE PRIZE WITH TWO OTHER WOMEN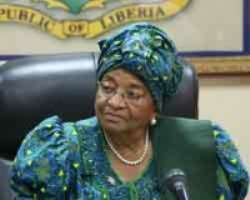 AFRICA'S first democratically elected female president and Liberian President, Mrs. Ellen Johnson Sirleaf, along with other two women won the Nobel Peace Prize yesterday in recognition of their efforts in promoting global peace.
The 10 million kronor ($1.5 million) award was split three ways among Ellen Johnson, women's rights activist Leymah Gbowee also from Liberia  and democracy activist Tawakkul Karman of Yemen - the first Arab woman to win the prize.
Sirleaf, 72, has a master's degree in public administration from Harvard University and has UN and within the Liberian government.
In elections in 1997, she ran second to warlord-turned-president Charles Taylor, who many claimed was voted into power by a fearful electorate. Though she lost by a landslide, she rose to national prominence and earned the nickname, 'Iron Lady.' She went on to become Africa's first democratically elected female leader in 2005.
Sirleaf was seen as a reformer and peacemaker in Liberia when she took office. She is running for re-election this month and opponents in the presidential campaign have accused her of buying votes and using government funds to campaign. Her camp denies the charges. The election is Tuesday.
'This gives me a stronger commitment to work for reconciliation,' Sirleaf said yesterday . 'Liberians should be proud.'
Gbowee, who organized a group of Christian and Muslim women to challenge Liberia's warlords, was honoured for mobilizing women 'across ethnic and religious dividing lines to bring an end to the long war in Liberia, and to ensure women's participation in elections.'