MY MIRACLE STORY - GOV AKPABIO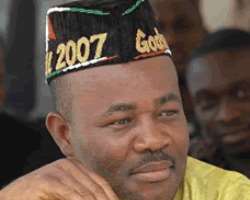 The Akwa Ibom State governor, Dr. Godswill Obot Akpabio, has revealed the secret of how he foiled the plot of his predecessor, Obong Victor Attah, to install his son-in-law as governor in 2007, beating 57 other candidates to clinch the governorship ticket.
Speaking in an exclusive interview, Akpabio said Attah's singular reason for moving against him was 'human selfishness and the greed to appropriate the governor's position as if it were a family title. But a major revolution took place in Akwa Ibom State. My people said no. They have to elect a governor of their choice. And they came out to vote and defended their vote. It was indeed a revolution.'
He also spoke of the challenges he has faced, in his bid to transform the state, insisting that every honest Akwa Ibom indigene and Nigerian can testify that he has indeed, turned around the infrastructure of the state and the general well-being of the people.
He decried what he described as 'the constant blackmail in the media' by his opponents, who have portrayed him as an alleged cultist or kidnapper fueling the crime situation in the state.
His voice rising, he says: 'That is most unfortunate and most idiotic. I read an analysis by a national newspaper of kidnappings in Nigeria in 2009. There were more kidnappings in other states than Akwa Ibom. You cannot compare what happens in other neighbouring states, in terms of kidnapping, with Akwa Ibom, but nobody accuses the governors of those states. In Akwa Ibom, the thing there is that the opposition is a strong vocal group that has nothing to campaign with. They realise that they cannot fault the governor on performance, neither can they fault him on management of resources of the state, nor can they fault him on achievements. So, they now turn to the only thing they believe they can fight with. Any single case of insecurity is blown out of proportion for political gains in order to create the impression that the government is not doing well. But they know they have no proof. They are confused people.'
Akpabio spoke on these and other things.
Some people plan to be governor. Others are made governor by others and may not know what to do when they get into office. In your own case, did you plan to be governor or did it just happen?
No, I planned to be a governor. It didn't just happen. I planned to be a governor. Actually, when I was in the secondary school, in the Federal Government College, Port Harcourt, I recall when a teacher asked us, in class two, what plans we had (for the future) and I said I was going to govern my people. And at that time, I didn't know how I was going to govern my people, but that was what I had in mind. When I met my wife, I introduced myself to her as the future governor of my state. Well, I used to say those things like a joke, but really, in terms of service, I had the mind that I would become governor, purposely, to serve my people, because I love my people so much.
Also, you must understand that I come from a slightly political family. My grandfather was one of the warrant chiefs recognised by the British colonial rule and had a widespread influence in my senatorial district, Okokon Udo Akpabio. In fact, there is a book they called, The 10 Africans, written by one Reverend Gentleman, which chronicled the event of 1929 onwards and they reserved a lot of pages and chapters for Okokon Udo Akpabio, my grandfather, in that book. So, from that kind of family of leadership that believes in service, it's not strange I found myself in politics. We had uncle who was a deputy premier in the Eastern Region, minister of internal affairs, minister of education and acting Premier to Zik/Okpara for many years. He was the one who proposed the bill for the establishment of the University of Nigeria. Eventually, one of the halls there was named after him, Dr. Akpabio. And even by 1983, the first lawyer in my family, Senator Akpabio, contested on the platform of the National Party of Nigeria (NPN) and won as a senator representing my senatorial district. I am the second lawyer in the family.
As far back as 1983?
Yes, in 1983, just before the military struck. He was in the Senate for about three months: October to December 31, along with Joe Wayas then, who was the returnee Senate president under the Shagari tenure that lasted for just three months. So, to a large extent, I come from a slightly political family, which believes seriously in service and we have not done badly, even during the colonial era. We had the opportunity to serve our people and the family has always done well. So, I had it in mind to be governor.
When I became commissioner, way back in 2002, I decided to put my thoughts into writing. So, I produced a book in which I chronicled My vision for a greater Akwa Ibom State.
You did that as commissioner?
Yes, as commissioner. And then, I travelled around all the local governments in the state and eventually, I was lucky in 2003, when I served as chairman of the then governor's campaign committee, to mobilise support and organise rallies for his second term. I went round the 31 local governments. I saw the plight of the people. I visited the ordinary people. I talked to them. So, I knew exactly what my people wanted. I chronicled my thoughts of what I thought about the infrastructural build-up.
I planned to serve. Again, I was a great critic of governments before I joined government. I believe government could have done better, but at the level of commissioner, you can only advise. The governor eventually takes the decision. So, I wasn't able to actualise my vision. When I took over in 2007, I told my people that their lives can never be the same again because I felt that, yes, for the first time, the visioner of good governance was given an opportunity to exhibit good governance and since then, things have not been the same.
So, from the beginning, you wanted to lead your people?
Yeah. I knew that. That is the fact. I had always planned for that.
Why?
I wanted to change the situation. I used to make a joke of it, even as a child. You can talk to some of my cousins. I told them that I don't like the way my road was. Our village is sedentary, just by the roadside, part of the federal highway that comes from Umuahia, through Ikot Ekpene, through Abak, all the way to Port Harcourt. So, I never liked the way the place was. It used to be very dark. And we had one… in quote, evil forest. It was very close to where people were living and nobody entered. Black snakes used to come out; black millipedes, all sorts of things. And I asked them: why can't somebody enter there? And they said no, that forest is dedicated to the gods and they have a lot of deities inside where they worship. So, I told them that one day, when I become governor, I will bring it down and then the whole place will be lit. And when I became governor in 2007, that was the first thing I did and then, I called the wife of the president to commission a brand new general hospital there.
You mean the late President Yar'Adua?
No. President Goodluck Jonathan.
In 2007?
When I became governor, I brought it down, but we finished building the hospital later and the wife of the current president commissioned the brand new hospital.
Now, where did you meet Akwa Ibom when you became governor and where are you taking the state?
I met it as a state with a lot of potentials. The problem was disunity and staggered intentions of projects that had, in some instances, not left the ground. For instance, we had a place that was earmarked for airport and yet, there was no airport. There was no single building. They had cleared a part of it, which was the intended runway, but they had not even cleared all. So, a part of it was still bushy. That was all. I took it from there and today, we have one of the longest runways completed and then, we have three flights in and out of the state daily! We have Arik; we have Dana and we have Aero on a daily basis and we are carrying thousands of passengers from that airport. Thousands, to the glory of God!
Do we take it that you met a state that was totally disorganised?
Totally, as far as I am concerned. The was no focus. In fact, educationally, too many of our children were hawking on the streets and so many of them were serving as house boys and house girls. In the whole country, wherever you entered, you would see people shouting Akpan, my driver, Ekaette, my house help. So, I was very determined to end that syndrome, the house help syndrome and that was why I knew that the difference between the house help and the master was education. So, I tackled education headlong and then, I was able to send a bill to the House and they passed it into law. I signed the Child Rights Protection Law and made the provision that makes servitude at that level criminal and made education compulsory and mandatory for all children of all school age.
Up to what level?
Up to senior secondary school level! And then, it is a punishable offence for any guardian or parent that has a child of school age and does not allow that child to go to school. So, within two years of practising that system in Akwa Ibom, we tripled school enrolment. Then, I went about changing the face of schools in the state. We embarked on massive rehabilitation and revamping of the existing school facilities. And we have built over 2, 500 brand new classroom blocks across the state and we are still building because we must continue to expand.
I am also aware that beyond educating Akwa Ibom children alone and not educating children of other states of the federation who are fortunate to be in Akwa Ibom could also cause problem for my children in future. It means we will be preparing armed robbers to attack them. So, the free education policy is open to all Nigerian children who are resident in Akwa Ibom, up to senior secondary school level, including free textbooks and all that! No single payment. I abolished Parents Teachers Association (PTA) levy.
So, if you are resident in Akwa Ibom, you go to school free. That is what is happening today. That is why we have triple school enrolment. Schools are bursting and looking for space. And it is good for me because I insist that education is a right for every Nigerian child, at least, up to that basic senior secondary school level. And then, what we have also done, is that we appointed what we call education monitors because any system you have without proper implementation will collapse. So, we appointed education monitors who we call Senior Special Assistants to the Governor on Education Monitoring, Special Assistants to the Governor on Education Monitoring. They go round the state. We provided them with logistics. They go round the state during school hours. If they see any child that is hawking on the street or that is doing a menial job, such a child will be apprehended and they will look for the parents. The parents will be arrested. Of course, you will be cautioned and we insist that the child should be in school the next day. And if you are caught twice, it means it is a criminal offence and you could be sentenced to as much as six months for refusal to allow a child of school age to be in school. We have also been able to bring back a lot of our children who were in Gabon doing child prostitution, who were trafficked into Gabon, some of them who were taken into Lagos by all sorts of mistresses and madams and then shared to people's houses who used them for child labour.
We brought them back and some unfortunately, are orphans. We have also provided homes for them in Uyo. If you come there, you will also see some of the over 650 homes and they are going to school, courtesy of my wife. We have provided buses for them, uniforms and everything and then we send them to school. We have assured them that whether they have parents or not, what is important is education. Once you are well educated, you will fit into anything.
How are you able to tackle both human and physical infrastructure at the same time?
It is because we are committed to it and because of the fact that we have love. I have said it times without number that if you don't love a people, you can't rule them well. You must love your people as yourself and the things you will not like to do to yourself, you should not do it to your people. I love education and I love my children. I would not like to have an illiterate population because the bane of the Nigerian society stems from illiteracy and then, because so many people in this country are uninformed. Sometimes, it is difficult for them to even understand government policy, understand the focus of where you are going because of lack of education. So, I decided to tackle that. In fact, look at the illiteracy that even perverse the medical field. Take, for instance, a woman who has obstructive labour and decides to be taken to a church for prayers and then she is bleeding to death and the child cannot come out, and in some instances, they will tell her, 'oh, you must have committed adultery' and that she should start to confess. Then, she is forced to mention her father, brothers, any man, because she is looking for help and obviously not because she did anything with them. But at the end, she will bleed to death and they will say she was a useless woman. That is what is happening and that kind of thing happens as a result of illiteracy and ignorance. So, I decided to tackle that. And that is why I declared free medical treatment for all pregnant women in Akwa Ibom.
When I was campaigning, I went to one of my local governments, Oron and a woman came to me and said, through Better Life Programme of the First Lady, they gave her four wheelchairs and there will be quarrel in her house because she needed five. She said she had five cripples. I asked how many children she had and she said she has six children. This was a live story. I was a sad man that day because that woman did not know that polio was an avoidable disease. I knew that there was need for us to tackle that. I am happy that today, we have celebrated two and a half years in Akwa Ibom without a single incidence of polio. I followed it up. I declared free medical treatment for children from day one to the age of five, to ensure total vaccination of children.
That is what is happening in the state and it has worked out for me. So, I have been able to catch them young and I have ensured total vaccination. That is the kind of achievement that one may not understand, but for me, there is joy in my heart that I have been able to bring succour in that area. I believe that education is important because the people need to be educated. We have this case of child witchcraft that you used to hear about. For instance, a father sends a child out of the house and accuses the child. Maybe you lost your job and they say that your child has entered into witchcraft and therefore the cause of your problem. You throw the child out of the house. I didn't believe such things were happening. I know how some of us look for kids. I have four daughters and was looking for a son. I knew how much we yearned for kids. So, to imagine people throwing children out into the streets was unheard of. It was unheard of. I had to tackle that issue and that is why we signed the Child Right Protection Law and we embellish a provision that the stigmatisation of a child as a witch or a wizard carries 10 years imprisonment, whether it's your child or anybody's child. We now have the right, within the law, to go down and close down prayer houses that do vision and call people witches and wizards and in that way, we have closed down a lot of such prayer houses because I believe they are illegal and fake churches and we also prosecute them. We are prosecuting some of them now. Some of them have been taken to court under prosecution of the Child Right Protection Law.
As I speak with you now, stigmatisation of children in Akwa Ibom has come to an end because government took the issue very seriously, particularly, when spurious stories that were done for pecuniary reasons were being shown all over Channel 4 Television in United Kingdom and all that. We had to tackle that issue very seriously. For me, I believe that education is the root of everything. No matter what you prepare for the society, infrastructure and all that, if you don't have an empowered populace that can at least maintain and manage what you are producing for them, then it becomes useless. Human capacity development must go hand in hand with infrastructural development. We have done very well in that direction.
How did you prepare yourself for governorship?
In the first place, I was very mindful of the things I did, even as a child. I never entered any cult organisation because sometimes they say one finger soils the rest. As a young man struggling, I also made sure I was careful not to enter into fraud. I was careful not to go into drug peddling or even take drugs. And as a young man, I was also careful not to go into drinking because sometimes, excess drinking can impede your vision and can also stop your future. And of course, I took to proper education. I read very widely and I established wide contacts all across the states and of course, I believe strongly that power comes from God and God gives it to who He pleases because that was a petition I placed before God, that I wanted to save my people. So, I knew it was a function of time.
And you beat 57 other people
At my first election, yes.
How did you pull it through when you were an Akwa Ibom indigene in Diaspora, so to speak?
Well, I was privileged to serve as commissioner for about five years. My people saw me and knew me one on one and they could feel the passion, strength and dedication and they knew that this was a highly detribalised fellow. Akwa Ibom is also like Nigeria: multiethnic in nature and so, they saw a very detribalised fellow in Godswill Akpabio. I take every Akwa Ibom child as mine. And that is why even in this home that I am staying, every single child here comes from every other ethnic group in the state. I am the first governor to have his Commissioner for Finance from another ethnic group; the first governor to have the Secretary to the Government from another ethnic group. My Speaker of the House is from another ethnic group; the chairman of my party is from another ethnic group, even my chief judge. To a large extent, they saw a very detribalised personality in me and so, they knew that they could trust me because, as I said, you have to love your people first before you can give them good governance. We were 58 in number and what I did was very simple when I realised that there were men of timber and calibre in the race. I knew that I wasn't in the line. What I did was to turn to God. I set up a prayer team in the state (ah, this is a secret.) And I told my people to go down on their knees and pray that God's will be done in a solution to the then administration and coincidentally, my first name is Godswill. So, God's will was done in Godswill and God's will was done in Akwa Ibom State.
People who have been to Akwa Ibom testify to the infrastructural transformation as also evidenced by the many awards you have garnered. The question that comes to mind is: where do you get the resources to do all these? Is it simply because you have abundant resources?
First, I must be honest with you. You need resources to do a lot of things, but at the same time, you need the commitment; you need the dedication, the passion and a political will. Sometimes, resources alone cannot do anything for everybody because people don't even understand that with just mere five to 10 million, you can change the health of a community. A community that has been drinking water from the stream and in this same stream, they wash clothes, they defecate and the children also drink from it. As soon as you put a borehole with just five million naira, you can stop water borne diseases from breaking in that community and therefore, their lives can never remain the same again because they will stop visiting pharmacies and hospitals and, therefore, cholera will reduce. So, it is not so much the function of the money as being able to have the vision and being able to show love to your people and be interested in changing their lives. In Akwa Ibom, the people were ready for it. It took them five days to stay on the street to insist that they must take part in the primaries in 2006 that will produce the governor in 2007. They did not allow the primaries to be hijacked by the then government in power.
The plan of the then government in power was the installation of the family line of the former governor through the son-in-law and the people were very determined to change that and so they sat on the road for about four to five days because people wanted a change from their status quo. That is why the people themselves were prepared because you need the cooperation of the people to change their lives.
So, it is not so much the function of money. Before I became a governor, people said so much money goes to Niger Delta but so little is seen on the ground. I was determined to change that. I said I must reverse the trend and let them say that so much work is being done in Niger Delta but so little money is going in. We can even have justification to ask for an increase from 13 per cent derivation. I was determined to do that and thank God, three years after I became the governor of the state, people started getting amazed and they said how can a state do so much? Is it because they have money? Or where would they get the money to pay? It is no longer the other way round. It's not so much about the money. You can give jobs of say 10 million each to different people or companies. And then you insist that they perform by getting what they call advanced payment guarantees from banks and the banks will supervise them. Those small projects will be in terms of renovation of existing facilities, it will also be in terms of building of classrooms blocks, provision of portable water, and we do a lot of those things. In the first one year, we commissioned 600 and something of that. In the last one year, we have done over 211 brand new ones and done at least, five major high ways.
Is it through direct labour?
No. The roads were not by direct labour, but most of the other seven and hundred something projects were through direct labour. It is not so much a function of the money. It's a function of will, the will to do the right thing. This is what I believe in.
You came in not as an anointed. You had a two-term governor who you served for five years out of eight years and he didn't anoint you. What happened?
I think the problem is human selfishness. The human factor came in. I believe that it is very important for us to detach ourselves from certain positions that we hold because the problem in Africa has always been the withdrawal syndrome, the ability for you to detach yourself from the position you hold and not to want to appropriate it, then keep it permanently for your family.
You see, what is happening all over African countries is nothing but an attempt to appropriate public asset for private use. That is the truth, because the office of the President of Libya belongs to the whole Libyans and so, when you want to put it for yourself and your family and then force the people to toe that line for many years, that is where the problem comes. I think that is the problem we faced in Akwa Ibom. In 2007, there was an attempt to appropriate public asset, like the position of governor for a particular family, but the people revolted. I came in not as an anointed one and it was not an easy thing. It was like a major revolution and the entire state said God's will must be done. They prayed very hard and went round and that is why, in the vote, I had over one million votes. It was a major revolution in the state. I won't say my predecessor did not do well. He did his best as the governor. So, it is not the function of performance. It is just the fact that towards the end, there was an attempt to turn the position into a political dynasty and to turn the government house into a monarchy where a daughter will succeed the father and the people went against it.
Since we were many from the plethora of candidacy, they decided to choose the one they felt will best meet their aspirations and their yearnings and that person they chose happens to be me. I never said I wanted God to make me governor. I said God should make the best among us the governor so that that person can think of the people and that is why I went round the state to say, let God's will be done and not the will of man. So, when eventually it fell on me and I won, I knew God's will was done in me as well as Akwa Ibom. When you go round Akwa Ibom, whenever a project has been completed, they will write there that God's will has been done. God's will is done in the infrastructure in Akwa Ibom. God's will is done in the health care delivery system. God's will is done in at least five brand new general hospitals. God's will is done in the children of Akwa Ibom who now go through the process of education without stress. God's will is done in the airport where the administration was able to complete an on going airport project and we now have three planes landing.
For the first time in 50 years, my people can now fly in and out, and don't forget that if we did not do it, it could have become an abandoned project because it was an empty field. That is the simply truth.
What of the independent power project?
The independent power project has been completed now.
You mean it wasn't completed until you took over?
It wasn't completed. Even when Obasanjo went there for the supposed commissioning, he turned it into inspection in 2007, at about May 21 or thereabout. They were still at the verge of installing some of the turbines and there are many stages from the installation to the testing and so on. They were not completed. So, 191 megawatts is being generated right now from there, but we have gone a little bit above. I realised that the problem of Nigeria will not be the building of turbines, but gas to turn the turbines. Since the National Integrated Power Project (NIPP) and the independent power plants across the entire country are serving the same purpose, I had to partner a company called Ceptal Energy from United Kingdom and signed a gas deal for 10 years and then they brought their gas processing plant to one of my local governments. That is at an advanced stage now and then, we have gas pipeline for about 62 kilometers from Eket to Ikot Abasi, to the Independent power plant in Akwa Ibom. So, that company is going to use the gas reservoir of Akwa Ibom to domesticate it. At least, it's costing almost 566 million dollars. That's the first major PPP in the gas sector.
Do you take loans and bonds to embark on these projects?
No, that is another funny thing. I try to manage what we have. We are not owing anybody and that is the beauty of it. That is why if you come to the House of Assembly, they call it uncommon transformation with uncommon management of resources.
What the larger society reads and hears is the direct opposite. There's talk about kidnapping and other crimes and the governor is portrayed as the leader of these cult activities. How did it start? How did this stigmatization start?
That is most unfortunate and most idiotic. I will tell you that I read an analysis by a national newspaper of kidnappings in Nigeria in 2009. There were more kidnappings in other states than Akwa Ibom. You cannot compare what happens in other neighbouring states, in terms of kidnapping, with Akwa Ibom, but nobody accuses the governors of those states. In Akwa Ibom, the thing there is that the opposition is a strong vocal group that has nothing to campaign with. They realise that they cannot fault the governor on performance, neither can they fault him on management of resources of the state, nor can they fault him on achievements. So, they now turn to the only thing they think they can fight with. Any single case of insecurity is blown out of proportion for political gains in order to create the impression that the government is not doing well and yet people forget that security remains a major agenda of the Federal Government and that the states are just there to coordinate federal agencies. They are confused people.
So, how did it start?
It wasn't just straightaway. There were kidnappings even when my predecessor was in office. Akwa Ibom remains part and parcel of Niger Delta. I remember a case where there were some Russians in ALSCON that were kidnapped, including women; about seven of them. That was not in my regime, that was before I became the governor. I remember when there was shooting in Esa Akpan, in ExxonMobil and about two staffers were killed and I can also remember another one where they used a bomb in ALSCON in the second kidnap case, where they blew up the driver inside a bus. The governor was not accused and that was not my regime. I also remember one of my local government chairmen, from Igoro, when I was a commissioner for local government, that the son, three months child, was kidnapped and we later recovered the child in a primary school. The governor was not accused and there were many other incidences like that. And then, there was a local government called Ika, that had crisis with soldiers. Nigerians soldiers had to be deployed to that local government for onward of three years with so much killings. The Divisional Police Officer (DPO) in Ika was killed and dismembered into pieces under my predecessor's administration. The governor was not accused.
So, there is nothing like insecurity in Akwa Ibom. The boys that they complained about, who are working as Personal Assistants (PAs) to governor are young boys who supported me and they were all boys who worked for the former governor. They even formed them into what they call youth caucus by the former governor and they worked for the former governor individually. If you come to the state, you will see them. No new child or new politician was brought to Akwa Ibom. These are all people who have been with the PDP and government since 1999. All these stories are propaganda, propaganda blitz, in an attempt tarnish me. You know they say if you want to hang a dog, give it a bad name, wherever it goes to, people will stone it.
You talked about organised opposition to your administration. What do you mean?
Yes, I am the first Anang man to be governor since the creation of the state. The previous governments had come from the Ibibio tribe and so, when the last administration could not install somebody, they, of course, turned in the opposition and started the attack. Some of the attack that I have in the state were ethnically based and that is why I don't believe in politics of ethnicity. These are people fighting the primaries they lost in 2006/2007, who now spend all their time and energy to bring down a young man who God has placed in Akwa Ibom and who is doing the will of God and the will of the people. God is with me; that is why they cannot bring me down and that is why they cannot succeed. They have tried everything and then some were boasting, even before 2011 election. I wrote a petition to the president, alerting him of the grand plan by the so-called opposition, including a former minister of state, to give me what they call 'Mbadinuju treatment.' I said it even in the newspapers. What is Mbadinuju treatment? Mbadinuju was the only governor in 2003 that the then presidency did not allow to return to government house in the Peoples Democratic Party (PDP) because they infiltrated the rank and file of his Bakassi Boys and then killed innocent citizens. He was accused of murder, including killing the chairman of the state NBA, the wife and the rest of them and so. PDP began to say such a man cannot come back.
They were boasting that they will give me 'Mbadinuju treatment,' which was organised kidnapping, organised brigandage and then, come down and put it on the head of the governor to stop me in 2011. This was their determination. I wrote a petition to the president. I also highlighted the petition I wrote to the national security adviser. So, what happened in Akwa Ibom and all the stories you heard were politically motivated by a small cabal of opposition who were bent on painting me black in order to win 2011 election.
If you notice, immediately after the 2011 election, the tempo of their machinations went down. It is only