WANDE COAL BATTLES DON JAZZY OVER MONEY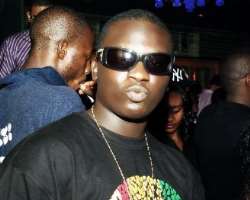 The lovers of the internationally recognized entertainment outfit, Mo' Hits Record solely owned by Don Jazzy were shocked to read about the fisticuffs currently rocking the entertainment house on the pages of newspapers last week. Wande Coal, the top hip hop sensational artiste is in the centre of the controversy as we gathered that he's battle ready for any unexpected scenario that may come up afterwards should Don Jazzy fail to comply with his demands.
The Bumper-2-Bumper crooner, Wande, who is said to be so bitter at the moment over the breach in their contractual agreement, went to Don Jazzy and poured out his mind on how Mo'Hits has not been forth coming with their promises on the royalties for his bumper-2-bumper album. Don Jazzy, according to inside sources, felt so insulted that Wande whom he brought from Mushin to Mo' Hits could be so bold enough to demand for unnecessary royalties from him. We were told that Don Jazzy said he didn't owe him any royalties and that the company has been responsible for his image packaging, promotion and what have you. On this note, Wande, we learnt, got mad with such utterances and was alleged to have been so rude to Don Jazzy saying "I'm not D'Banj o, mine is different o"etc. the unsatisfactory reaction Wande got from Don Jazzy we learnt began the journey to their separation as the house was said to have been in total disarray with Don Jazzy keeping to himself.
Though, Wande with support of other Mo'Hits crew had rendered his unreserved apology to the don of the Mo'Hits Records, however, things, according to people in the know, may not be the same with Wande and Don Jazzy. As you are reading this, the smooth and cordial relationship that has existed between the young artiste and Don Jazzy is now been threatened. The manager of the outfit, Sunday Are's number was not available when we called to seek for his opinion over the story.