House Summons Okonjo-Iweala, Usman, Over 2011 Budget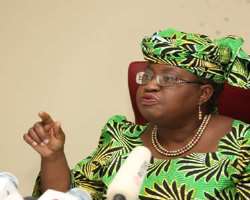 ABUJA, OCTOBER 04 (THEWILL) – Finance Minister, Dr. Ngozi Okonjo-Iweala; her National Planning counterpart, Dr. Shamsudeen Usman; and the Director-General, Budget Office of the Federation, Dr Bright Okogu are to appear before the Federal House of Representatives to defend alleged selective implementation of the 2011 budget, the lower chamber agreed in a Tuesday resolution that followed a motion sponsored by Hon. Patrick Ikhariale (PDP, Edo), who condemned the poor implementation of the Capital Budget as passed by the House.
Ikhariale, while presenting the motion on the floor, quoted statistics provided by the Ministries, Departments and Agencies (MDAs) of the federal government, revealing that the 2010 budget implementation was less than 40 percent. He expressed regrets on the negative implications of non-implementation of the 2010 Capital Expenditure Budget by almost 60 percent, for a developing economy like the country.
As he argued, most capital projects that were abandoned or partially implemented and were carried over into the 2011 budget have been jettisoned by the Executive. "We cannot afford to continuously and deliberately waste tax payers' money in initiating laudable capital projects without executing them thereby retarding the growth and development of our economy as a nation," he warned.
Consequently, the House, presided over by Speaker Aminu Waziri Tambuwal, referred the motion to its Committee on Appropriation for further consideration with a specific mandate to re-caption the projects to be included in the 2012 budget, and ensure their implementation.
In a related development, the House also enjoined the Nigerian Communications Commission (NCC) to extend the deadline for the recently concluded SIM Card registration in order to accommodate all claims and objections, and effect corrections.
It also urged NCC and network providers to send short message service (sms) to all subscribers, so that they can establish the success or failure of their registration. It said the Commission should publish names and data of such successful subscribers at their various registration units, to allow complaints on claims and objections on information concerning them. In addition, it advised the NCC to further enlighten subscribers on the importance of capturing their biometrics and other relevant information, before proceeding to enforce punishments on defaulters.
The parliament's decisions came after a motion, Deactivation of Registered SIM cards and other challenges facing the SIM Registration Exercise in the country, brought by Hon. Peace Nnaji. The motion was referred to the House Committee on Communication for further legislative inputs.