Empress Njamah Not Pregnant -Timaya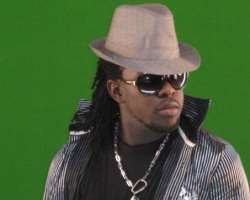 Timaya has literarily become a household name as a result of his music, which has earned him, fame and fortunes in the last few years.
He crept into the music industry with his own style of reggae music and before long, he had become the most sought-after acts in the country leaving many of his contemporaries behind. With his fame and fortune came several stories of his alliance and dalliances with women from all walks of life. Born Inetimi Odon to a retired banker, this last child of a polygamous family of 15 children has earned himself a place in the hearts of many music-loving Nigerians. He told Gbenga Bada and Ifeoma Meze the true story of his personality and upbringing.
You are viewed as a very arrogant person who has also got a lackadaisical attitude. How true is this?
I'm not arrogant or snobbish like many believe and you'd find out that in my first album, I said Timaya is hot like fire and people wondered where the fire in me is. I only have the arrogant swagger look. Sometimes I look hard on purpose so people will not take me for a ride. So, before you meet me, you already have an impression that I'm tough but really, I'm very friendly, I could even get too playful!
What would you say is behind the name Timaya with all the controversies and success?
God.
Recently, the rumour mill was agog with the story that you duped a lady of some amount of money and car. What really happened between you and the lady?
It's a normal thing for people to talk and say things. The lady in question is a big fan that I met in Port Harcourt. Now, this lady had dealing with Brian Roberts who was supposed to be my manager for my first album and not me. Maybe she paid Brian to give me money for some performances or appearances but I didn't get any money and it's between them and not me. So, she got this guy's number through my CD pack, and they met and the dude started managing the girl. I don't know anything about it. The lady wanted me to do collaboration but I decided not to after listening to her songs. Since I've been doing collaborations, nobody can say he or she paid me to do any collaboration let alone a lady lying about a paltry sum of money. For me, I've been to Kano only once and not to see the lady, it's even a long time that I saw the lady in Port Harcourt. The Brian guy was supposed to manage me but he messed up, which strained our relationship.
So, what are you doing about it?
I get calls from fans daily. They call me, inquire about me and tell me things and so, I think there is more to the story. I don't intend doing anything about it. It's just like you fighting the unknown because I don't know what her aim really is. If I was guilty, I would have gone to her and we would have settled it but I have got nothing to settle with her since I didn't have dealings with her but only met her through my one-time manager, Brian Roberts.
What about the story making the rounds that you have been harassing a Yoruba actress, Bisi Ibidapo-Obe with love advances?
One thing I'm going to say is that I'm not a saint. I actually said I was going to give her a slap because it is a lie she is putting out there saying that I'm sending love advances to her. I performed at AY Live and while I was on stage performing one of my songs and I said I needed a girl on stage to dance with and she stepped out on her own. It was even Gbenga Adeyinka who brought her to the stage and she danced. So, after the show, I went to Da Grotto and she also followed suit with Pryncess, everyone from Ali Baba to AY the comedian can testify to this. The next thing I saw was the story and immediately, I got so pissed that I called Pryncess to give me her number and I called her. She infuriated me by saying she didn't know about it. I told her that I didn't like it so I told her to let's clear the air because I have a girlfriend and it's like a rundown for me.
Can you tell us about your relationship with Empress Njamah?
She's my friend, a very good friend of mine.
But there is this insinuation that she's pregnant?
She's not pregnant; she's in London at the moment.
A lot has happened since your rise to fame and fortune, what has changed about you as a person and as an artiste?
Nothing has changed. The only thing that has changed is that I'm fresh and I can afford three square meals and anything and everything that I want by the grace of God. I go to certain places and people shout my name but aside that I'm still myself, a street boy, I still eat my Mama Put, I can't leave the street.
What would you say stardom has taken away from you?
Before now, I used to buy Okrika shirts but now I can't anymore, I used to go around on bikes especially in traffic but now, I can't anymore, my manager holds me down always, trying to make me realise who I am now, but I still remain a street boy. I don't like obstacles and all they write about me does not even bother me one bit. But this recent one is the one that bothered me because it has to do with pictures and I would never steal in my life. The lady is just using my name to get herself into the public eye, looking for a way to get popular. I'm enjoying it and there's no week that I'm not in the news. Though I like it but it becomes painful when it's always bad or something you didn't do because a clear conscience fears no accusation.
You have become so controversial that many things have been attributed to your name. There is the allegation that you beat up a photojournalist at one point in time. What really happened?
I only said delete it and they were struggling with me. I can't imagine someone taking snaps and dodging. We (Timaya and a lady) were not kissing and I just got to the club and saw her and the next thing was that they took the pictures. I was only relaxing and I met a lady I used to know and they took the pictures obviously with another intention. I honestly didn't beat any photographer, we only argued and struggled with them because I didn't want the pictures used. I'm not the violent person I have been painted to be.
If you are not dating Empress Njamah and Bisi Ibidapo Obe, then who is the lady in your life?
Very soon, you'd get to know the person and she's out of the news. Empress is just a very close friend of mine and very soon, you'd know the lady in question.
What about the Dem Mama Soldiers, which you go around with?
These artistes are my people and I call them Dem Mama Soldiers because I groomed them in the industry and they are already working on their album soon to hit the market.
Tell us more about Timaya
I'm Inetimi Odon but I'm called Timaya by everybody because it's a stage name that I picked up on the streets. I love singing, dancing and shooting pool. I was born in Rivers State, Port Harcourt but I'm from Bayelsa State. I used to reside in the Niger Delta but now I reside here in Lagos. I enjoy eba and egusi with vegetable soup. I started singing some 15 years ago. I was born into a polygamous home, my father had two wives and 15 children and I'm the last child. My father is a retired banker and my mother is a businesswoman.