I've Had Lot Of Male Attention-Cynthia Amadi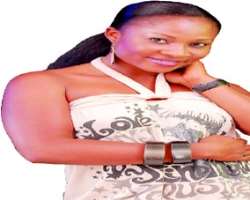 Cynthia is not a run of the mill actress as she has been able to find a place for herself in the Nigerian make-believe world.
Light-skinned and principled, this lady has won the hearts of many to her side with roles in flicks like My Sins.
According to her, she's just a normal person like everyone else.
"Well, I'm Cynthia Amadi, I'm a very resilient person, I believe so much in hard work and God's favours because these qualities have taken me so far, I attribute my achievement and life to God because I strongly believe that without him, there is no me," Cynthia said of herself.
Knowing fully well that she has been able to achieve more than her peers in her short time in Nollywood, how does she see herself and her level of stardom?
"Well, I have been there, I have worked hard to get to where I am today, and God has been kind to me. I'm still working hard because I haven't achieved my peak yet in the industry.
"I would say discipline has been my watchword, and like I said earlier, God's favour and also being firm in what you believe is something that is very important to me.
"Many people came into the industry for different reasons and some have fallen by the side, but God has been very good to me and I have been consistent. I started out really small from the extra roles but I've been there because one job got me another. It has been quite gradual as a whole," she recalled.
Without doubts, this lady, who could pass for a stunning model in her teens has got principle and boldness going by the way she describes herself and what she wants.
"I'm Cynthia Amadi, second of four children. I graduated from the Delta State University (DELSU), Abraka, where I studied library science and came to Lagos. I'm about completing another degree in English, I'm a student as well as an actress. I'm an eclectic person, I'm bold and I like to stand for the things I believe in.
"I'm a very disciplined person and everybody would tell you that. I'm a nice person when you come in contact with me, people have different opinions about me but I know that you can't be loved by everybody but I'm loved by many people," she said.
What about male attention?
Hear her: "I've been having a lot of male attention and advances but I've been able to manage it very well because I know that there is only one man out there for me.
"I actually don't mix business with pleasure because when I'm on the job, I'm on the job and when I'm outside the job, I'm laid back and very homely. In a nutshell, I have been able to handle the male attention and advances because I'm not a loose person and it has to do with my upbringing.
"I approach them as they come and I use different approaches for different men. There are people that I have turned into my very good friends because I let them understand that we can't go beyond friendship and I manage them pretty well."
Knowing fully well that she is a young lady, who is no doubt hoping to settle down in a marital affair very soon, what does Cynthia think of an ideal man?
"To tell you the truth, there is no ideal man out there. So, I'm not going to tell you that I'm looking for an ideal man, especially with the rate at which we have failed marriages, relationships and all that, you'd find out that there is no ideal man out there. If you meet someone that is 60 per cent; I tell you that is a pass mark and go for it. I'm not someone who looks for Mr. Nice Guy; I'm only out for one who would cherish me all through."
Though many might attribute her complexion and beauty for her a steady rise in the industry, the young lady thinks otherwise.
"Well, I wouldn't just attribute beauty to my success because there are a lot of people who look far better than I do but are not where I'm. I believe that beauty is the combination of what you have inside manifesting outside, so I wouldn't say beauty has gotten me where I am because I believe I'm more than the physical attribute.
"Moreover, my brain is my greatest asset, this is because when I have intellectual intercourse with people it goes a long way to tell if I'm going to build upon that friendship or not, so the person should be able to meet me intellectually," Cynthia said confidently.
"I'd say that Nollywood is a platform to harness our culture and introduce Nigeria to the world. It's a very viable platform with which we can attract so many people to Nigeria. We've used Nollywood to promote Nigerian entertainment and you find out that it has really wooed people to this part of the world.
"I would say we should concentrate and do more on every segment of Nollywood because, even as much as we have recorded some successes, we are still far from been there. I would say we still have a lot more to showcase to the world than what we have successfully shown, we still need to concentrate on all aspects to achieve greater success.
"Nollywood is still a baby industry. Though I wouldn't tell you it's been a smooth ride, actually it's been a gradual movement, it has come with its own challenges, but somehow, I have been able to keep my head above water," She said bluntly about the industry, which has produced some of the best performers in the whole of West Africa.