HYGEIA, HEWAN BRAINSTORM ON QUALITATIVE HEALTHCARE AND PATIENTS SAFETY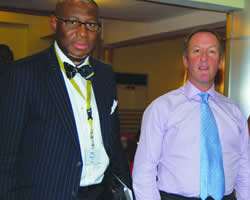 Consistently, Lagoon Hospitals, under the management of Hygeia Group has maintained its drive to be first choice of health solutions of international standards in Nigeria.
Part of the drive for excellence is aimed at curbing medical tourism in the country, providing capacity building for healthcare providers locally and motivating the entire health sector to provide qualitative healthcare.
The group of hospitals has an operating code, 'I care' which acronym stands for integrity, compassion, alertness, respect and excellence. Daily Sun learnt that the team of health professionals in the hospital use 'I care' principle to diligently hand down qualitative healthcare to patients.
In a new development, Hygeia Group took its capacity-building drive to journalists, covering the health sector. A workshop with the theme, 'Capacity Building for the Healthcare Sector,' put together by Hygeia for Health Writers Association of Nigeria (HEWAN) further confirmed the fact that most referal cases abroad could find solutions here in Nigeria and at a cheaper cost.
In her opening remark at the workshop, Group Managing Director, Hygeia Group, Mrs. Fola Laoye, stated that continuous improvement of healthcare has made Lagoon Hospital to meet global standards in all specialties that they handle. 'Since Lagoon Hospitals opened its doors in 1984, part of the founders' vision from the beginning, which is to build capacity for the health sector at all levels and provision of qualitative healthcare to patients, has been sustained.'
The hospital has earned several qualitative assurance accreditation, the latest being the Joint Commission International (JCI) accreditation, making her the first hospital in Sub-sahara Africa to achieve that feat. The hospital is also an affiliate of Society for Quality Healthcare in Nigeria (SQHN).
'We are at the forefront of quality health care. With our capacity of health care delivery and expertise, people don't need to travel out of the country for treatment.
'At Lagoon Specialist Suites, we bring in the best specialists to treat patients. We have yearly provider re-certification and encourage technology transfer,' she said.
She charged health writers not to relent in influencing and bringing about good policies in the health sector through their reports. 'You are doing a great work. I will like to see more of these reports on the front page of the dailies. It is a good development that it is almost a standard now for media houses to have regular health columns and health programmes on air.'
'I am impressed that awareness is created on new procedures and new developments in medicine like in-vitro fertilisation so that people can make choices with adequate information at their disposal.
'In creating awareness, every aspect of health and healthy living should be highlighted, which include the negative impact of the use of substances by the youth,' she said.
Dr. Afolabi Osunkayo, Managing Director, Lagoon Hospitals, Apapa, explained that it took effort in putting qualitative healthcare on ground to get accreditation. 'To get accreditation, you must have standard guidelines, policies and systems. Before you can go through accreditation, you need to be strong on that, and that is what Lagoon Hospitals has gone through to get accreditation.'
In his paper, 'Acute Surgical Specialties and Governance,' Chief of Surgery, Lagoon Hospitals, Dr. Olujimi Coker, disclosed that in Nigeria, the surgeon to patient ratio was 1 to 250,000 people while in some countries have 1 surgeon to 50 people. He said this gave cause for concern in a country that wants to offer qualitative healthcare delivery.
He described risk management as systematic application of management policies, procedures and practices to enable an organisation identify, assess, treat and monitor risk.
Dr. Olawunmi Oluborode of Quality Improvement Unit, Lagoon Hospitals, declared that a report from the World Health Organisation (WHO) said 1 in 10 people that go to hospital for healthcare, died from medical error.
Stating that it gave cause for concern, Oluborode described quality improvement as a planned, systematic, organisation-wide approach to service delivery. 'Quality improvement is a continuous process. Though we have JCI accreditations in Lagoon Hospitals, we are daily doing continuous quality improvement.'
She further disclosed that 1 in 4 patients that suffer patients safety incidence died, adding that the five important parameters in patient treatment were right drug, right patient, right dose and at the right time. 'Patients safety is in the hands of everyone of us,' she advised.
Dr. Olakunle Onakoya, Consultant Orthopaedic Surgeon, Lagoon Hospitals, observed that best treatment outcomes happen when patients are taken to the right place, at the right time for the right care. 'The nearest hospital is not always the right hospital,' he warned.
Continuing, he said; 'In handling emergencies, first remove the patient from the harm and ensure you don't cause more hard as you handle the emergency. This is why expertise is very vital. The part that is bleeding away, may not be the most important part that was injured. Identify what caused the most imminent threats to life and address them. A timely response saves lives,' he advised.