There's no Mr. Right in marriage - Nollywood star actress, Nse Ikpe Etim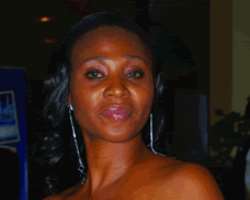 Articulate and outspoken Nse Ikpe Etim, re-launched her acting career in Nollywood with a superlative role in the wave making movie-Reloaded, after over a decade absence from the klieg lights. Now fully back and operating from Abuja, the nation's capital, the sassy thespian is gradually winning back her lost fans as well as the admiration of filmmakers.
Currently in town for this Friday's world premiere of Edikan, an Ibibio language movie produced by Emem Isong's Royal Arts Academy and directed by Desmond Elliot, Miss Etim is optimistic that the flick, which x-rays the ugly issue of child witchcraft would help change the society positively. Speaking exclusively with http://nollywoodgists.com, the Theatre Arts graduate from the University of Calabar, happily told us why she fled Nollywood at the peak of her career, romance with the banking world, why she's back and many more.
Welcome to Lagos, we would like to know what brought you to the Centre of excellence?
I came in from my Abuja base to be part of Edikan, a very topical movie produced by Emem Isong, for Royal Arts Academy. As one of the actresses, it's a movie I hold very dear to my heart because it talks about an issue that is very pressing where I came from, which is child witchcraft. It should not be seen as an Akwa-Ibom issue, but a national one. We are trying to let people see and know the ills that have been caused by the witch-hunting people, killing innocent souls in our state, in the name of hunting witches.
What was your role in the movie, Edikan?
I played the role of a humanitarian who saw the plight of those children and decided to talk about it and further work against those behind it by means of exposing and bringing them to face the full wrath of the law. My role in the movie awoke something within me and I realized that if we did not fight the menace, our children would be lost and we would no longer have children that would be the future of our nation. It's actually an African issue and we've got to sanitize the parents too, especially those involved. Above all, I will give my best to this intellectual premiere that holds this Friday, July 17, 2009, at Terra Kulture, Victoria Island, Lagos.
Other stars in this heart-wrenching movie include: Ini Edo, Moses Armstrong, Ini Ikpe, Desmond Eliot, he also directed, Omoni Oboli and a host of others.
What should we expect at the premiere?
As an insider, I can assure you that it is basically going to be more of an intellectually premiere cum gathering. No doubt, there will be pomp and gallantry as well as music performances from Slam, Anne Inyang, and some others, but you'd definitely take something home. Secondly, people would laugh and also think, because the movie is a satirical comedy.
Deep down, do you think the emergence of this movie, would help change peoples' impression about child witchcraft in your state, Akwa-Ibom?
Why not? It would wake them up, and once you've been woken, it means we have done something very positive to the society and from that point, we would continue, till its completely eradicated.
In the early days of what is today known as Nollywood, you used to be one of the hottest starlets, until you disappeared from the radar, what happened and where have you been?
You're right; I went in search of self. Sincerely, I've been away for almost 12 to 13 years, until I re-launched my career in 2007/2008 with Emem Isong's Reloaded, where I played the role of Ramsey Noah's wife. I came in around 96/97, and left around 98. When I left acting, I went into banking, and later TV and Media. I had a syndicated programme on radio and eventually I left all these to work for myself, which I still combine with acting till date.
No doubt, Reloaded re-launched you and your career into mainstream acting, after more than a decade absence, what was it like playing that wonderful role?
The director of the movie, Lancelot Imasuen, actually harassed me on that set. In fact, he called a few days ago and said I've not said thank you, so I'm using this medium and opportunity to say a big thank you to him. In fact, he accused me of being rusty on set, in order to bring out the best in me, meaning that once an actor, always an actor. Moreover, the convincing of Emem that I could still do it even better also helped a lot, even when that was not the role I'd wanted to play. Emem and crew virtually forced the role of Omoze, on me, the end result is the commendation I'm getting everyday.
In real life, are you that possessive and domineering over your man?
I think it's relative when you say someone is possessive. I do not think I'm possessive, but I also think that people fight for what is theirs. But in what manner they fight for it is what we do know. If I say to you now that I'm like that or not, I could be lying. The truth is that you never knew until you're in situations like that.
But if you eventually find yourself in such a situation, would you react more dangerously than your role of Omoze in Reloaded?
I think that if you want your relationship to continue, sometime It's easier to play the fool, and hope that things get better. I am a stickler for women who are strong, and not those that believe that if my man hits me today, it's going to get better tomorrow. I say get out because there is no need to stay and fight. We all want to be alive. There is no need to have hypertension when you have a long life to enjoy.
Are you fully back in Nollywood?
Yes, I am fully back in Nollywood, after a very long break. Mind you, the first set of movies I did, should be Venom of Justice and Scars of Womanhood, in the early days of the industry, while Inheritance, a soap, was my last production, in 98. I relocated to Abuja and have been there ever since.
Why Abuja?
Actually, I left Lagos finally about five years ago, because I wanted something new and just had an experience then too. That period, I also got an employment with a male fashion house to go and open their Abuja branch, so I moved and knew I wasn't going to come back to Lagos. I love Abuja and can't trade it for Lagos. I frequent Lagos because of Nollywood.
After Reloaded, how many more movies have you featured in?
I did Guilty Pleasures, immediately after Reloaded, I later did Edikan, Bursting Out and a few others.
Any regret leaving Nollywood that long?
No, I don't give room to regrets. I'm extremely proud of all my colleagues that have done well with their careers, while I was on sabbatical. You can only lose focus when you drop, not because someone else is trailing you.
There is a great synergy between you and Emem Isong, what is responsible for it?
Emem and I met in 97; we actually met through a common friend and immediately became good pals. We later did Inheritance together, she produced and I acted. We also went to Sithengi Film Festival, South Africa together. We've remained friends ever since and I have always said that friendship is not only when you live together or see every day. For more, it's actually being able to pick up from where you stopped.
How would you describe Emem Isong?
She can be a lot fun and sometimes, she can just piss you off. Generally she's a lot more fun and very nice. And she's also very blunt and likes saying things the way they are. For me, friendship is a compromise. On a scale of one to 10, she's an eight for a friend, which is a lot to give to a friend.
Most people are of the opinion that you work only for Emem Isong Productions, how true is this?
Emem calls me often and I work with her, if others called me, I would give it a trial. Emem also gives me roles that suit me. I would work with whosoever gives me a job that suits me.
We would like to know more about you and your background?
As you already know, I'm Nse Ikpe Etim, a simple girl from Akwa-Ibom State. I was in St. Louis, Jos , later FGC Jos, FGC Ilorin, and finally University of Calabar, where I read Theatre Arts. I'm the first child in a family of six, four girls, two boys. I grew up in Kaduna, Jos, Ilorin and Lagos.
Did your parents, especially your dad endorse your going into showbiz?
Painfully, my dad was already late when I did my first movie, he died in 1990. (Tears dropping)
What fond memories of your dad do you still relish and cherish?
He worked with the CBN, and was always on the move. I have so many fond memories of him, he used to play tennis a lot, and I used to go with him to watch him play. He used to bring me books that were older than me, the first time I read Day of the Jackal and other great books, was courtesy of him. He taught me how to read a lot. I still miss him.
How did he die and what killed him?
He was ill and died from a terminal disease; in fact, the doctors said he died from Liver Cirrhosis. (Tears flowing)
How would you describe yourself?
Funny enough, I love to stay at home a lot and also enjoy my comfort. I also like to go out. I could be emotional sometimes too.
Aside acting, what else do you engage in Abuja?
I run a small company that is into supplies and also cook for people, mostly corporate clients.
You left Nollywood a long time ago, now that you're back, do you think the industry has improved or not?
In all fairness, the industry has improved compared to how it was over a decade ago. We put our money in the banks, so it should also help us to grow.
What core areas do you think Nollywood should improve upon for a better industry?
We are trying very well, but should improve on our technicalities. We need to add more value to our technical and distributions network. With more funding, we will conquer all these challenges.
What weighs you down?
If truth most be told, sometimes when you are flat broke, you can cry o! It's hard out there. On love, I don't think I can cry for love and would rather not talk about it here. I believe in true love and can also say that it has been fair to me.
Are you in a relationship currently?
No, I guess my last guy and I were not just compatible. He later left and ever since, I've been on my own. I have been alone for a long time that I eventually got comfortable with it. With or without a man by my side, I think life will still be enjoyable and fun.
Are you not thinking of marriage?
This thing called marriage, I think it, but I don't bother myself about it. Please don't ask me if I've not seen the right guy, because there is no such thing as the right guy. There is only that guy that you can just spend the rest of your life with. Mind you, I am old enough to do anything. If the guy comes today I think I would give marriage a shot, but I'm yet to see him and I'm also not willing to search for him.