NIGERIANS SHOULD HOLD PUBLIC OFFICERS ACCOUNTABLE-OKONJO-IWEALA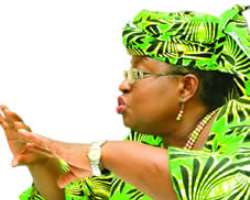 Coordinating Minister for the Economy and Minister of Finance, Dr Ngozi Okonjo-Iweala recently unveiled a blue print on how she intends to manage the nation's economy. The Minister was also in Washington, DC, United States of America where she led the Nigerian delegation to the just concluded World Bank and International Monetary Fund (IMF) Annual General Meetings.
Specifically, the minister and her team had asked the World Bank to assist Nigeria in its job creating efforts, infrastructure development and most importantly, the building of the controversial second River Niger Bridge. Okonjo-Iweala spoke to Nigerian journalists on the way forward for the economy.
Excerpts.
What we achieved at the World Bank/IMF AGM
We came to this meeting wanting to share Mr President's new short to medium term programme and priorities which are being captured in the Vision 20:20 transformational agenda. In order wards, to share with the multi-lateral and bilateral partners and investors how we are proposing to really work in the short term.
What are the priorities going to be and what we are going to do about the micro and macro-economy challenges that we have. And, we have a very robust team. Chief Economic Adviser, Executive Director representing Nigeria on the board of the World Bank and former Minister of Finance, Accountant General etc. We have been able to share the vision and the objective we have. And at the same time, we have been very focused to get a kind of financial support to achieve this short and medium term objective. And, I think we have been very, very successful.
Beyond that, as the chair of the African Group at the IMF Board (IMF Council of Governors) as the chair representing African countries there and as the chair at the World Bank Development Committees, we've also been able to put forward the views of African countries on the current global challenges and how we will like international institutions and the developed countries and emerging markets to work in support of us in making effective use of this challenging time.
Thirdly, as I said, we've been successful in negotiating some financing to support our programmes from the World Bank, and we've even spoken to the African Development Bank for support.
As you know we have an ambitious agenda to try and create jobs, particularly for our youths and some of the several priorities involved, for example agriculture. We have a very detailed plan of investment in agricultural sector.
So, one of the things we did here was to try and negotiate some extra finances to support this sector from the World Bank and we are in discussions with them to see if they can advance about 500 million dollars to support the sector. And also, environment because we see agriculture and environmental issues as linked and the Minister of Environment is also desirous to have in support. So, we entered into discussion for 50 million dollars i.e. an additional $50m to support the work on the environment and $500m for agriculture, it is not concluded but it is looking quite positive and we are very happy at what is happening on that. So, we will conclude it as soon as we get to Nigeria and the new Country Director arrives. So, that is exactly the specific thing we've been able to do here.
Second, we just had a meeting, a very interesting meeting I must say with both the IFC (International Finance Corporation) the private sector arm of the World Bank, with the World Bank Treasury and with a representatives of a group of investors who are interested in public private partnership in Nigeria and very specifically, they are interested in financing, investing in the second Niger Bridge and so, this is very, very promising and we had discussions with them on what are the next steps.
IFC which is a very prestigious arm of the World Bank, if they come in to try and help manage this operation, it could turn out to be one of the best public partnership ventures Nigeria will do and it will set an example that Nigeria is serious about delivering a clean approach to PPP and that will unlock investments in other PPPs. So, we are trying to work and discuss with the Minister of Trade and Investment, with other colleagues in the Economic Management Team and, of course, present to Mr President what we've done and then take it from there. We have discussions with the Minister of Works before coming and so we plan to reconvene and share what we have and move on from there.
Challenges facing global economy
What I can tell you is that, there have been very good discussion on the challenges facing the global economy. As you can see, the situation is full of ups and downs. There are also spill-over effect to our own economy and that is what we focused on that the Developed countries and Emerging markets should all act to contain the uncertainty in the global economy, so that, it doesn't rebound on countries like ours which has been found innocent and that's what I made my presentation on. I spent my time on that which was extremely well received by the IMF team.
And, in fact, the IMF Managing Director started from there during the development committee meeting she had. She noted that we have talked about this issue and the need to protect low income countries. So, I think we should focus on that, the key issue is what they are going to do in order to contain any damage from the event in the global economy on our countries. And what we saw in the communiqué both on the IMF Team Meeting and the Development Committee meeting is that agreement has to be collective and cooperative actions by the Developed countries, Emerging markets and low income countries to try and make sure that we support Europe together and that every actor works together to ensure that the global economy does not go further into difficulty. So, those are the kind of agreements, so, I think a collective action to try and shore up global economy is coming out in this meeting.
Mobilising resources to support low-income countries
One of the things in your question was asking the World Bank and IMF to pay attention to resources that could be mobilised to support low-income countries in particular in the event that the global economy enters into distress. I think that is what we are vying for because the IMF has been making gold sells and the request we made was that the profit from this gold sells should be put into the resource that is available for other countries and developing countries to be able to have access to a pool of funds.
Category of employment you are looking at
We are not looking only at unemployment, we are looking across the board and both skilled and unskilled labour, but we need to take different approaches to address those different categories particularly among the youths. As we know, in budget 2011, I found out that N50 billion was set aside and I am very happy to announce that the team will soon be launching a programme targeted at the youth, called the Youth Enterprise Programme, which is going to be launched shortly in the next couple of weeks.
We would try and launch a business enterprise competition, asking our youth, those who have created enterprises, you know, they may have innovative ideas that if expanded, you will employ more people. We will run a competition to see which are the best ideas and then, we will support those ideas. We will be working with banks and the private sector and we are also working with Ministry of Youths and the Ministry of ICT.
These things are going to go live on the wire, it is going to use all the modern tools to encourage our youths to participate. We have a partnership with University of Lagos, with World Bank. It's really a contention to try and launch and crack all the bones to get all these ideas and hopefully at the end of the day, we can find up to 600 proposals which can be supported and financed and that will create hundreds of jobs. We are targeting up to 500 jobs out of it but you will find out, that it is a very interesting programme.
So, that is it and part of the $50 billion will go to finance that. But, we are also looking at the women, we will also launch something for the women.
On Sovereign Wealth Fund
On the Sovereign Wealth Fund, we are definitely in dialogue with the governors, we've been talking with the governors and strongly the President has been talking to them and we strongly believe that we all have one objective which is to make Nigeria's economy work well for the benefit of everybody. As all these dialogue is ongoing, they have invited me to join them in their meetings in the next couple of days to interact with them a bit more and explain.
Following that, at the National Economic Council which is being held on 29th, the Vice President and the President will make a presentation formally there again, explaining where we are on the Sovereign Wealth Fund. I believe that all these dialogue is a good thing so we can understand each other and you know we've been coming together to try and understand the extent of what we are trying to do. I think in addition to that, we've been working with implementation guidelines for the sovereign wealth fund and there have been certain things that have been put together i.e. on the implementation guidelines which we intend to launch as soon as possible, but we want to finish this dialogue with the governors first.
The issue of corruption and economic development in Nigeria
Of course, corruption is a challenge in the country. Everybody knows that, so, the question you are asking is a good one. You know specifically what are the issues because it is not just corruption, but also transparency. I think that more transparency leads to people being able to hold public officials accountable for not being corrupt. So, we have also started looking at transparency issue and putting more public information out. I am a strong believer that the more public information we can give to the media, the civil society, the more they will be able to challenge government officials and hold them accountable.
One of the first actions that we are taking is the new launch and publication of revenues for all tiers of government. You know and I know, it is not popular in some quarters but then it is good when you can look at it and see what the Federal Government is getting, how are we spending it, what have states and local governments getting, that's the beginning of accountability. We are also looking at our procurement system, we are working with Bureau of Public Procurement BPP to look at that and make sure that we support BPP because it is not an easy job.
For them to do that and as we go along we will be looking at specific actions. What that could yield us in terms of transparency in the oil sector. So, all the specific areas you know we are looking at them and also we are looking at our budget and trying to stoop leakages in the budget as well and make sure that our resources are used well and efficiently. So, all those areas are areas of action. You know as I said, when you are talking of corruption you better be specific on what it is you are trying to do and as it is, the Attorney General of the federation together with the Minister, President have been quite successful in covering some certain aspects recently which some of you have published in their papers.
That is some other aspect and I think the attorney general should be given credit on what he has done in that regard. But then, we are looking at the person at the World Bank, how we have an agreement so that they can also monitor the use of any resources in the near future. So, those are the actions that we are trying to take, I finally want to say that we've been looking at some of the areas of growing business in the country, I strongly believe that if we can meet some of those requirements or licenses to do that, it can work on that, that will also help to fight corruption.
Vision 2020
Every country has a vision, because if you don't have a vision, you don't even know where to start. So, I think that it is a very good document to have and very good to set a goal and ambitious target. You know, against that you can now try to perform. And so, we've worked out as I said for this medium term, some specific priority areas building on that Vision 20:20 and the transformational agenda where we think we can work. Okay, so the medium term programmes we've mapped out have been modeled as we said in looking at growth of 7 to 8 per cent partly because of global environment has changed.
When the Vision 2020 was done, things were a little robust. You've seen where we are now, we are here and you've heard all the discussions of all the finance ministers of the world including G-20 and all the important people. The IMF and the World Bank have reviewed all the growth indices for the world and for the developed and the developing countries.
Against that backdrop, we expect an impact on our product demand value, so we have to be a little modest in the growth we forecast. But, developed countries are looking for three per cent growth, I think that is a pretty good performance, if we can make it.
Meeting the MDG target
Of course, we have been looking at it and we have an MDG programme that has been looking at it and working on the various aspects trying to implement programmes. You know, we have the equivalent of almost N153 billion through the MDG programme that tries to look at all those indicators and to raise money on certain sectors.
We've been looking at our health sector, on issue of infant mortality, immunisation, polio vaccine and all that vis-Ã -vis malaria, we've been looking at those areas that will cut maternal and infant mortality. We have been trying to get our pregnant women in various states into programmes. So, we've been working, yes you could say that in Nigeria, we may not be able to meet many of the MDGs by 2015 but we have been making progress because we have focused on it much more and I don't think we can just say 2015, if we don't make it by 2015, 2020 is there, the important thing is to keep working and not to relent on this programme because sooner or later we should make serious growth and we are really focused on that.
Relationship between the Ministry of Finance and CBN
If the governor has spoken, I have spoken. You know, people are looking for contentions, they are not going to find it. It just stands, he said it at an event and I repeat it. When I came in, I stayed back, you know we have a meeting of minds on where to drive the economy and as you can see the relationship is cordial. You know, you have your normal monetary policy and fiscal policy tension that exist. Even the chief economic adviser can tell you more about that, it exists everywhere.
But further than that, we have a remarkable duty at hand in terms of the growth of the economy and he is quite focused on the real sector, we went with him. He's been complaining about fiscal policy and we are trying to work on that, so I think it has been a good one. Now, in terms of pension fund, what we are trying to say is that, you know we've got AMCON that has been floating bonds in order to clean out non performing loans in banks and also recapitalise these banks and what he is trying to say is that these are contingent liabilities on the government, that he does not want to load all the cost, so he has taken the cost to the government at about N500 bn and so, any other cost after that, the banks will have to take it. This is not loan, you know, he discussed it with the banks, they agreed and as far as I know this was before I came on board and when he said it yesterday, no bank objected.
Your second question is regards to the debt, the DG DMO is here, I don't know what you mean by a lull in activities. I don't think that there is any wind-down of debt management office, it is very much alive, because it is debt management office does not mean that everyday, you are in the market and floating bonds. You know you do your activities as you want. We are anticipating that, we all have to do some borrowing to support plenty fund project but we are keeping it down. I have always been clear that we need to decelerate the rate at which we are creating domestic debt and we need to generate more revenue in order to finance our fiscal deficits. So, there will be debt but it will not be at the level they used to do it before because over a medium term, we want to come down to a sustainable level of domestic debt.
Alternative financing for our projects
We talked about alternative financing and I forgot about mentioning to you that not only are asking the World Bank and the African Development Bank and International Finance Corporation, we are also discussing about floating Diaspora bond, we had an excellent meeting with World Bank to work with them and we also discussed with the US Treasury because if you are going to float the Diaspora bond, you are going to need the support of US Treasury, the UK Treasury and all the others. And, we are going to charge our Diaspora to support development in the country. And finally, we had an excellent meeting with the Chinese.
The Chinese delegation, they are already talking with us and discussing with us in an agreement, in terms of doing manufacturing job from China to Nigeria - instead of us buying their products, we told them if they want us to buy their products, they should come here and set up manufacturing in Nigeria. I don't know about these Chinese investors that have come and what they are doing in all honesty. We are not going that way, this is going to be a very carefully directed programme with the World Bank involved. That is, World Bank, Chinese and Nigerian Government.
It is something that will add benefit. So, I don't know about all those things you are talking about and how they transpired. But what we are doing with them is with proper agreement, looking at the industry and what we can provide to make sure that when they do come, they can function. So, it will be a very different experience from the one you are talking about. We are not going to enter into agreement with people who will come and open warehouses like the people you are talking about.