PASTOR ABIARA DISSOLVES DAUGHTER'S ROMANCE WITH NERO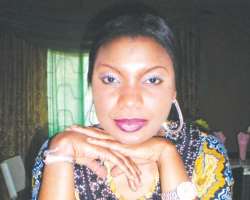 God actually answers his people who call on Him. This has come to manifestation as the prayer and fasting of the man of God behind the very large congregation Christ Apostolic Church, Agbala Itura, Pastor S. K. Abiara, over the romance Ibadan notorious fraudster, Tunde a.k.a.Nero and his daughter, Leah has finally been answered.
The relationship of the two living-lovers, we were told has gone sour as the two one-time lovers have gone their separate ways. While Leah is said to have gone back to the United States, Nero, having impregnated a local girl in Ibadan who has just put to bed, has gone under ground to cover his shame. Nero, we learnt, tried all his means to relocate the pregnant girl met a tumbling blocks as she was denied an entry into the UK. Friends of Nero who even tried to wade into the matter were shocked to have heard from Leah who was once as fearful as mouse to stop any reconciliation move by them.
"Leah couldn't say no to whatever Nero says, in fact, she was like a dummy whenever serious issues occurred because Leah will never raise an highbrow, so for Leah to have had such a courage, I think she was under a spell and the spell has just been dispel by the strong man of God whose church is scattered all over the place. We shall tell you more about Leah's past as we dig to unfold them