CIA Drone Kills U.S.-Born Al Qaeda Cleric In Yemen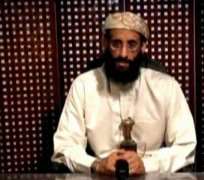 Anwar al-Awlaki, a U.S.-born cleric linked to al Qaeda, was killed in a CIA drone strike in Yemen on Friday, U.S. officials said, removing a "global terrorist" high on a U.S. wanted list.
Awlaki's killing deprives the Yemen-based al Qaeda in the Arabian Peninsula (AQAP) of an eloquent propagandist in English and Arabic who was implicated in attacks on the United States.
Earlier in his career, Awlaki preached at mosques in the United States attended by some of the hijackers in the September 11, 2001 attacks by al Qaeda, whose leader, Osama bin Laden, was killed in a U.S. raid on his hideout in Pakistan in May.
Awlaki's death could be a boon for U.S. President Barack Obama and for his Yemeni counterpart, Ali Abdullah Saleh, who is clinging to power despite months of popular protests, factional violence and international pressure.
A U.S. drone aircraft targeted but missed Awlaki in May. The United States has stepped up drone strikes in Yemen to try and keep al Qaeda off balance and prevent it from capitalizing on the strife and chaos gripping the nation that borders oil giant Saudi Arabia and lies near vital shipping routes.
"The terrorist Anwar al-Awlaki has been killed along with some of his companions," Yemen's Defense Ministry said.
A Yemeni official said Awlaki had been located based on information obtained from a detained AQAP militant.
A senior U.S. official said Awlaki had orchestrated attacks on U.S. interests as "chief of external operations" for AQAP.
"Awlaki played a significant operational role in the attempted attack on a U.S. airliner in December 2009 (and) helped oversee the October 2010 plot to detonate explosive devices aboard U.S. cargo aircraft," the official said.
Washington also learned that Awlaki sought to use poisons including cyanide and ricin to attack Westerners and exchanged e-mails with a U.S. military psychiatrist later accused of killing 13 people at Fort Hood army base in Texas in 2009.
AQAP, which established itself in Yemen after Saudi Arabia defeated a violent al Qaeda campaign from 2003-6, has emerged as one of the network's most ambitious wings, attempting daring, if unsuccessful, attacks on U.S. and Saudi targets.
Bin Laden's al Qaeda made its first mark in Yemen with an attack that killed 17 U.S. sailors on the warship Cole in Aden harbor in 2000.
A Yemeni security official said Awlaki, 40, who is of Yemeni descent, was hit in a morning air raid in the northern al-Jawf province adjacent to Saudi Arabia. He said four suspected al Qaeda members were killed with him.
The Yemen embassy in Washington said Awlaki had been killed 8 km (five miles) from the town of Khashef in Jawf province, about 140 km east of Sanaa, at about 9:55 a.m. (0655 GMT).
AQAP has not acknowledged Awlaki's death. It usually takes a few days to post an Internet response to such killings.
A tribal sheikh in Jawf said Awlaki and three other people had been killed. "We have retrieved their bodies. There was another car that had al Qaeda members inside it, but they were able to escape," he said, asking not to be named.
A Yemeni official said more details would be announced once the surviving al Qaeda group had been tracked down.
HARD TO REPLACE
"If he is dead, Awlaki will be difficult to replace," said Jeremy Binnie, a terrorism and insurgency analyst at IHS Jane's in London. "It's a blow for AQAP's international operations. Awlaki has helped the group build its international profile."
U.S. authorities have branded Awlaki a "global terrorist" and last year authorized his capture or killing, but Sanaa had previously appeared reluctant to act against him.
Awlaki was not a senior Islamic cleric, nor a commander of AQAP, which is led by a Yemeni named Nasser al-Wuhayshi, but he played a key role in the group's global outreach.
"Awlaki's death won't hurt al Qaeda's operations because he didn't have a leadership role. But the organization has lost an important figure for recruiting people from afar," said Said Obeid, a Yemeni analyst on al Qaeda.
Henry Wilkinson, head analyst at risk consultancy Janusian in London, said Awlaki's demise would have little impact on AQAP's local operations, but added: "He was a rare talent who could reach out and recruit and mobilize. If the U.S. have killed Awlaki, then they have achieved a major target."
Yemen has been mired in turmoil after eight months of mass protests demanding that Saleh step down, something he has reiterated he will do only if his main rivals do not take over.
"Because if we transfer power and they are there, this will mean that we have given into a coup," Saleh told The Washington Post and Time magazine in an interview published on Friday, a week after he made a surprise return from Saudi Arabia.
He had been recuperating in Riyadh from a June bomb attack on his Sanaa compound that badly burned and wounded him.
STALLED TALKS
His return halted talks over a Gulf-brokered transition plan that had been revived despite violence that has killed more than 100 people in Sanaa in the past two weeks.
Saleh's troops have been fighting the forces of rebel General Ali Mohsen and those of tribal leader Sadeq al-Ahmar.
Saleh who has repeatedly shied away from signing a Gulf-brokered transition plan at the last minute, urged outside powers to have more patience in concluding the deal, saying:
"We are pressed by America and the international community to speed up the process of handing over power. And we know where power is going to go. It is going to al Qaeda, which is directly and completely linked to the Muslim Brotherhood."
Opposition groups accuse Saleh of giving militants more leeway in a ploy to frighten Western powers and convince them that he is the best defense against al Qaeda.
"Awlaki serves the government as a way to scare the West," said protest organizer Manea al-Mattari. "They want to improve their image in the West after all the killing they have done."
Thousands of pro- and anti-Saleh demonstrators took to the streets of Sanaa again on Friday, the Muslim day of prayer.
Protesters carried 13 bodies, wrapped in Yemeni flags, of people killed in fighting in the capital this week. Asked about Awlaki's death, one demonstrator said it was irrelevant.
"Nobody cared about his death today and we wonder why the government announced it now. We have much bigger problems than Anwar al-Awlaki," said Fayza al-Suleimani, 29.
REUTERS